---
Mountainsmith Tellurite 7075 WSD Trekking Poles For Women are a new tool, telescopic and lightweight, but very durable poles suitable for backpackers and hikers.
---
Key features and benefits
Telescopic type.
Very strong.
Two external locks.
Lightweight.
Very good price.

---
What is in the name – what type is it
These poles are women-specific design, hence the letters WSD in the name. This implies the following features:
A shorter grip section appropriate for a woman's hand.
They are shorter than poles for men.
They are lighter than poles for men.
Note also that the handles are compact-type, different from the handles for men.
These are aluminum 7075  poles and the number describes the very hard aluminum alloy used in their construction. They are almost as tough as steel but very lightweight, only 1 pound (454 g) per pair.
These are telescopic-type poles. This implies that in the packed state the sections slide into each other, as opposed to foldable type which you have in the Halite poles from the same brand. Note that this implies less packability, so indeed in the packed state they are 23 inches (58 cm) long, which is typical for this type.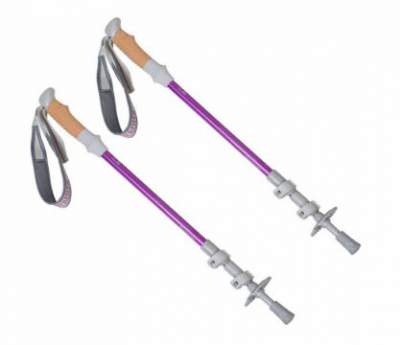 ---
Best use
As already pointed out, these are women's poles, and they are quite lightweight. So they are good enough for backpackers, and definitely perfect for hikers and mountaineers.
How about travel? Well, this will depend on your suitcase. I would rather use the Halite poles for such a purpose.
---
Construction and materials
The poles are with two external locking mechanisms for the length adjustment. In my view one is too much, you do not need it. But this is the part of the design and they are easy to use so this is not a big deal. Such external locks are much more user-friendly than internal locks, I have both types and I am sure about this.
As already mentioned, these are very sturdy poles with the three sections that can be extended up to 48 inches (122 cm). The handles are compact, so you only have one grip area, unlike the model for men which has it extended below the main section. This is a molded cork and EVA foam, a really nice combination, and the adjustable straps are with neoprene to minimize stress, see the picture.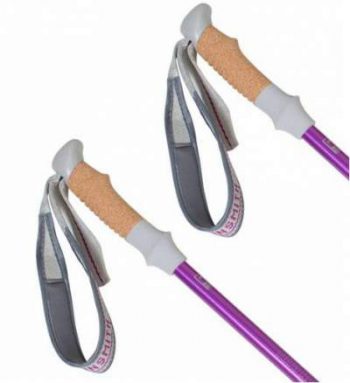 The tips are carbide and you will use them without boots on a soft or rough terrain which provides traction, otherwise you keep the boots on the tips on improved surfaces like concrete or rock. The poles come with two sets of baskets, narrow for ordinary hiking, and wide baskets for snow.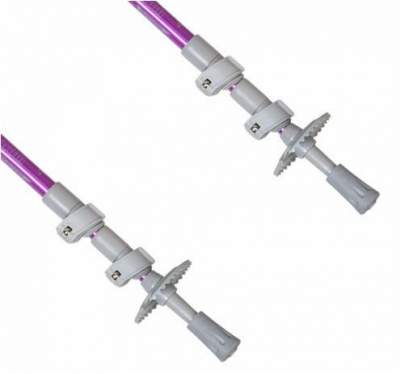 ---
Pros and Cons
My summary looks as follows:
 

Good

Less good

Very strong.
Very good price.
Very reliable.
Pleasant handles.

Not so great packed size.
The packed size is, in fact, typical for telescopic poles, you will realize this from the comparison table below.
The price
The price of these poles is truly great. At the moment of writing the text, you can get them from Amazon for $65. This is a true bargain in view of the quality of these poles. You will realize this also from the comparison table below. See how I rate them:
My rating breakdown of the Mountainsmith Tellurite 7075 Women's Poles
Weight -

9.4/10

Packed size -

8.7/10

Features and design -

9.1/10

Ease of use -

9.6/10

Price -

9.3/10
---
Specifications
Use: hiking, backpacking.
Weight/pair: 1 lb (454 g).
Three sections.
Max load: 160 lb (73 kg).
Two external length adjustment locks.
Minimum (also packed) length: 23 in (58 cm) .
Maximum length: 48 in (122 cm).
Warranty: limited lifetime.
Included snow baskets and hiking baskets.
Rubber boot tops for hard surfaces.
Wrist strap: webbing and neoprene.
---
Mountainsmith Tellurite 7075 for women vs competitors
Here I give the Tellurite poles side by side with two other brands, all for women, to see more please follow the links:
Mountainsmith
Tellurite 7075
Black Diamond
Trail Poles 
Leki Micro
Vario Carbon
Weight, pair (g)
 454
442

404

Material
aluminum
aluminum

carbon

Handle
cork
foam

foam

Packed length, in (cm)
23 (58)
23 (58)

15 (38)

Adjustability locks
2, external
2, external

1, external

Type
telescopic
telescopic

foldable

Max length, cm
122
124

125
At the moment of writing this text, the prices are, respectively, $65, 80, 199. So clearly, the Tellurite poles are without a match here.
---
Summary
In the conclusion to stress again that these Mountainsmith Tellurite 7075 WSD Trekking Poles For Women are a very reliable tool from a renown brand which I trust, the price is great, and I fully recommend them.
The Mountainsmith company was founded in 1979 and they are famous for their durable equipment. Many of their products are presented in this site and you can find them by using the search button above. Their motto is 'forged for life' and this is not by chance.

You might want to check also the Halite 7075 WSD poles from the same brand, those are foldable, so much more compact when packed. Many more poles are available in my separate page, so please have a look.
Thank you for reading. If you have any question or comment, please use the comment box below. Have a nice day.

---