---
Mountainsmith Halite 7075 WSD Trekking Poles for women launched recently are folding poles with a very pleasant cork handle design, incredibly packable, and very sturdy.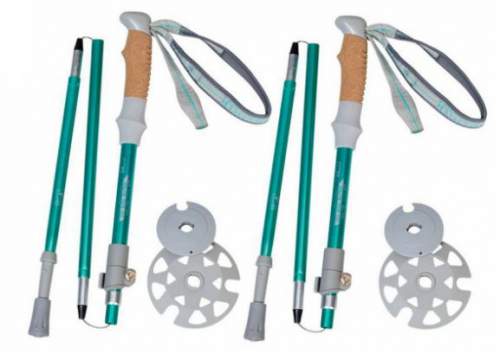 ---
Key features and benefits
Foldable.
Cork handles.
Very packable – collapse in three sections.
Very sturdy and durable.
Outside lock system for length adjustment.
---
What is in the name
The number 7075 denotes the type of aluminum alloy used in the construction of these poles. So this is the toughest of all aluminum alloys, and comparable to steel, but very lightweight.
The letters WSD mean 'women-specific design'. So the meaning of this should be obvious, but this implies the following:
A shorter grip section appropriate for a woman's hand.
They are shorter than regular poles of this type.
As a result, they are lighter than regular poles, and they have a smaller packed size.
---
Who are they for – best use
I already mentioned, they are for women. But they are so nicely packable, with only 14 inches length (36 cm) they fit in any suitcase, so they are very suitable for travelers. Imagine you go on vacation to a place like Tenerife and plan to do some hiking and mountaineering tour, put them in the suitcase and enjoy your trip.
But these poles are also very sturdy and durable, and this is a type of tool you need when you get on the trail. So they are a very reliable tool for hikers, backpackers, and mountaineers.
---
Construction and features
Mountainsmith Women's Halite 7075 Trekking Poles are built in four sections, though the upper two slide one into another when the poles are folded and packed, as you can see in the picture above. So you effectively have a three-section folded structure that collapses to only 14 inches (25.6 cm) of length.
The sections are shock-corded, so you have vinyl coated cable connectors, and the poles are with one outside lock system (hence the letters OLS sometimes used in their description), see the picture below.
So to assemble the pole, you put the sections into each other and pull the lower sections until you hear a click and a spring-knob appears in position and locks the lower poles. This is the sign that the three lower sections are in place. Now, by keeping the external lock open, you position the upper section to the desired position and close the lock. With this, the pole is ready. The length is anywhere between 41 and 48 inches (104 – 122 cm).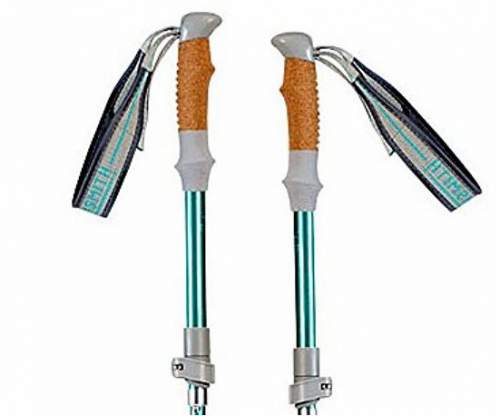 Handles
The main part of the handles is cork shown in the picture above, so the feeling is soft and pleasant, and they are profiled for an optimal grip. The remaining sections are EVA foam. The straps are webbing with neoprene padding.
Baskets and tips' caps
You get a pair of regular baskets for summer, a pair of much wider baskets for snow conditions, and a pair of rubber boot tips (caps) for the pole tips. Putting the baskets in the place is with the help of a small notch on the side of the tip, so you put the basket and twist it around.
The tips are carbide and they provide a good traction on any natural surface. On concrete and similar surfaces you can use the rubber boot tips.
One good side of having such branded poles is that all these elements are interchangeable and the design fits the accessories of the Mountainsmith brand.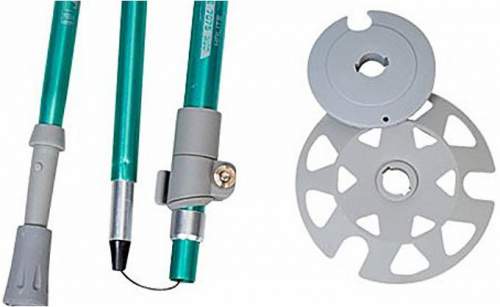 ---
Specifications
Weight: 1 lb 2 oz (510 g).
Minimum length: 41 in (104 cm).
Maximum length: 48 in (122 cm).
Collapsed length: 14 in (25.6 cm).
Outer lock system (OLS).
Warranty: limited lifetime.
Aluminum shafts.
Cork and EVA handle.
Sold in pairs.
---
Summary & rating
In the conclusion of this Mountainsmith Halite 7075 WSD Trekking Poles For Women review, I wish to stress that this is a typical Mountainsmith's product. This means strong, sturdy, and reliable. You would not expect less from such a brand, so I can fully recommend these poles.
I love the fact that they have only one length adjustability lock, while the second spring-lock is for the fixed length of the lower sections. You do not need more than one point to adjust the length; the second would only make the pole more prone to failure and damage.
The weight is in fact typical, but there are lighter poles available on the market. See my rating of these poles:
If you still feel that these poles are not for you, please check my page about poles, there are many models described there. You might want to see the Tellurite poles form the same brand, telescopic type poles launched recently.
Thank you for reading, if you have any question or comment please use the comment box below. I wish you a nice day.