---
This Gregory Baltoro 75 GZ Review is about the new version of the famous pack which now comes with an integrated Goal Zero Nomad 7 Plus Solar Panel and the Goal Zero Flip 10 Charger. So this is a backpack which offers full charging autonomy on extended outdoor tours and expeditions.
---
Key features and benefits – an impressive list
Integrated Goal Zero Nomad 7 Plus Solar Panel.
Integrated Goal Zero Flip 10 Charger.
Three access points, top, bottom, and front.
Rain cover included.
Hydration sleeve doubles as a daypack.
Independently pivoting shoulder harness and hip belt wings.
Three sizes to choose.
Removable extra lumbar pad for an optimal fit.
Bottom straps are removable and can be used as a hip belt for the daypack.
Waterproof hip belt pocket.
Two zippered side pockets.
Stash-away side stretch mesh pocket.

---
Who is it for
The Baltoro 75 GZ is a very expensive backpack and this is not surprising in view of everything that it offers. So this is not a tool for beginners, this is for experts and for outdoor enthusiasts who are on long trails and need to have a strong and reliable load-hauling pack which also offers charging autonomy for electronics like mobile, GPS, cameras, etc.
You can carry 55 pounds (25 kg) of load, and you will do this as comfortably as possible. You will hardly find a pack more suitable for such heavy loads. So in view of the charging independence and all the features, this is a perfect backpack for the longest outdoor tools and expeditions.
---
Gregory solar backpack – what is in the name
Charging independence – integrated solar panel
The Gregory Baltoro 75 Goal Zero is a giant in the true sense, with respect to features and size. This is an award winning pack that has been on the market for a number of years already, but now equipped with the Goal Zero Nomad 7 Plus Solar Panel, hence the letters GZ in the name.
So the only difference between this and the 'normal' Baltoro 75 is the top lid. The GZ version is with the integrated solar panel and the lid is modified accordingly.
This solar panel alone is around $97, so you realize the whole value of this pack with such an extra feature. This is the top brand product added to a top class backpack, so how better it can be?
The shape and the size of the panel is such that it sits nicely on the top of the pack, so you keep it open and it will charge on the go.
This solar panel has some really smart features built in, I suggest seeing this short video to see more:
Goal Zero Flip 10 Charger
Underneath the panel, in a separate zippered pocket (see the picture below) you also have a Goal Zero Flip 10 Charger, so again, this tool alone is with the value of some $20 and it can provide a full recharge to a cell phone. So you can charge your devices through any of the two tools.
If you are not familiar with these tools, this is a pre-charged battery for your devices. The charger itself can be charged on the go, through the solar panel so you have energy stored all the time. It offers 2600 mAh with 1A output. See more about this useful tool in this video:
Note that the backpack is on Amazon under the name Gregory Mountain Products Baltoro 75 Goal Zero Backpack, so do not be confused with the terminology.
---
Suspension system
Here you have what they call Response A3 system – Automatic Angle Adjustment. This is a completely flexible system shown in the picture below, with independent pivoting for each of the side of the shoulder harness, and the same is with the two sides of the hip belt. This allows for a maximum freedom of movement and it reduces abrasion and hot spots.
The system is based on a strong wishbone shape 7075 aluminum alloy frame accompanied with a HDPE frame sheet. So you have an optimal stability and load transfer to the waist harness. The back panel is an EVA foam composite structure, soft and breathable and with silicon overlays in the lumbar zone for extra grip; you can see this in the picture below.
You also have a removable 1-cm thick lumbar pad which you can move and position at any place in the lumbar zone behind the main padding for an optimal fit. It is with a Velcro tab, so it will stay in place when you put it there.
The shoulder harness is what they call Quickswap 3D pre-curved, very anatomical and hot-spot free system. This means that you can replace it with any size that fits you best; the same feature is available in ordinary Baltoro series, see this in more detail here.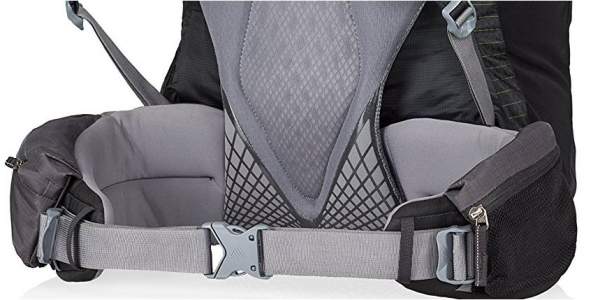 Note that the torso length is not adjustable, and this is the same for all packs in the Baltoro series. Instead, you have three possible sizes to choose, small, medium, and large, they also imply different volumes, see in the specifications below.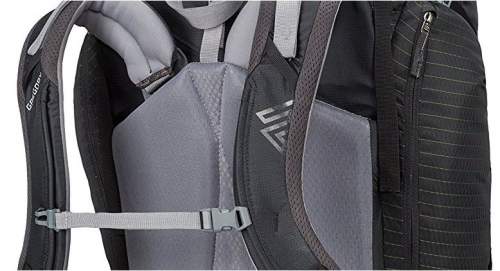 The sternum strap shown in the picture above is adjustable and you have the rail system for its movement up or down.
---
Other features
This is a top loading pack with the earlier mentioned lid with the solar panel. Underneath it, you have the usual spindrift collar. In addition to this main entrance (shown below), the pack comes with a huge U-shaped front zippered access, so it opens like a suitcase.
On the bottom, you also have standard sleeping bag compartment with the usual zipper. This is effectively yet another entrance to the main compartment as well, if you ever need it in view of the mentioned front access.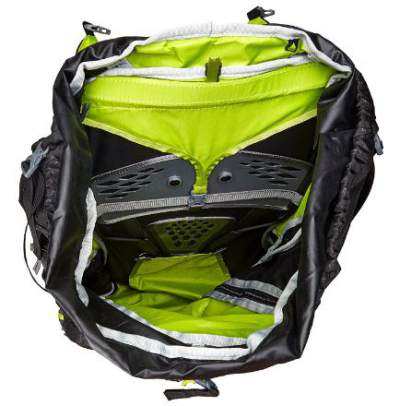 Daypack
The backpack is hydration compatible, so you have the removable water bladder sleeve which doubles as a daypack. It is shown in one of the pictures above.
This daypack is with thin but wide shoulder straps, and it has long dual daisy chains on the front, and the usual Gregory logo. Note that you also have a zippered pocket on its front. So this is a clever design which you have also in some other packs by Gregory, see for example this Paragon 68 pack.
Pockets
You will notice the long vertical front zipper, this is the entrance to the large front pocket which is in fact on the front entrance to the main compartment. A lot of stuff can be stored here. Inside this front pocket, you have yet another zippered pocket where the rain cover is stored. If you do not need the rain cover, remove it and you have an extra pocket in the protected position.
There are two zippered hip belt pockets and one of them is waterproof. One feature which I particularly love are two upper zippered side pockets. Not many packs nowadays have this great detail which I find particularly useful and have it in several of my own backpacks.
The lower side stretch mesh pockets are there as well, but the pocket on the right is a sidewinder holster (see it above) that can be stashed away. It is with a particular angled design and the cord, suitable for a water bottle.
Compression straps and attachment points
There are dual straps on the bottom, running across the bottom compartment. They are removable and can be used as a hip belt for the daypack.
You have dual loops on the bottom for the trekking poles and ice axe, paired with bungee tie-offs higher on the pack.
On both sides of the pack you have the usual lower and upper compression straps for cinching the pack and for fixing the items carried on the side.
Materials
Everything in this pack is built to last and to carry heavy loads. So the fabric is a combination of different denier materials, from 210D to 630 D, see more in the Specifications below. The frame itself is 7075 aluminum alloy, which is in the group of the highest strengths of any aluminum alloy.
Here is a short video review of the pack so have a look:
---
Pros & Cons
Here is my short summary:
  Good

  Less good

Bonus daypack.
Bonus rain cover.
Complete charging autonomy.
Excellent suspension.
Excellent organization.
Side zippered pockets.
Different sizes to choose.
Great load hauling capacity.
Very durable pack.
Award winning design.

Not adjustable torso length.
Expensive.
Heavy.
This pack is heavy as you can see in the specifications below. But it is designed for heavy load and you need such a sturdy and heavy tool. Just see how many extraordinary features it has. On the other hand, the solar panel alone is 363 grams (0.8 lb), and then you also have the Flip 10 Charger with 68 grams (2.4 oz). So the overall weight is not a surprise.
Without these elements, its weight is 2.349 kg, so compare this with 2.360 kg which you have in the Osprey Aether 70 AG which is a smaller pack, and 2.8 kg in the Thule Guidepost 75. Now you realize that its weight is quite typical for such top class load hauling tools.
The price
At the moment of writing this text, the price of this pack is $450. So this is definitely expensive, but after the first shock it is good to bear in mind the electronics which it has integrated, the rain cover, and the daypack; the value of all these elements is well above $150. See how I rate this pack:
My rating of the Gregory Baltoro 75 GZ backpack
Volume to weight ratio -

8.7/10

Features and bonuses -

9.9/10

Confort -

9.4/10

Price -

7.6/10
Summary
My rate for features and bonuses is among the highest I have even given to any pack. But there are other parameters that affect the mean value for the rating of this great pack. Bear this in mind, this is the top quality tool, among the best on the market.
---
Specifications
Best use: backpacking, travel, mountaineering.
Weight:
– Small: 5 lb 15 oz (2.69 kg).
– Medium: 6 lb 2 oz (2.78 kg).
– Large: 6 lb 6 oz (2.89 kg).
Volume:
– Small: 4332 cu in (71 l).
– Medium: 4577 cu in (75 l).
– Large: 4820 cu in (79 l).
Maximum carry weight: 55 lb (25 kg).
Dimensions:
– Small: 29.5 x 18 x 13.7 in (75 x 46 x 35 cm).
– Regular: 31.5 x 19 x 14.5 in (80 x 48 x 37 cm).
– Large: 33.5 x 19 x 15 in (85 x 48 x 38 cm).
Torso fit:
– Small: 16 – 18 in (41 – 46 cm).
– Medium: 18 – 20 in (46 – 51 cm).
– Large: 20 – 22 in (51 – 56 cm).
Materials:
– Body: 210D nylon, 300D nylon.
– Base: 630D high-density nylon.
– Lining: 200D polyester.
---
What else to say?
In the conclusion of this Gregory Baltoro 75 GZ Review to stress again that this is a solar pack in the true sense. The solar panel is integrated into the pack in an optimal way and on the best spot. You can always remove it if you do not need it. In combination with the Charger, you will have a full autonomy on the trail.
This is a pack built for heavy loads and for extended tours, so if you are involved in such activities, look no further, this is the tool.
Just a word about the Gregory brand; you should be aware of the fact that this company has been around from 1977, and they only built backpacks. So you can imagine, they must have learned how to do this in all these decades. This is one of a few top brands in the industry.
Note that they also have a version for women under the name Gregory Mountain Products Deva 70 Goal Zero Backpack, with all the same features plus some women-specific details in its design.

Thank you for reading. If you still feel that this pack is not the best option for you, or you need a pack with a different volume, please visit my page with equipment reviews, I am sure you will find a pack for you.
In the case of comments or questions, please use the comment box below. I wish you a nice day.


---