---
Here you have my comparison Deuter Futura Vario vs Osprey Aether & Ariel packs. My conclusion is that Deuter's pack is better. What do you think?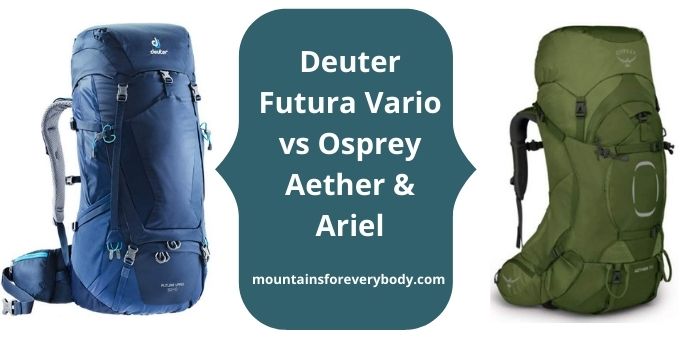 ---
Why this comparison
In the case you missed it, there is now a new non-AG version of the famous Osprey Aether & Ariel packs series. You can read more in my separate texts about Osprey Aether 55 pack for men and Osprey Ariel 55 pack for women.
These are packs with a nominal volume of 55 liters, but there are two sub-sizes 55 and 58 liters. On the other hand, Deuter Futura Vario 50 + 10 is with the volume described by the numbers in the name. The +10 comes from its expandable top collar. As you realize, these are packs from the same volume group, and above all these are among the best packs on the market in general.
The new Aether & Ariel packs are now with a back panel very different from their previous AG design. The AG design was far more breathable so this is a big change. This is why such a comparison may make sense.  
---
Basic features
Here you have some basic features and parameters, for more please follow the links given above. I use the Aether pack as an example, the features of the Ariel pack are almost the same:
Adjustable shoulder harness
Deuter Futura
Vario 50+10
*Note that the divider between the sleeping bag compartment and the main compartment in the Ariel & Aether packs is just a simple shelf with toggles. In the Deuter Futura Vario pack, this is a true divider with a zipper. So these two features are almost beyond comparison, the Deuter's design is far better.
Based on the parameters and the overall features, here is how I would compare these two packs:
Shoulder harness adjustability

Deuter Futura
Vario 50 + 10
Now, let me say a few words about why I gave the signs + and – in all these criteria above.
Adjustability
There are three separate components here and nothing can be better than what you have in the new Aether & Ariel packs. All three crucial elements in the harness are adjustable. In the case of Deuter Futura Vario, only the torso is adjustable.
Variety of sizes
So Aether & Ariel packs are built in two sub-sizes X/M and L/XL while Deuter packs are one-size only. This parameter may not be a big deal but some users might find it useful.
On the other hand, Osprey Aether & Ariel are also available as 65 liters versions (with two sub-sizes again), while the Deuter Futura Vario 55 + 10 is the largest pack. 
Men/women versions
Obviously, Osprey packs are Aether for men and Ariel for women. In the case of Deuter packs you have a version for women but this is a smaller pack Deuter Futura Vario 45+10 SL. 
Ventilation
Deuter Futura Vario is a clear winner here, there is nothing better than this. In fact, it was Deuter who invented the trampoline style tensioned back panel, and they introduced it for the first time in this same Futura series several decades ago. Ventilation in the Aether & Ariel packs is symbolic.
Pockets
This was easy, see the first table above.
Volume/Weight ratio
So the volume/weight ratio for Deuter Futura Vario 50 + 10 is around 29 L/kg, but this may depend on how you take those +10 liters into account. This is an extra volume in any case.
For Aether 55 this is around 26.4 L/kg. Note that I compare the Aether 55 L/XL which has the volume 58 liters, so the number 55 in its name is in fact meaningless.
Bottom compartment
I already mentioned this above. The bottom compartment in the Osprey packs is just another entry point, one cannot speak here about a true compartment. It is almost useless as a compartment.
Carry load
One could argue that Aether & Ariel is better because i) of its better adjustability, and ii) the pack is closer to the body. In the case of the Deuter's pack, the tensioned mesh separates the pack completely, so some will claim that stability is compromised. I have been carrying Deuter Futura for 17 years already and I do not share such views.
Price
As of the moment of writing this text the Deuter's pack costs less. But this may change in time. So it is up to you to check this and perhaps to find a better deal somewhere. 
---
Conclusion
So based on what I show above, my conclusion is that Deuter Futura Vario 50+10 is slightly better than Osprey Aether 55 and Osprey Ariel 55. It would be great to hear what you think, so please use the comment box below and let me know.
Note that I came to the same conclusion in my comparison of Osprey Atmos AG vs Deuter Futura Vario. It appears that the Deuter Futura Vario 50+10 is hard to match and observe that this is a model that is already several years old. They built it really well.
Bookmark this site and visit it again, I add texts here regularly so this will keep you informed about the situation in the outdoor industry. Thank you for reading and have a nice day.