---
The Coleman Adjustable Comfort 30 Degree Sleeping Bag comes with a unique zipper system that allows for various ways of ventilation, plus an integrated sheet, and this all at a really great price.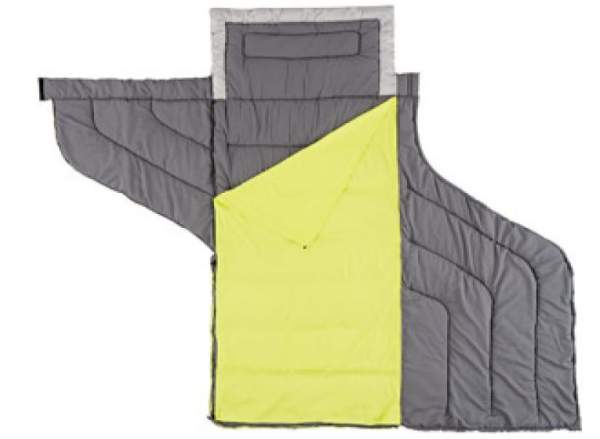 ---
Key features & benefits
Adjustable sleeping bag.
Integrated sheet.
Machine washable.
Snag free zipper.
Roll Control.
Incredible price.
---
What is in the name
The top picture above shows what this sleeping bag is about. You have a unique zipper design that allows you to open it in various ways. This makes the bag quite versatile and unique as you will realize below. 
But when fully zipped, the bag is just a standard rectangular design, though with an extra pleasant pillow pad under the head. So this is not a hood, and I would say pity.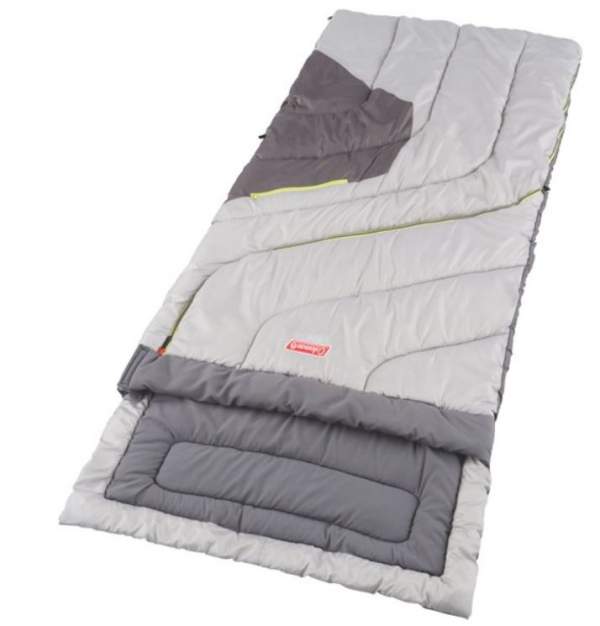 Adjustability features
The picture below shows the cover zipped only under the chest, and the lower part of the body can ventilate.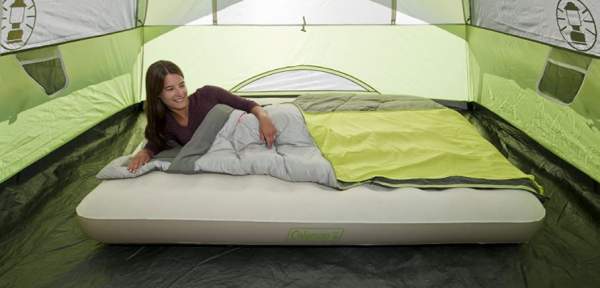 But you can also unzip the chest part only as the picture below shows, while keeping the feet protected.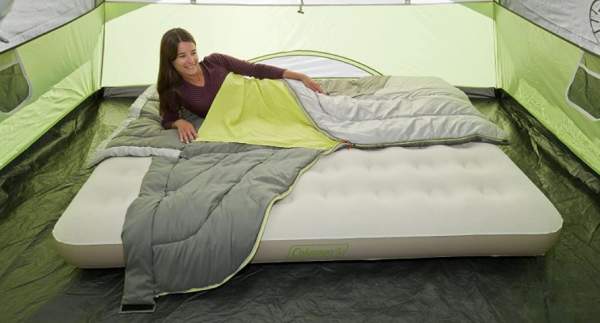 Integrated sheet
If you are curious about the yellow piece, this is the integrated sheet. It is sewn-in on one side only, and on the opposite side it attaches with three toggles and loops. On the feet zone it is not attached.
The picture below shows how you can sleep under the sheet only by unzipping both cover areas of the shell bag. But you can also put the sheet under you, or just unclip it and push to the side if it is annoying or if you are warm when the bag is zipped up.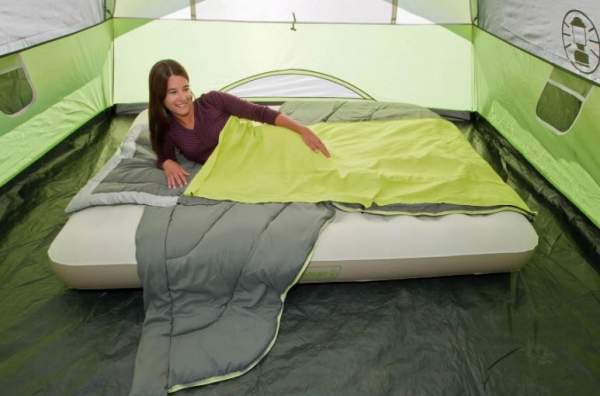 Temperature rating
The sheet is thin but it can still add a bit to your feeling of warmth when the bag is fully zipped. This is why the temperature rating of this bag covers a wide range of 20 – 70 F (-7 to 21 C). The number 30 in the name is 30 F (-1 C) as a comfort value.
Materials & other features
So this is a synthetic sleeping bag that includes a polyester sheet and lining and a brushed polyester cover. The insulation is synthetic, and the bag is machine washable. It comes with some features that are typical for Coleman bags and they include:
The two-way oversized zippers are with their patented ZipPlow snag free design. 
Similar to many of their sleeping bags, you also have what they call Comfort Cuff design, see the picture below. This is the liner that extends around the edge of the shell under the chin.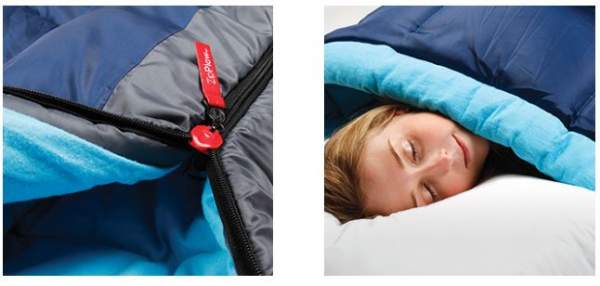 They use a special term, the Thermolock System, for a baffle that runs parallel to the zipper to prevent heat loss.
You also have their Quick Cord fastening system. 
You have what they call the Roll Control design that makes folding quick and easy. This includes loops and toggles on the sides, so when you fold the bag in half its width, you connect these elements and then it is far easier to roll the bag up.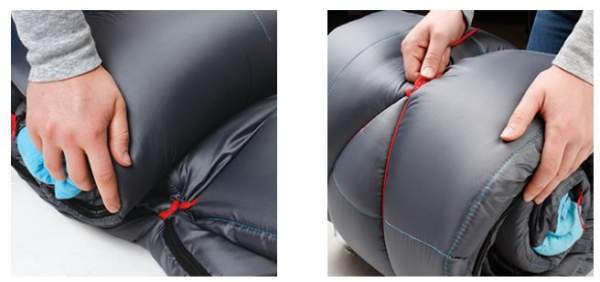 ---
Who is it for
Regarding the best use & climate, you have already seen its official temperature rating. So this is a very wide range, but I do not see the point of the upper limit. You can use it in any warm weather, just open it up if you are warm. You can sleep under the sheet.
On the other hand, the lower limit is probably unrealistic for most of users. I see it as a great bag for 2 seasons, or perhaps for 2 and a half or so.
Regarding the size, there seem to be two options, and there is quite a confusion on the market. Officially, the bag is for users of up to 6 ft 4 in (193 cm) height.
Regarding the weight, the bag is heavy with its 6.33 lb (2.87 kg). It is also quite bulky, the dimensions are (L x D) 18.1 x 11 inches (46 x 28 cm). So this is not a trail item for sure.
Regarding the price, it is simply incredible, a great value for the money.

---
Specifications
Type: rectangular.
Weight: 6.33 lb (2.87 kg).
Dimensions (L x W): 78 x 33 in (198 x 84 cm).
Temperature rating: 20 – 70 F (-7 to 21 C).
Packed size (L x D): 18.1 x 11 in (46 x 28 cm).
5-Year limited warranty.
---
Final thoughts & rating
So this Coleman Adjustable Comfort 30 Degree Sleeping Bag comes with some truly unique features, plus quite a number of features that are typical only for Coleman's bag, some are even patented. You can use it in a variety of weather conditions, the bag is easy to keep clean, and it is incredibly affordable. I have included it in my list of best rectangle sleeping bags.
Below you can see how this bag stands against my usual rating criteria:
BEST PLACEs TO BUY regarding shipping and price:
For more options, please check under the category Sleeping Bags. Bookmark this site and come again, this will keep you informed because I add texts here regularly. Let me know if you have questions or comments, there is a comment box below. Have a nice day.