---
This CamelBak Cloud Walker 18 Review is about the new version of the popular pack. This is a simple and reliable hydration pack with a water reservoir included, for entry level and recreational outdoor adventures and for city use.
---
Key features & benefits
Integrated 2.5 liters water reservoir.
External hydration compartment.
Many attachment elements.

---
Who is it for, what type is it
The Cloud Walker 18 is a nice small hydration daypack for entry-level hikers, for travelers, and for city use and commuting. This is a panel loading pack with a zippered entrance to the main compartment and a separate compartment for the included reservoir. The pack comes with reliable and sturdy YKK zippers and strong buckles.
---
Overview
The suspension is without any frame, but this is not such a big deal in view of its size. The padding on the shoulder straps and on the back is really generous and comfortable, you can see it in the pictures below. You will notice how the padding on the shoulder straps goes around its edges, with such a good design it is unlikely to have hot spots. There are ventilation channels on the back panel, and all is covered with a very breathable mesh, but do not expect much breathability here, you will be sweating.
But observe that this pack has no hip belt at all, so it will be bouncing a lot if you try to run with it, and all the weight is on your shoulders of course.
There is one compression strap on each side, quite narrow but functional. Also on each side, you have one mesh stretch pocket. Note that there are no straps to fix the stuff stored in these pockets. The sternum strap is adjustable, you can see it in the picture above.
There are 5 pockets or compartments in total. Apart from the mentioned side pockets, you also have a top zippered pocket with a key clip, the main compartment, and the reservoir compartment. So quite a simple organization, no wow factors here. But the internal space in the zippered pocket is high visibility, in yellow-green color, so that you can easily see small items there.
Note that the official capacity is 15.5 L (900 cu in), but you should add the value of the water compartment as well. This gives over 18 liters.
Attachment elements
This is a better side of this pack, you have a number of options for attachments outside. Two long daisy chains run on both front sides, and you have dual attachment loops on the bottom. There are extra attachment loops on the top as well, and as mentioned above you have one compression strap on each side. But there are no bungee cords accompanying those bottom loops so attaching trekking poles here may be tricky.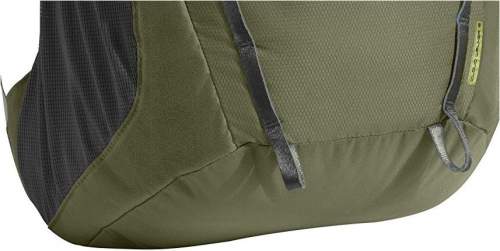 The reservoir
This brand is famous for its reservoirs, so here you have 2.5 L (85 fl oz) CRUX Reservoir, BPA free. This is a true bonus of this pack, reliable and nicely built with a stable stream of water through the hose.
Note that they provide a cover for the bite section of the hose, but this must be ordered separately, some $8.7 at the moment of writing this text, see it here.
Incorrect descriptions
In the description of the pack on Amazon there is a sentence "Load bearing hip belt with cargo…". Note, this pack has no hip belt of any kind.
---
What is new in this version
It looks bigger (or at least longer) than the previous 2016 model, although the capacity appears to be the same.
New Crux Reservoir.
0.5 l more water capacity.
Redesigned side compression straps. You had a V-shaped structure in the previous version and this created what looked almost like dual side straps. In the new version, you have only one upper strap on each side. I think the previous design was more functional.
The buckles on the side compression straps repositioned; they were on the front in the previous model, and they are completely on the side in the 2017 model.
A much shorter main zipper in the new version. The previous pack was better in this sense, with an easier access to the stuff on the bottom. Both zippers in the new version go only to the level of the side pockets.
2 daisy chains in the new version, as opposed to only one in the previous version. So the new pack is far more functional with respect to this, the single chain is almost useless when it is on one side of the pack only.
Extra attachment loops on the top front section in the new version, on both sides, so this is surely better.
Completely redesigned back padding ventilation channels.
Completely redesigned sternum strap attachment design. It was with a rail sliding system in the previous version, while the new version is with a ladder-type system which allows only for discrete positions of the sternum strap. This new system is surely more sturdy and reliable and it fix the sternum strap in the position better than any sliding system, but it allows for less fine-tuning. I think the new system is better.
All straps are thinner in the new version.
So did they really improve this pack? I am not completely sure, but probably yes. What do you think?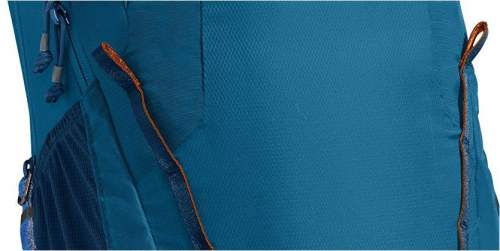 ---
Pros and cons
Here is my short summary:
 Pros
 Cons

Very lightweight.
Versatile.
Reservoir bonus.
External water sleeve.

No frame.
No hip belt.
No rain cover.
No front pocket.
I dislike the fact that it has no hip belt, but this makes it similar to any city pack for city use or commuting, and for such a use this is better. But as a hiking pack, this is a different story. The same is with respect to the rain cover which you do not have here. The big empty space on the front would be quite different with a mesh pocket or simply a bungee mesh.
The same is with respect to the rain cover which you do not have here. The big empty space on the front would be quite different with a mesh pocket or simply a bungee mesh.
The price
The current price of this pack is 63, and in view of the included reservoir, this is a bargain.
What users think 
At the moment of writing this text, the average rating for this pack on Amazon is quite high, 4.4/5. This looks reasonable to me, see below how I rate it.
My rating breakdown of the CamelBak Cloud Walker 18 hydration backpack
Volume to weight ratio -

8.7/10

Features and bonuses -

8.2/10

Comfort -

8/10

Price -

9.2/10
---
Specifications
Unisex.
Best use: hiking, travel, city use.
Weight: 650 g (1 lb 6 oz).
Volume: 15.5 L (900 cu in).
Size: 51 x 26.5 x 25 cm (20.1 x 10.4 x 9.8 in).
Hydration: 2.5 L (85 fl oz) CRUX Reservoir with Standard Exit Port, BPA free.
Torso fit: 43 – 53 cm (17 – 21 in).
Pockets/compartments: 5.
---
CamelBak Cloud Walker 18 vs competitors
The features of this pack can best be seen and understood in comparison with other packs, so here are two packs of the same size with some basic features shown, to see more please follow the links:
Camelbak Cloud Walker 18

Teton Sports
Oasis 1100
Osprey
Escapist 18

Weight (kg)

0.65

0.91
0.79
Volume (L)

18

18
18
Adjustable harness

no

no
yes
Lower compartment

no

no
no
Hydration bladder

yes



yes
no
Rain cover
no
yes
yes
Internal frame

no

no
no
Hip belt
no
yes
yes
The prices of the three packs at the moment of writing this text are, respectively, $63, 36, 75.
---
Summary
To conclude this CamelBak Cloud Walker 18 Review, this is a simple and reliable tool, the included reservoir and the listed price of $63 makes it a great purchase for people who need a versatile tool for travel, city use, and occasional outdoor adventures. I can recommend it as a tool for such a use.
Note they have the new version of their CamelBak Sequoia 22, so have a look. But if you need something different, please visit my page with backpacks below 35 liters, you will find many top models there.

Thank you for reading. In the case of questions and comments, please use the comment box below. Have a nice day.


---