---
If you have entered Amazon recently searching for hiking boots and shoes for women and noticed some with exceptionally great colors, it is very likely those were items by Ahnu. So what is Ahnu really? Fund out below.
About Ahnu colors
To realize what I am talking about it is best to see a few pictures of their boots and shoes: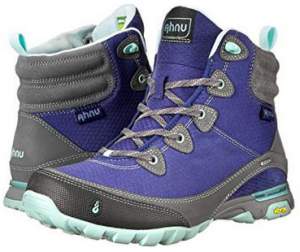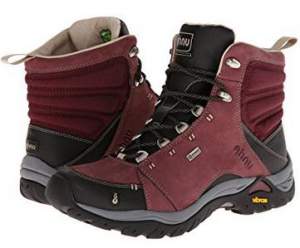 ---
The images are clickable and you can follow the links to my separate texts where these great boots are described in detail. In particular, the Montara boots have been very popular and received incredibly good reviews by experts and users. At the OutdoorGearLab site these boots are chosen as the Top Pick model, and second only to the Lowa Renegade GTX boots.
On the other hand, at the moment of writing this text, the Sugarpine model is the second best selling boot on Amazon in the department women's hiking boots.
The two models shown above are suitable for hiking tours as well as for backpacking with not so heavy backpack. Of course, they provide complete protection from elements as they are both waterproof and breathable.
They build boots and shoes both for women and men, you can see a few below. In general, Ahnu outdoor footwear  includes the following features:
They are lightweight. You will read in the link above that the Sugarpine boots are only 660 grams per pair.
Very flexible, and this in particular implies an excellent forefoot flexibility.
They provide a great balance.
The name
Ahnu is a registered trademark of Deckers Outdoor Corporation. The name "Ahnu" appears to be derived from the goddess of balance and well-being in Celtic mythology. They write that the choice is deliberate because they  "balance work and play, as well as business goals with social and environmental responsibility".
What is Ahnu
In their site, they write that the company was founded by Jacqueline Van Dine, Jim Van Dine, and Jenny Fredericks, with the idea of building multitasking performance products simply because they wanted to have such tools but couldn't find them.


Their boots are designed to fit an active lifestyle. They claim that Ahnu boots are paving the way in redefining the meaning of an outdoor performance brand. Regarding the colors this is obvious, just look around. But the same holds for the performance as well, and this is supported by reports about quality and comfort which their footwear provides. This is achieved through collaboration with leading biomechanists and designers.
Their business partners include names such as eVent, Vibram, and Thininsulate. This implies several important things:
Waterproofness and breathability (related to eVent).
Durable soles with great traction (Vibram's role).
Footwear designed for winter conditions, insulated and waterproof (related to Thininsulate).
So for example, you can see Vibram outsole in the Montara model picture above, and if you follow this link you will see that they are indeed waterproof due to eVent membrane.
Ahnu is a sponsor of The Wilderness Land Trust through the Plus 3 Network, which is a highly specialized nonprofit organization established to buy and protect wilderness land. Founded in 1992, so far they have preserved more than 365 parcels comprising of more than 38000 acres of wilderness in 84 wilderness areas. The Plus 3 Network implies that members who select Ahnu footwear help to directly support the Wilderness Land Trust.
Ahnu supports 1% for the Planet by contributing 1% of their gross revenue on an annual basis to organizations that share their environmental values. This 1% for the Planet was launched in 2001 and currently, includes 1200 member companies in 48 countries in the world.
Ahnu is partnered with the Breast Cancer Fund, which is the only national organization focused solely on breast cancer prevention. So in May of 2011 Ahnu reached donation sum of $100000 to the Breast Cancer Fund by donating $5 for every pair of women's shoes sold between March and May of 2011.
They also support various other non-profit organizations like Mindful Life Project, The Team LUNA Chix Program, and Africa Yoga Project.


In the picture above you can see Ahnu Northridge insulated boots which I included in my list of top 5 insulated hiking boots for women, you can see it here.
Thank you for reading. I love to hear from you so please use the comment box below.
---