---
This REI Base Camp 4 Tent review is about a 3-season-plus tent with a full-coverage fly, 2 vestibules, aluminum poles, and several vents. Keep reading.
---
Key features & benefits
Dome-type tent.
2 Doors & 2 vestibules.
Full-coverage fly.
Aluminum poles.
Multiple vents.
Multiple storage pouches.
---
Overview
This is the smaller of the two tents from the Base Camp series that has been on the market for a decade already. But the tents have been redesigned some time ago, so what you have here is the latest version.
When you see this REI Co-op Base Camp 4 Tent without the fly you realize this is a very simple and also very strong and completely symmetric dome construction. The picture below shows its frame and you realize that the tent has 7 intersection points. So this is a very stable and fully freestanding structure.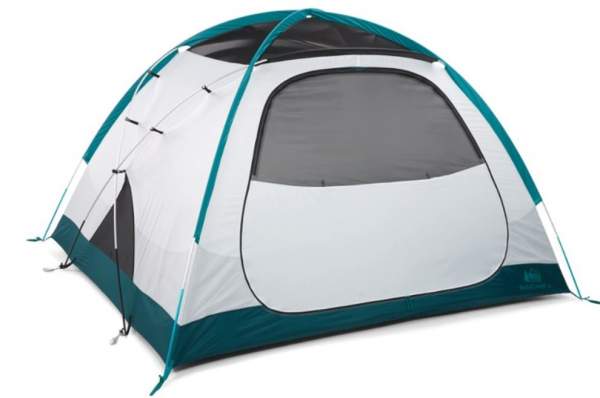 As you see, the tent has two identical inner doors with dual-layer windows (mesh plus zippered panels) in the upper part. The tent is moderately high, you have only 60 inches (152 cm) peak height, but note this is the inner height. 
With the fly on, the tent looks very different, so you have a full-coverage fly that creates two asymmetric vestibules. The top picture above shows one of the vestibules and you realize it has one extra supporting pole. The picture below shows the opposite side of the tent, and you see that here you have a very different vestibule without extra support.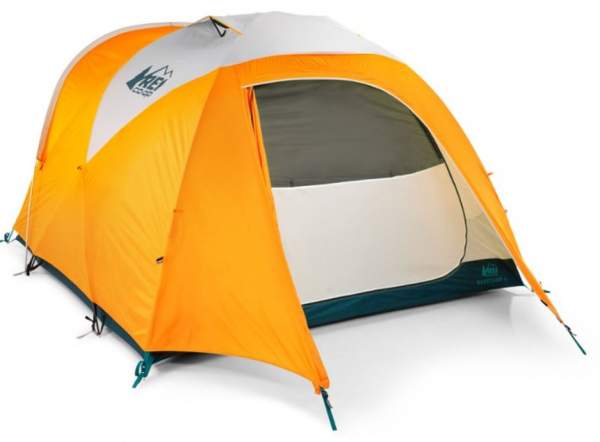 When closed, these two vestibules create lots of protected storage space, more precisely you have 27 + 17 ft² (4.1 m²). The pictures below show how they look when closed:
Ventilation
This tent has mesh on the top of the canopy, and you have already seen the mesh on its doors/windows. But they did not stop there, they have added 2 fly and 2 floor vents.
One of the fly vents is shown in the picture below left. Note that you have zippers on the canopy so you can get to the vent and raise its Velcro stiffener (shown in the picture) without getting out of the tent. One of those zippers is visible in the picture below right. The detail that I dislike a bit is the fact that vents are completely on the top, so side wind combined with rain may bring water in. But such a position also allows vapor to escape easier and this should reduce condensation.
On the picture right you can also see one of the floor vents, this is the triangular section above the floor. Observe that it is with a zipper so you can close it if you feel cold. This is quite a good and functional design and this allows for vertical air circulation, there is not much one could object here.
---
Materials 
The poles & stakes
There are 4 poles for the dome and one for one of the vestibules, and this is a shock-corded aluminum. The pictures below show how the tent connects to the frame, so you have a combination of long sleeves and clips. Sleeves are good because they distribute pressure better than anything else. Everything is color-coded to make setup easy.
Note that you also have 12 steel L-shape stakes included in the package so do not miss staking the tent properly. Guylines and tighteners are also included. 
The fabric
You have a PU coated 150D polyester Oxford floor and they claim it is abrasion- and puncture-resistant. The fly is also polyester, resistant to stretching and UV rays. Both the floor and the fly are with 1500 mm waterproof rating. The zippers are top quality YKK, you have #5 zippers on vent covers, and on windows, and # 8 at other places. 
Pockets and other details
It is incredible how many storage elements you have here. In fact, you have them in three levels. The first level is pouches directly above the floor and you have them all around the tent's perimeter. You can see a few of them in the picture below right.
There are also a couple of pouches above the floor vents, you can see one of them in the picture below right. Then the third level is 4 triangular mesh pouches under the ceiling, some of them are visible in the picture below left. There are also several loops to pass a cord and to hang clothes and lanterns.
Observe that they have their REI Co-op Base Camp 4 Footprint that can be ordered separately, you can see it here. It is not compatible with the previous version of this tent. 
Included is a heavy duty-storage sack with a shoulder sling, as well as a pole-repair tube, a pole bag, and a stake bag.
---
Who is it for
Regarding the area, the tent is officially for 4 people, and for this you have the inner area of 59.7 ft² (5.5 m²). So this is 14.9 ft² (1.38 m²) per person and this is not much. But the two vestibules add 44 ft² (4.1 m²) so the total protected area is 103.7 ft² (9.6 m²). Per person, this means 25.9 ft² (2.4 m²) so this is lots of space.
Regarding seasons & climates, this is a 3-season-plus tent. The frame is strong and it can withstand lots of pressure from any side, snow included. The fly covers the whole tent, the structure is aerodynamic and not very tall so it will behave well in windy places. There are mesh sections that cannot be closed, so it is up to your sleeping bag to keep you warm in a cold environment. For warm-weather camping, you have plenty of venting options.
Regarding the weight, the tent weighs 16 lb 14 oz (7.65 kg) so it is heavy, but it offers lots of protected space. Note that the packed size (L x D) 20 x 10 inches (51 x 25 cm) is simply excellent so you can transport it even on a bicycle. In any case, I have included it in my list of best 4 person tent for car camping.
---
Specifications
Official capacity: 4-person.
Weight: 16 lb 14 oz (7.65 kg).
Dimensions: 100 x 86 in (254 x 218 cm).
Inner area: 59.7 ft² (5.5 m²).
Inner area per person: 14.9 ft² (1.38 m²).
Vestibule area: 27 + 17 ft² (4.1 m²).
Total protected area: 103.7 ft² (9.6 m²).
Total protected area per person: 25.9 ft² (2.4 m²).
Inner peak height: 60 in (152 cm).
Packed size (L x D): 20 x 10 in (51 x 25 cm).
Poles: aluminum.
---
Final thoughts, rating, pros & cons
In summary of this REI Base Camp 4 Tent Review I would stress again that this is a nicely proportioned and nicely packable tent with top-quality zippers and aluminum poles. It is suitable for almost any weather conditions and any climate. The price is steep but if you can afford it you will have a great tent.
In the table below you can see the summary of my pros and cons and my rating. It scores nicely in almost all of the rating criteria:
For more options please check under the category Tents for 4 People. Check this UST House Party 4 Person Car Camping Tent which is a very different and interesting lightweight construction.
You might want to bookmark this site and visit it occasionally. This will keep you informed because we add texts here regularly. Thank you for reading and have a nice day.