---
This Osprey Exos 58 Pack for Men is the latest version, ultralight as always, but now with an adjustable torso length and with hip belt pockets.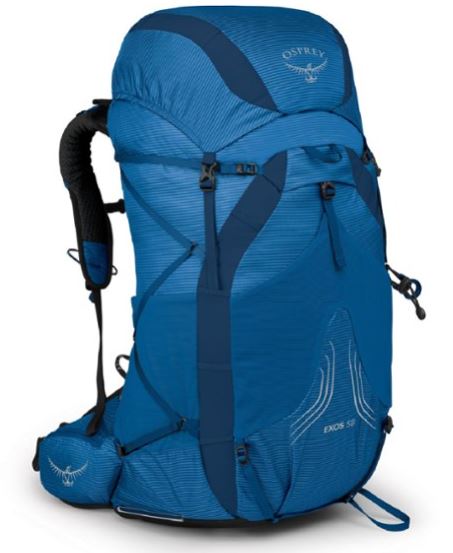 ---
Key features & benefits
Ultralight.
Adjustable torso length.
Recycled materials.
Two sizes.
---
What this is about
As of the moment of writing this text, there are three versions of the Osprey Exos 58 pack for men on the market. This tells you that it has been around for a while, and it has been reshaped a few times in the past.
This is a part of their Exos & Eja packs for men and women, and this particular pack is built for men. They build it in two sub-sizes S/M and L/XL, you will see the numbers below.
You have a classic shape here, a top-loading pack with a floating lid. In fact, the lid can be removed if you do not need it or if you want to shed the weight.
There is an integrated FlapJacket under the lid that protects your gear in lidless use, it is equipped with buckles so you close the pack completely. The picture below shows how the pack looks without the lid: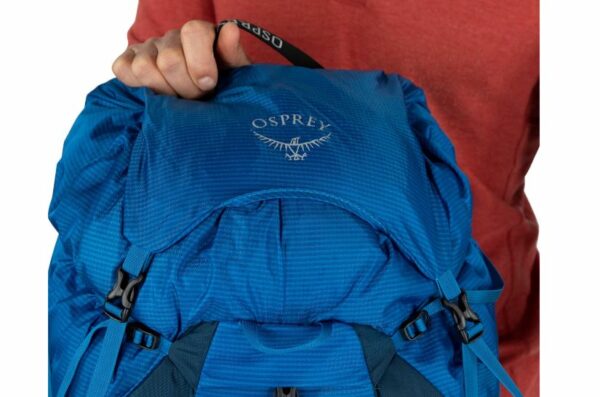 But keeping the lid is useful, it has two pockets in it for small items, shown below. On the other hand, when the lid is on you can put some stuff underneath it, then raise the lid to accommodate for the extra load and close the buckles.
The pack is hydration compatible so you have an inner hydration sleeve shown below. The port is behind the neck:
Suspension – new features here
Below you can see what you have, so this is again an incredibly breathable tensioned mesh, among the best that you can find on the market. The tension is created with a peripheral aluminum frame, this is a thin wire that is partly visible.
This is their AirSpeed suspension that is supposed to keep you cool with maximum airflow between you and your pack.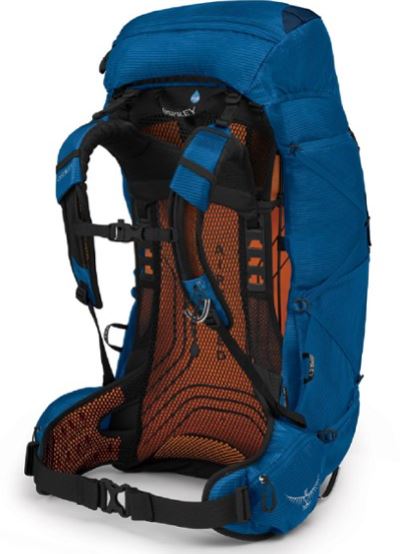 But what you might not see instantly is the fact that now you have an adjustable torso length. This is a unique ladder-type design, so you have several distinct positions for the shoulder harness on both sides, the details are visible in the picture.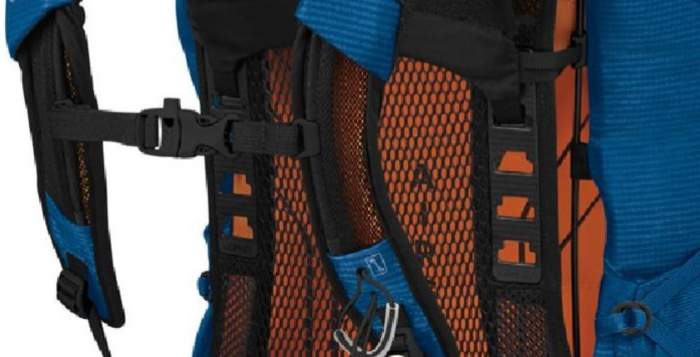 But see also the hip belt. While I am not very impressed with the padding, note that the hip fins are of a proper length, completely different from the previous version. In addition, now you have hip belt pockets:
Pockets
So you have already seen 4 of its pockets, but there are more, 7 in total:
Two large side pockets with dual access are in place.
There is a large front pocket on the front, equipped with a buckle.
Attachment elements and compression straps
I like the side compression straps that run all the way from the pockets to the top. So whatever you put there you can fix it in place. With this you can also properly cinch the pack when the load is reduced.
Dual bottom straps are available, see them below. They are removable as well.
You also have attachment loops on the lid, see them above.
There are front attachment loops as well.
Sternum strap features an integrated safety whistle.
Stow-on-the-Go attachment for poles is in place.
There are also dual loops for ice axe or for poles, they are in pair with bungees on the top front.
The fabric
One can only applaud to this brand for their sustainability efforts. The fabric is made of 100% recycled material and it is bluesign approved.
They use a 100D high-tenacity recycled ripstop nylon combined with a 400D high-tenacity recycled nylon.
Please see more in this video:
---
Who is it for
Regarding the size, you have two sub-sizes here and they are both suitable for backpackers. You will see the numbers below. What cannot fit inside, you can attach from outside, its side straps are long and very useful.
Regarding the weight, there are lighter packs on the market but they usually lack some useful features. This is not so here, the pack is ultralight and you still have almost everything you need on the trail. A rain cover is missing, but this may not be essential for you.
Note that you can reduce the pack weight even more by removing the top lid, sleeping pad straps, and compression straps. But as it is, the volume-to-weight ratio is around 45 liters/kg, and this is simply excellent.
The pack is ventilated, so this is excellent for warm weather and for people who sweat a lot in general. More ventilation you cannot have in a pack.
Regarding the adjustability, I like the fact that the torso length is adjustable, you will see the numbers below and you can check which of the two options suits you best. This is good also because family members can use the same pack and still position the length so that it suits them best.
---
Specifications
Type: top loading pack for men.
Two sizes: S/M, L/XL.
Weight:
– S/M: 2 lb 13 oz (1.28 kg).
– L/XL: 2 lb 15 oz (1.33 kg).
Volume:
– S/M: 3539 in³ (58 l).
– L/XL: 3722 in³ (61 l).
Dimensions:
– S/M: 30 x 15 x 13 in (76 x 38 x 33 cm).
– L/XL: 32 x 15 x 13 in (81 x 38 x 33 cm).
Torso fit:
– S/M: 17-20.5 in (43-52 cm).
– L/XL: 19.5-23 in (50-58 cm).
Hips fit:
– S/M: 28-50 in (71-127 cm).
– L/XL: 30-50 in (76-127 cm).
---
Final thoughts & rating
In summary, this newest version of the Osprey Exos 58 Pack for Men is the best so far. It is ultralight as it has always been, but there are new features added here.
The torso adjustability is a very useful feature that allows for different family members to use the same pack, and the extended hip belt padding adds to comfort. In addition, the hip belt pockets add to the packs functionality. Fully recommended. I have added this pack to my list of best backpacking packs for men.
Below you can see how I rate this pack against my usual rating criteria so that you can easily compare it with other items of this type:
BEST PLACEs TO BUY
For more options, please check under the category Large Packs. Only the best of them are presented in the site. Check also the Osprey Exos Pro version of these Exos packs.
Bookmark this site and come again, this will keep you informed because I add texts here regularly. Let me know if you have questions or comments, there is a comment box below. Have a nice day.