---
Marmot Mens Featherless Jacket is an insulated jacket with a synthetic insulation, and it can be used on its own or you can zip it in as a mid layer under a shell jacket.
---
Key features & benefits
Synthetic insulation.
Angel-Wing Movement design.
The state-of-the-art materials.
Zippin Compatible.
It packs in its own pocket.
Amazon's Choice item.
---
What this is about
If you go to Amazon, you will see this jacket marked as Amazon's Choice. This is a kind of unique seal of approval from Amazon and it describes "highly rated, well-priced products ready to ship immediately". This jacket should not be mixed with Marmot Featherless Hybrid jacket which is a completely different model.
The word 'featherless' in the name indicates that this is an insulated jacket with a synthetic insulation, but it also implies that this insulation will not start appearing through the stitching. The jacket is perfect for various cold-weather activities.
Angel-Wing Movement design
This means that you have extra material and room on the back so you can more arms freely and without much stress of the fabric. So you have a freedom of movement in moments scrambling or any similar situations.
Zippin Compatible
The meaning of this term is that the zipper is designed in a clever way, so you can zip this jacket to external shell jackets from this brand and use it in a combination that some call a 3-in-1 jacket or an interchange jacket or a component jacket.
Pockets
This is a simple design so you have two zippered hand pockets of a rather generous size, plus one internal zippered chest pockets. Note that it stuffs in its own pocket, this is a nice feature as you can store it in the pack in such a compact state and it will not take much space.

Other features
The fit is regular and 'true to size'. It is never constricting and this is the result of the mentioned Angel Wing design. The weight for the medium size is 12.3 oz (349 g). So this is a lightweight item indeed, you can compare it with some other insulated jackets in this list.
You have very simple elastic-bound cuffs, see the picture below. This is probably so because of its double use as a mid layer. When you zip it to a shell jacket, you would not want to have any extra Velcro tabs there, you have them normally on the external shell layer and this is enough.
The hem is with a simple elastic drawcord.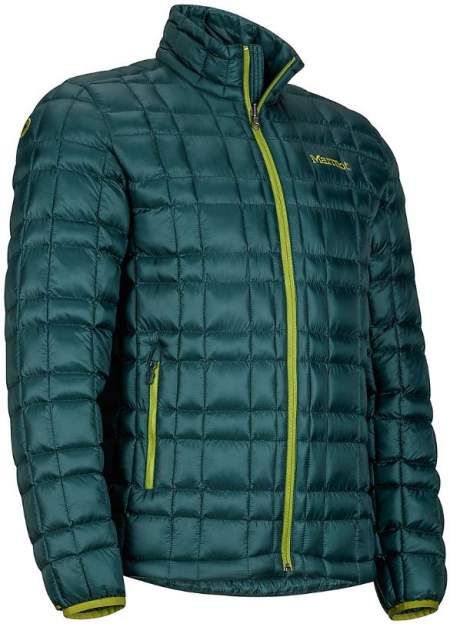 ---
Materials
This is a jacket that feels very soft to touch. You have seen those rectangular baffles, so each segment is stitched and filled individually and the insulation will not move to large distances and there will not be cold spots. There is a lot of research and testing behind such a design.
The insulation is an eco-friendly 75% recycled Marmot's 3M Thinsulate loose fill, with features that put it at the level of a 700 fill down. This is an ultra-light and highly compressible material that preserves its insulation features even when it gets wet, and this is what makes it different from a down when used in such jackets.
The external fabric is a 100% recycled nylon Double Mini Rip 1.0 oz/ yd and they have added some weather resistance here.
---
Final thoughts & rating
The Marmot Men' Featherless Jacket is a lightweight insulation layer for a variety of cold-weather activities. You can use it on its own or as a mid-layer in your outdoor activities or just for a casual use. Yet it is more an all-year-round type than a winter jacket which you would use on its own, but as a mid-layer you can use it even in the harshest conditions.
This is a versatile piece with a synthetic insulation which will perform well in all conditions, no worry if it gets a bit vet, it will still keep you warm. The structure is robust and true to its name, you should not see insulation coming out through its stitching. This is a nicely built and pleasant item, fully recommended.
A hood would add some warmth, but this is a part of its zip-in design, a hood would not fit. But they have a separate Marmot Featherless Hoody if you need it. Please see how I rate it:
Thank you for reading. If you need more options to consider, please check my list with best insulated jackets for men, you will see this jacket included as well.
Note that I am not paid by the brand or related in any sense, so this is NOT a sponsored text. I only give my unbiased view of the product.
Do you have any experience with this jacket? If so please share it here, there is a comment box below. I wish you a nice day.