---
The Kelty Glendale Backpack is built in two sizes, 85 and 105 liters, with an adjustable torso length, three access points and a huge load capacity.
---
Key features & benefits
Huge load capacity.
3 Access points.
10 Pockets.
Adjustable torso length.
Very light.
---
What this is about
Here you have a pack from Kelty's new series. The title tells you this is about two huge packs designed for heavy loads and with the same features.
This is a classic top loading pack with a floating lid and a collar underneath it for the top access. The picture below shows one of them from the front.
But the pack also has a J-shaped zippered access on the left side, it is shown in the picture below. So do not mix this with a side pocket, this is an access to the main compartment.
In addition, there is also the bottom compartment with yet another zippered access, see how it looks:
The pack is hydration compatible and with two ports behind the harness, you can see them both in the picture;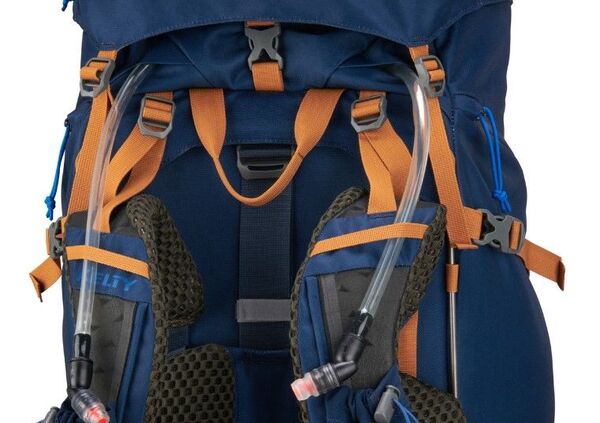 Suspension
The pack has an interesting frame which is more external than internal, it is visible at several sections, you can see it in the picture below. Being so accessible, you can use it if you want to attach some extra stuff from outside with a piece of string.
The frame transfers the load to the lumbar area where you have a massive lumbar padding, see the picture below. The hip belt is also generously padded, and this is all covered with a breathable and pleasant mesh.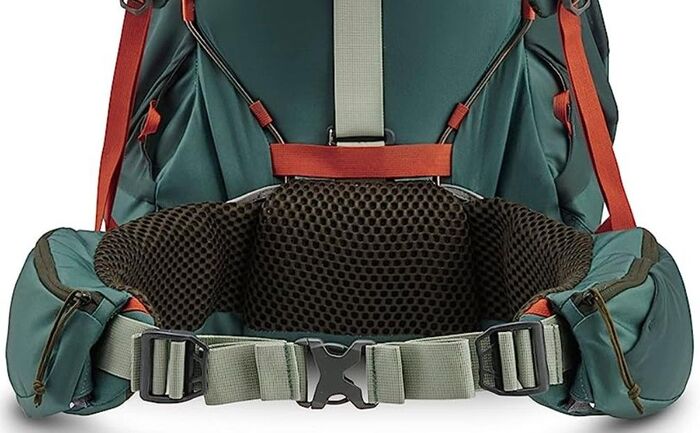 The torso length is adjustable and you can see some details in the picture below. This is what they call the FIT-Plus suspension system. One part of the adjustability is also what you have on the waist belt on the sides, all for improved fit & comfort and for a wider range of body types.
The numerous orange straps that you see include two load lifter straps and two lid straps, plus the sliding sternum strap.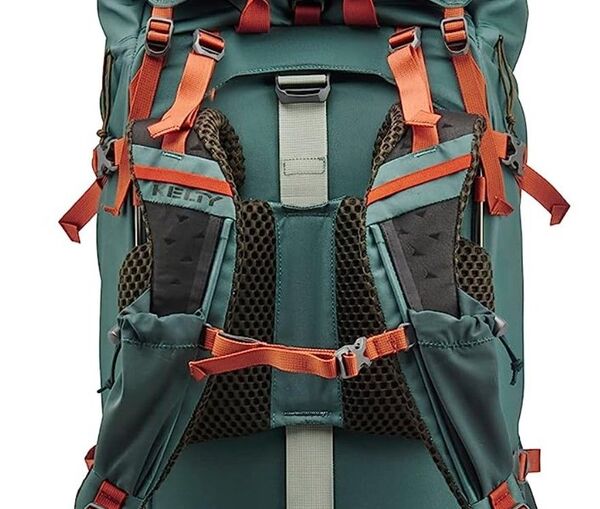 Pockets
It is interesting that they write about 7 of them, but in fact there are 10 pockets here.
Two small pockets are on the shoulder harness, they are visible in the picture above.
There are 3 pockets on the hip belt. Two are standard zippered pockets, but there is also one extra stretch mesh pocket on the left sside, see how it looks: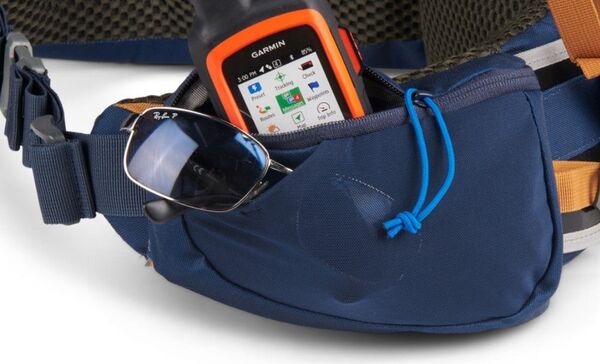 Two dual-access side stretch mesh pockets are also in place, one is shown below: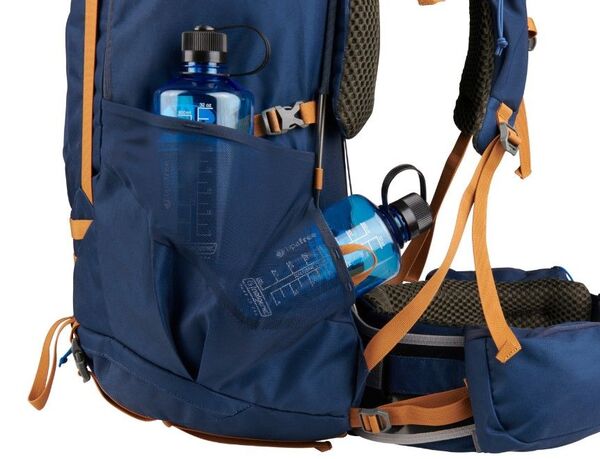 You also have one large front stretch mesh pocket, and one zippered pocket on the lid.
On the right side there is one large zippered side pocket shown below.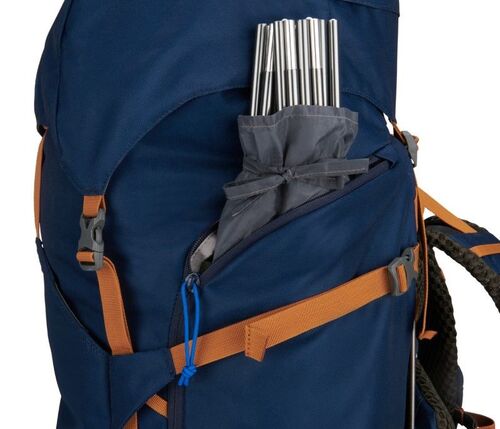 Attachment options & straps
Plenty of stuff here as well, all those orange parts in the pictures are straps of various kind.
So you have dual webbing loops on the bottom, dual bottom straps, dual side straps on each side, etc. Hip belt stabilizers straps are also on the sides behind the pockets.
Materials
You have a combination of a 300D Velocity and 600D Oxford polyester. The pictures show that they build it in two different colors. I could not find information about the frame material.
Please see more in this short video:
---
Who is it for
Regarding the weight, it may look heavy with its 5 lb 4 oz (2.38 kg), this is for the 85-liters pack.
But if you check its volume to weight ratio, which is more than 35 liters/kg, you realize it is ultralight. Though it is slightly heavier than its cousin Kelty Asher 85 Backpack.
Regarding the volume and best use, this is a huge pack and suitable for very heavy loads. The carry capacity is up to 75 lb (35 kg). So this is more than famous Deuter Aircontact X and Gregory Baltoro.
So with such a size and weight, this is a pack for long multi-day backpacking trips and expeditions. It is perfect for any situation where you carry either heavy or bulky load.
Regarding the price, it is a bit steep, but this is a great pack and it is worth investment.

---
Specifications
Weight:
– Glendale 85: 5 lb 4 oz (2.38 kg).
– Glendale 105: 5 lb 5 oz (2.41 kg).
Volume:
– Glendale 85: 5187 in³ (85 l).
– Glendale 105: 6407 in³ (105 l).
Dimensions (H x W x L):
– Glendale 85: 33.5 x 12 x 14 in (85 x 30 x 36 cm).
– Glendale 105: 33.5 x 14 x 14 in (85 x 36 x 36 cm).
Torso size: 15 – 21 in ( 38 – 53.5 cm).
Waist belt size: 30 – 56 in (76 – 142 cm).
Carry weight: 75 lb (35 kg).
Warranty: Kelty's lifetime warranty.
---
Final thoughts & rating
In summary, the Kelty Glendale Backpack is belt in the best tradition of Kelty. It is very big and durable, with a massive load-hauling capability, and yet lightweight and with plenty of useful features.
With so many pockets and three access points, you can remain organized and keep all your stuff easily accessible. Fully recommended. I have included it in my list of best backpacking packs for men.
Below you can see how I rate it against my usual rating criteria so that you can easily compare it with other items of this type:
BEST PLACEs TO BUY
As usual with Kelty's products, many sellers are happy to offer it, so here are some:
For more options, please check under the category Large Packs.
Bookmark this site and come again, this will keep you informed because I add texts here regularly. Let me know if you have questions or comments, there is a comment box below. Have a nice day.