---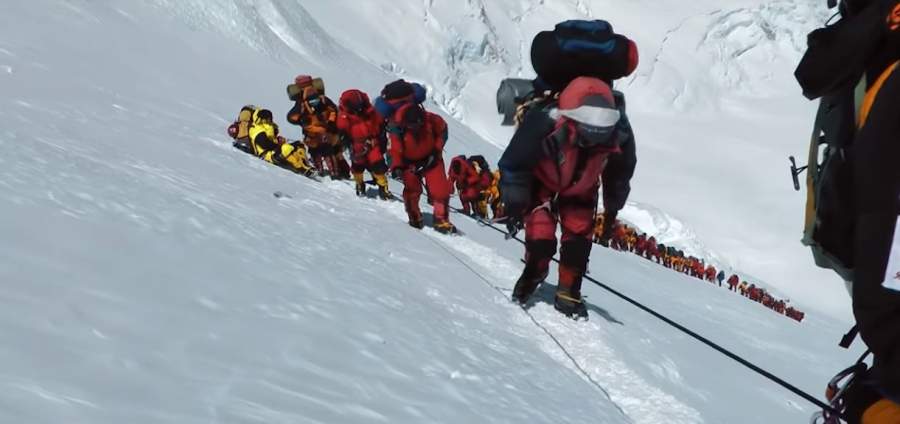 Did you know that close to 300 people have died climbing Everest in the past century in all the attempts of climbing its? From what I have found, there are still around 200 dead bodies on the mountain. You can find all the names on Wikipedia. It is interesting that only around 22 died in the first 50 years, so the number is growing rapidly in more recent years.
Some claim that climbing Mt Everest is becoming safer, so why the number of deaths is growing? This is because more and more inexperienced people with money go there to have a trophy picture from the summit. See the picture above to realize this.
How does this compare with some other mountains? Well, you can take Matterhorn as an example where more than 500 people have died so far. But some claim that the Mont Blanc fatality rate is around 100 hikers a year! This is highly exaggerated, but the number is probably in the range 5 – 15 per year. I could not find any official data, if you know please add a comment below.
Back to Everest, more than a third of those who have died on Mt Everest are Sherpas. Some claim that Sherpa's job is the most deadly on Earth. They are there in much greater numbers than people from other countries, but more importantly, they spend much more time in the death zone.
Why? Because they do all the job for foreigners, place ropes and ladders in place, go up and down when somebody is in trouble, carry oxygen bottles and even dining tables.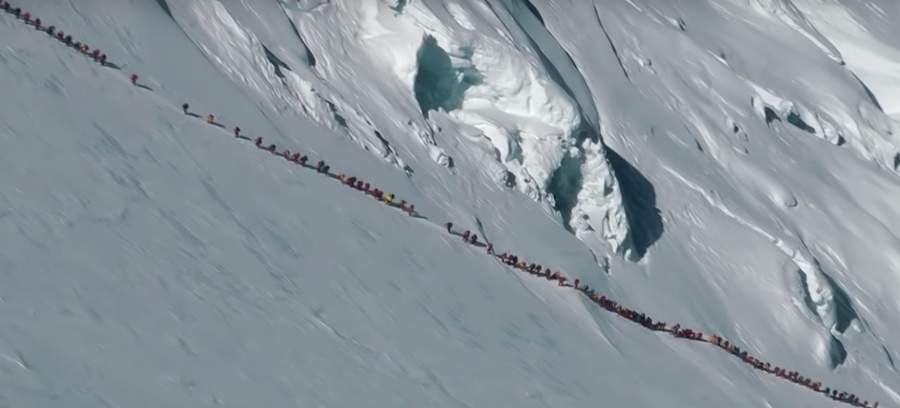 The picture above shows you how Everest slopes may look like on a busy day. But you will see also the video below, the author of the video asks a Sherpa:
"How many … could do it without you?" The reply is:
"I would say zero".
This tells you how Sherpas see their customers. I guess for some of those in the pictures above this might be tough to swallow.
The Sherpa in the video also says it does not have to be so luxurious, this risks a lot of life. But there are more interesting details in the video below. There is a woman, a doctor from America who says:
"Is it acceptable for me to put someone else at risk?"
Sounds noble, doesn't it? But is it really so? This same person went there four times trying to climb Mt Everest before she eventually succeeded in her fourth attempt. But as you can imagine, this was only after putting "someone else at risk" and this four times to be precise. No doubt she would continue until she would succeed. So, how ethical is this?
In view of all this, it is not surprising to see such a list of records which I found on Wikipedia, see it to believe it, this is about people with various disabilities who climbed the mountain: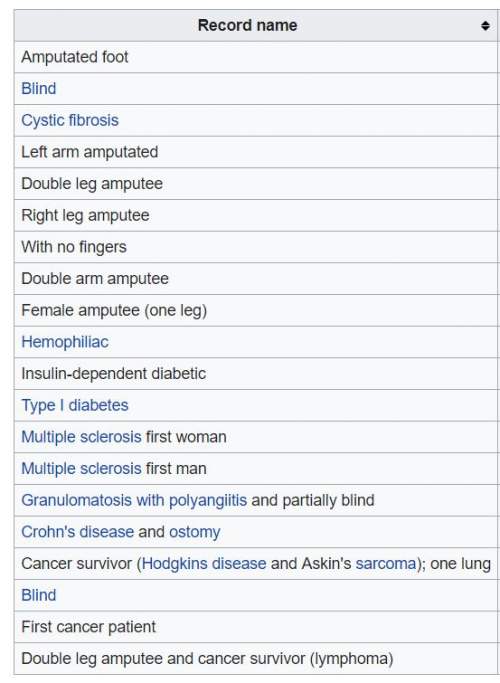 One can have sympathy for people with such serious issues who managed to the summit. But think about this from Sherpas' perspective and how many of them have risked their lives for such achievements of their clients.
Why discussing ethics and why Everest is so deadly
This is mentioned in the video below, and this is not only about the danger of avalanches and low temperatures, and about the humiliating situation of Sherpas who do all the hard work for clients. No, there is more to consider.
When you are in the dead zone with so reduced amount of oxygen and with all the extreme conditions you have there, body tissue is used for energy. So in the dead zone, the person is dying the moment he/she starts the climb. There is a finite time one can stay there and live to tell the story.
Now, all mentioned above applies to Sherpas as well. They are humans. How many times have they been in the process of such a slow dying and then coming back? It seems that Kami Rita is the record holder with 22 climbs to the summit. But there is also Apa Sherpa who climbed it 21 times. My guess is that they have many more climbs in the dead zone. Who knows how many times they were carrying those ladders to prepare passages over crevasses and how many times they were fixing the ropes for their clients.
So is there an ethical way to climb Everest?
Yes, absolutely, I would describe it in four words – carry your stuff yourself.
I have seen some claiming that the practice of using Sherpas to carry the gear to the basecamp and to set ladders and to fix ropes has been there from the very beginning, implying that nothing is wrong in this. But I have a problem with such views. There were times when slavery was a normal thing for those who used slaves, but humans have evolved a bit and this practice is abolished.
But can you climb Everest solo and without support?
From what I know, it can be done. Messner was the first person ever who climbed Mt Everest solo, and this was simultaneously first solo ascent without supplemental oxygen. So this was the Alpine style applied to the Himalayas. I have no information if he had any support by Sherpas till the basecamp.
But there is yet another documented example – Göran Kropp did it solo without the help of Sherpas and without bottled oxygen.
However, there is a problem. As far as I know, Nepal now bans solo climbs, according to the news that was announced in 2017. I know that such a situation is also if you want to climb Kilimanjaro or Ararat.
Clearly, Sherpas are not forced to do what they are doing, but they are trapped, for many of them this is the only way to support their families. They are not doing all this willingly, you will realize this from the video, so have a look:
Thank you for reading. What do you think? Please share your thoughts, there is a comment box below.
---