---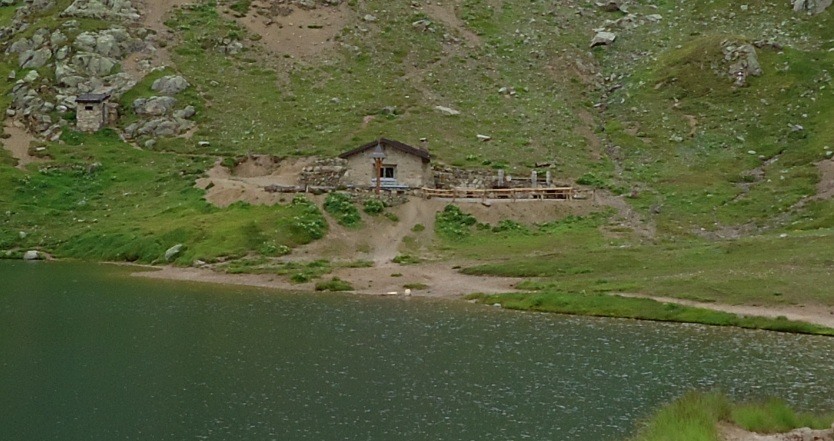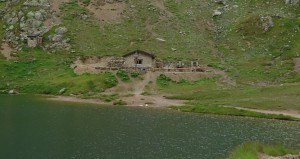 There are literally hundreds of huts and shelters in the Alps. Some huts are with guardians all the time, some with guardians over weekends only, some without guardians at all.
In this page you will find some basic information about them.
[J.S Bach, Sonata  BWV 1001, presto]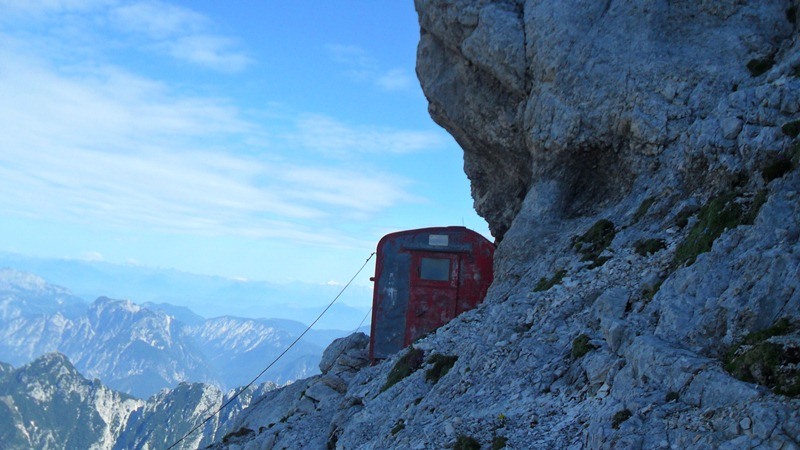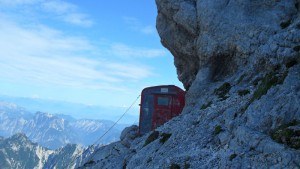 Shelters are without guardians and typically in remote locations, sometimes without any equipment, but in most cases with blankets and even with some sort of stove (for wood or gas, and sometimes with both).
It is good to be well informed about a shelter where you plan to spend a night; coming unprepared may bring you into a serious situation. Having a gas burner is one piece of equipment which I would always suggest to have with you.
Some typical examples of shelters described here within this site are Bivacco Battaglione Ortles,  Igloo des Pantalons Blancs, and many others.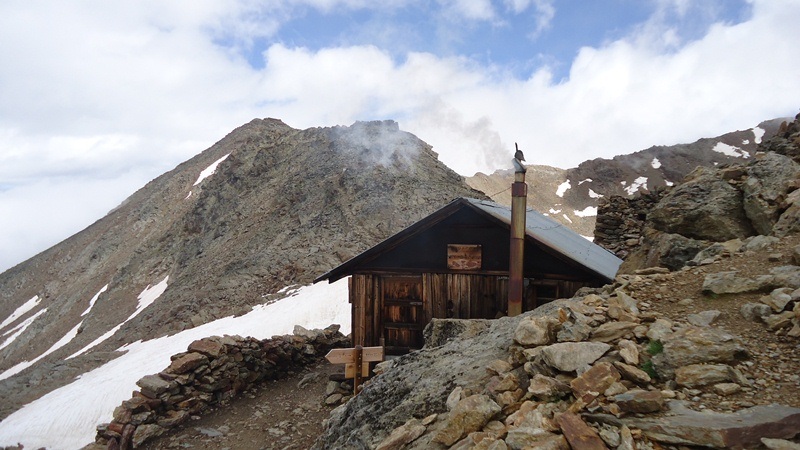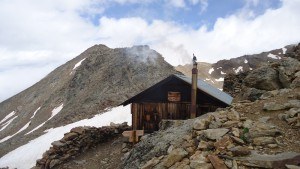 Regardless of what kind of hut or shelter you are heading to, I can claim with certainty you will know to appreciate the fact that it is there. After a long walk at high altitude, sometimes in very cold weather, you will enjoy the place even if it is the most basic one.
I am not saying it is always pleasant to stay there, but their presence in mountains is essential.
Imagine you have been walking 7-8 hours or longer, and you get a place in a mattress room. Problem is, so have been 30-40 others who are sleeping in the same room, in socks or having them near the bed (luckily, and thank God for that, in Swiss huts, shoes are as a rule always kept at the entrance room).
And then, many people snore and this is the reality, nothing can be done. And if this is not enough, some of them are getting up at 3 or 4 am, to start their early tours. But even if they do not get up so early, do not worry, the guardian will turn on the lights at 5 am and there will be a wake-up call.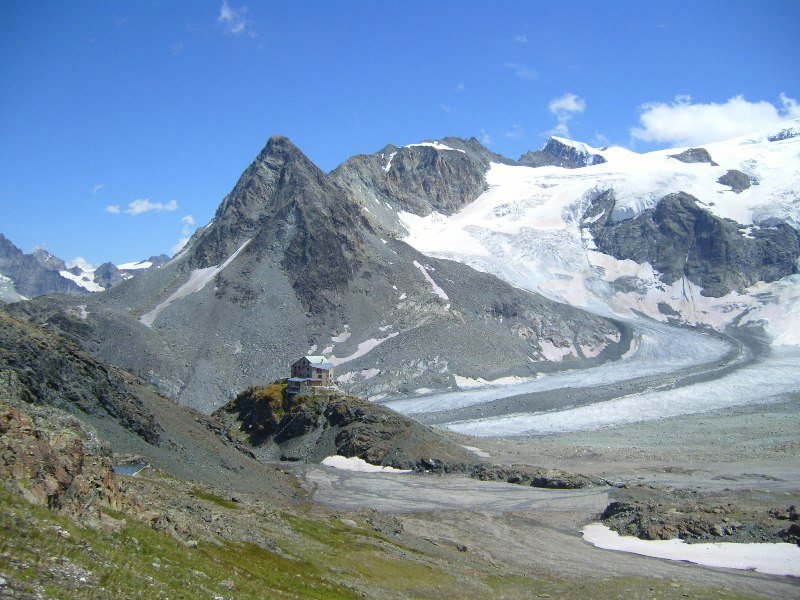 So yes, you will be tired after such a night. But again, see this from another perspective. You are at some 3000 meters. And you will remember that there was some running water outside of the hut the afternoon you arrived. In the early morning, you will get out hoping to wash your face, only to realize that what the water was yesterday, is now a pure ice.
And then, you might also see somebody's tent on the glacier or on the rock not far from the hut. In such moments you will feel that this same hut where you spent a sleepless night is the most pleasant place on this planet, and you would not exchange it for the clean and fresh air in the tent.
---
What you need in huts and shelters in the Alps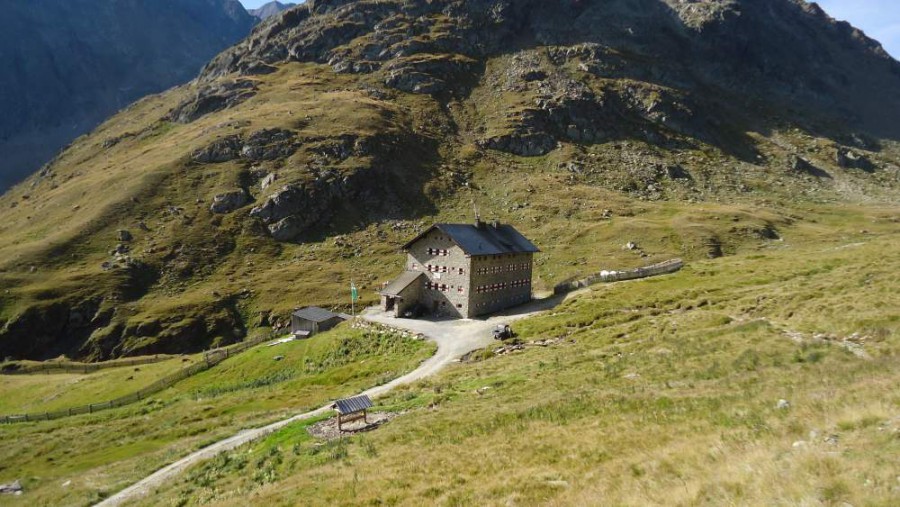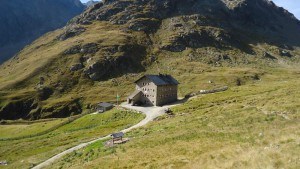 Huts with guardians will have food for you if you want it. The water is usually not free, unless there is some water source running outside. For sleeping, you will have blankets and pillows.
Some huts request you to have a sleeping bag liner, which you may buy in any outdoor shop; it is not so heavy in particular if you are ready to pay a bit more and have a silk liner bag. This part of equipment you might use also in other occasions, for example, if you are camping, as an extra layer in your sleeping bag.
In Swiss huts, you will leave boots in the entrance room, and they will provide you with some heavy slippers to use when you are in the hut.
I would warmly recommend you to have your own pillow case whenever you plan to spend a night in a hut. Remember, this is not a hotel, so you will be using the same stuff used by somebody else the night before.
Running water in a hut is not guaranteed at all, there are huts without it. But in the majority, you might expect to have a toilet with cold water to wash yourself a bit. Of course, you will carry your own towels, and I would not go without a roll of the toilet paper anyhow.
Within this site, I shall share with you information about some of such places which I have seen and experienced on my trips to mountains. You might like to see this page about Bivacco Battaaglione Ortles, or the one about the Refuge Igloo Pantalons Blancs, or my text about Pizzini hut in Italian Alps.
You will use huts and shelters when you are high in mountains. However, you will need some accommodation in the valleys around. Camping is a great option, there are camps everywhere in the Alps and people are using them.
But you might also like to rent some holiday flat or house. Their prices in the summer time can sometimes be comparable to camping. For more information about such possibilities please visit my another post within this site.
Please leave some comment in the box below, I shall be happy to read and to answer any question which you might have. Thank you.


---