---
In this text, I present 4 hiking poles with camera mount adapters which allow you to use them as monopods. Some of them are sold as single walking staff, and some are the usual trekking poles sold in pairs, with this extra photo capability included.
Trekking poles are a useful tool when used for their basic purpose, i.e., to help in walking and hiking by providing balance and stability, and by reducing stress on your knees. But there are some additional ways of using them when you are on a tour. Some of them you may see in my posts on tents: trekking poles can be used as tent poles. See more about it here.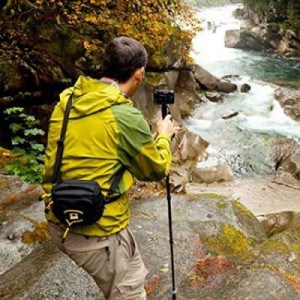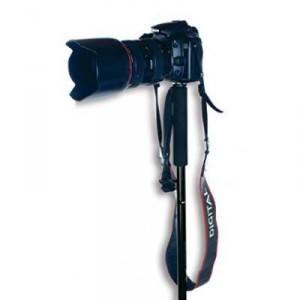 However, this is not all. As you have seen in the title, trekking and walking poles can be made to serve as monopods for cameras, for people who are passionate about outdoor photography. So this comes as a useful tool instead of carrying a traditional tripod.
So how is this done? You will be able to see this from a couple of videos given below: the top knob of the pole can be removed and this exposes the universal camera mount.
---
The list includes the following poles, given in alphabetical order:
Below you can see a few features of each of the item in the list.
---
1. Kelty Snapshot Hiking Staff

As the name of this item suggests, it is best suited for hiking. So this is a lightweight but quite durable 7075 anodized aluminum staff with the built-in camera attachment point, and this is why it is in the list here. The weight is reasonable, you have 10 oz (283 g) only for the single staff. Its collapsed length is 27 inches (69 cm), and when in use the length is in the range 35 – 54 inches (90 – 135 cm).
This is a 3-section pole with an adjustable length which is possible due to its twist-lock mechanism with anti-shock features. The handle is an extended EVA foam and you also have an adjustable padded wrist strap. Underneath the top is an embedded screw where you can mount your camera.
You have a rubber tip included which you can use when it is transported or when you walk on a concrete or similar material, and it covers a non-slip carbide tip. The staff is with a limited lifetime warranty.

It is important to stress that this is an incredibly affordable pole. Please see more in this video by Kelty:
---
2. LEKI Carbon Lite trekking poles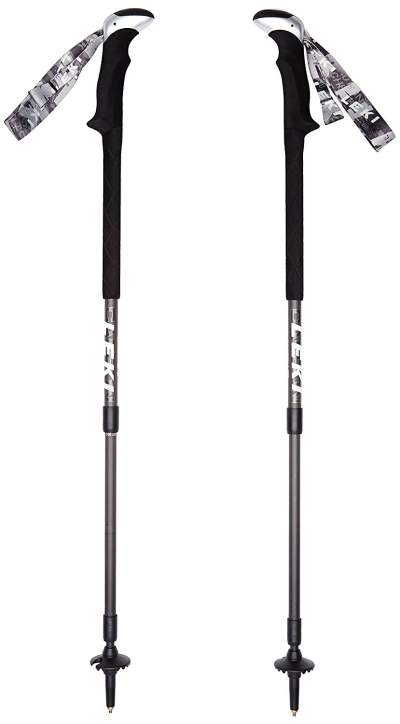 These are 3-section ultra-lightweight hiking and backpacking poles, which I have included in my previous post on 7 Best Ultralight Hiking Poles Made Of Carbon. It has an internal twist-type locking mechanism, the same as in item 2 above.

The maximum length of this tool is 53.1 inches (135 cm). It comes with carbide flex tips. The weight is 14.3 oz (405 g) per pair. The packed size is 24.8 inches (63 cm). Note these are carbon poles, so you have the best material here. Other features can be summarized as follows:
Grip Aergon.
Strap Lock Security Strap.
Tube diameter 16|14|12 mm.
Basket trekking.
Tip Flex tip.
---
3. LEKI Photo Carbon SpeedLock trekking pole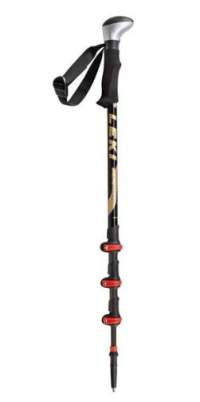 This is a 4-section pole, with 3 external clamp-type locks. The maximum length of the pole is 66.9 inches (170 cm). The weight is 11.4 oz (323 g) per a single pole. It is interesting that its packed size is the same as the Kelty staff above, so you have 27.2 inches (69 cm).
It comes with carbide Flextip with rubber tip, and with an interchangeable basket system.

In this video below you will see how LEKI Photo Carbon SpeedLock trekking pole is used as a camera monopod, have a look:
---
4. Mountainsmith Trekker FX Monopod walking staff
The Trekker staff is very similar to the Kelty model above. So the weight is 10.5 oz (300 g), the body is 7075 aluminum and you have a molded EVA handle. The staff has a removable top of course, and when you remove it you have 1/4-20 SAE threaded bolt for a camera.
You will be able to see this staff in the video below. Here to add only that this is a 3-section pole with an internal twist-type lock mechanism. Its maximum length is 54 inches (137 cm).

Here is a video about Mountainsmith Trekker FX Monopod Walking Staff by Mountainsmith:
---
So, I hope this text about hiking poles with camera mount adapters has been useful to you. All models presented here are available on Amazon, and you can order them through the links. If you need ordinary trekking poles, please visit my page with poles.
I shall be happy to see some comments in the box below. Thank you.
---