---
Here you have some basic information about the new Gregory Stout and Amber Packs Series which this brand launched for the coming season.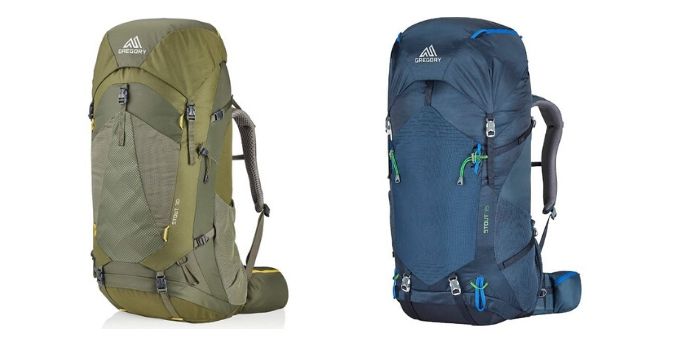 The picture above shows the biggest packs in the new and old versions. There are some small changes in the design but not in functionality. So if you already have a Stout or Amber pack, no need to buy the new version. You can see the previous Stout packs in my detailed reviews, and some of the Amber packs you can see here.
But there are differences in the size of the two largest Stout packs that are now 60 and 70 liters, instead of 65 and 75 liters in the previous version.
The colors are different, the previous Stous is in two colors and the new version is in three, one is shown above. You will see them in the links below. Similarly, the two largest Amber packs are now 55 and 65 liters instead of 60 and 70 liters in the previous version.
As usual, both new and old versions are on the market and it may be difficult to know which is which. In fact, I know for sure that there is also the third version (the one that was before the previous version) on the market as well, it is available on Amazon. So the mess is complete.
The top picture above shows them from the front, and below you can see the suspension in the new version. The pack in the picture is Amber 70.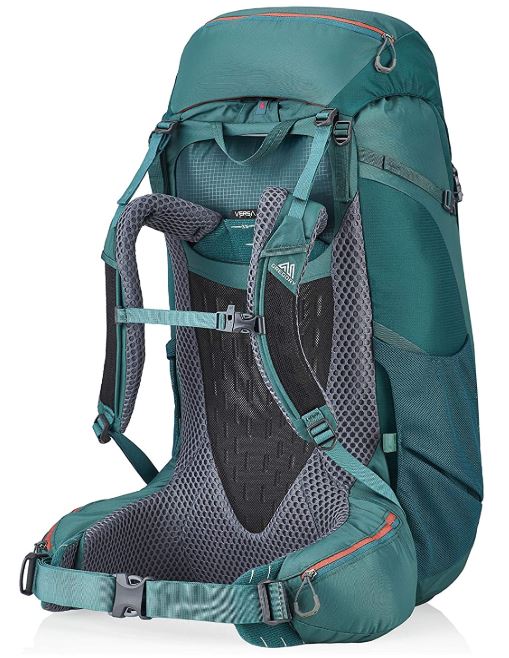 But if you are not familiar with these packs, just to stress that Stout packs are for men, and Amber packs are for women. They have some gender-specific details in the design and colors are different, but all features and functionality are the same.
These are durable and versatile packs suitable for various outdoor activities. They are built in 4 sizes, and there are no sub-sizes like in their Paragon and maven packs. Here are their most important features:
All packs come with a rain cover.
All of them have an adjustable torso length. This is what they call the adjustable VersaFit suspension.
The suspension is supported by a perimeter wishbone-shape alloy frame and a horizontal anti-barrelling central pole.
All have an adjustable sliding sternum strap with a safety whistle.
There are 7 pockets in all of them. These include two zippered hip belt pockets, two side stretch mesh pockets with dual access, two lid pockets (one from the top access and one from the bottom access), and a large stretch mesh pocket on the front.
There is an internal hydration sleeve.
The compression straps include the usual dual side straps, so 4 in total, and you also have dual bottom straps.
All packs have a top lid and collar with a draw-cord and a top strap.
All packs have top and bottom access.
Some more features you will see in the video below.
Here is the table with the weight (together with the rain cover) of all the packs in these two series, and their weight capacity. As you see these are indeed very lightweight packs in particular in view of their strong frames. The Volume/Weight ratio is in the range 26 – 40 liters/kg from smaller to larger packs, so these are excellent values.
| | | |
| --- | --- | --- |
| | Weight, lb (kg) | Carry Weight, lb (kg) |
| Stout 35 | 2.97 (1.35 kg) | 35 (15.9) |
| Stout 45 | 3.13 (1.42 kg) | 45 (24) |
| Stout 60 | 3.79 (1.72 kg) | 50 (22.7) |
| Stout 70 | 3.85 (1.75 kg) | 50 (22.7) |
| Amber 34 | 2.89 (1.31 kg) | 35 (15.9) |
| Amber 44 | 3.00 (1.36 kg) | 45 (24) |
| Amber 55 | 3.62 (1.64 kg) | 50 (22.7) |
| Amber 65 | 3.68 (1.67 kg) | 50 (22.7) |
The differences between larger and smaller packs
So there are differences and they include the following:
The two largest packs in each of the two series have an adjustable hip belt with fins that can be repositioned. This is useful if two or more family members with different body sizes use the same pack.
The two largest Stout/Amber packs have a floating lid. This is useful if you want to add some more gear on the top and then fix it with the strap that you have there under the lid. The lid on the two smaller packs is fixed.
Please see more about the Stout packs for men in this video:
Here is a video about Amber packs for women:
In conclusion, these packs look great, you have seen how beautiful the suspension system they have. I would say they look better than ever. They are lightweight as usual, but their overall functionality is not changed as compared with the previous version. I can fully recommend these packs if you need a new reliable and durable pack from one of the top brands in this industry.
Note that these packs are available on Amazon (here for Stout packs, and here for Amber packs), at REI (for Stout and Amber packs), at Backcountry, and also at Moosejaw. Some of these sellers have some packs in three versions!
Thank you for reading. Let me know if I have missed something, share your thoughts there is a comment box below. There is also a subscription form below, so subscribe to our weekly newsletter.