---
This Gregory Stout 75 Pack Review is about a completely modified ultra-lightweight, 1.76 kg only, version of the pack, with an adjustable harness. It is suitable for backpackers, hikers, mountaineers, and for travel.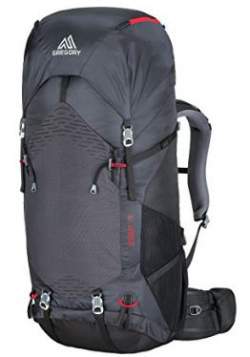 ---
Key features & benefits
Ultra-lightweight, with the volume/weight ratio 43 L/kg.
Bonus rain cover.
Adjustable harness.
Adjustable hip belt.
There is an option on Amazon to get it with hydration bladder included.
---
Who is it for
This is a huge but incredibly lightweight pack, 1.76 kg (3 lb 14 oz) only, and as such it is ideal for backpackers, hikers, mountaineers, and for travel. It is designed to carry 23 kg (50 lb) of weight, so this can be good enough for week-long or even extended tours, dependent on how bulky your equipment is, and on the type of activity.
Ultra lightweight, is it really?
I know that many are sensitive to using the words 'ultra-lightweight' in the description of such tools, and I regularly get objection of that kind when I put such items on my Facebook page. Some always need to teach me what ultra-lightweight means.
So if you are one of them, please be patient and see more below. There are certainly far lighter packs on the market, but those usually miss many features that you need. A plastic bag is the lightest for sure but this does not make it useful.
---
What is new in the new model
This is a completely redesigned version, totally different from the previous pack, and I am surprised that they launched it under the same name. So if you have the previous version and think that this is just a slightly modified model, think twice. This is a new pack and it is more similar to the packs from the new Paragon series by Gregory than to its previous version.
Here are the most important differences between the new and the previous version:
There is only one size in the new version, as compared to 3 sizes in the previous.
You have an adjustable harness in the new version, as opposed to fixed one in the previous.
The bottom compartment is available in the new version, it is absent in the previous model.
No front access in the new version, it is available in the previous.
No daypack in the new version, it is available in the previous.
Different front pocket design, etc.
You can see more if you compare the model presented here and the Stout 65 presented elsewhere in the site (note, the previous Stout 75 was with the same design, just with a bigger volume).
---
Description
This new Gregory Stout 75 pack is the largest in the Stout series, loaded with great features suitable for backpackers and hikers. This is a top-loading type with a floating and removable lid and a spindrift collar underneath it.
Yet another entrance is at the bottom where you have a classic sleeping bag compartment with a U-shaped zipper. The divider between the two compartments is removable, and this is just a platform fixed with toggles. So this is not so great because small items from above can pass easily along the sides of the divider, and end up in the lower compartment.
The pack is hydration compatible, with the sleeve inside the main compartment, and with the hose part behind the harness.
The suspension system
The suspension is what they call the Trailflex, with an adjustable torso length system based on Velcro hook and loop connections behind the back panel, a part of it you can see below. So it allows for a very precise fit for just any torso length in the size range 41 – 56 cm (16 – 22 in).
The system is supported by a lightweight spring steel wishbone frame which is designed to transfer the load to the generously padded lumbar zone. The frame is behind an anatomical and well-padded back panel.
The hip belt is pre-curved and with a very substantial padding, see below, and it is adjustable so that you can move the hip fins forward and backward to accommodate to your body size and circumference. It also has some flexibility integrated into it, so this is again the same Trailflex system similar to the harness.
The pockets
The lid is with an external zippered pocket, and yet another is on the underside of it, with a key clip inside. There are two zippered hip belt pockets, and they can be repositioned when the hip belt fins are adjusted to your body size.
The usual dual side stretch mesh pockets are in place. One large stretch mesh pocket is on the front, and inside it, you have a zippered pocket where the rain cover is stored. You can use it for other stuff of course if you do not need the cover.
Attachment elements
You have webbing loops on the lid, for solar panels' attachment or for anything else. Completely on the bottom, you have dual compression straps, long enough to attach a pad or similar stuff.
There are dual webbing loops for ice axe attachment, and they are paired with bungee loops higher on the front. But together with those loops you also have smaller loops where you can pass trekking poles' tips and then fix the poles with the mentioned bungee tie-offs.
On both sides you also have dual compression straps, the upper and the lower, to fix items stored in the side pockets or to compress the pack.
Here is a promotion video by Gregory about their new Stout series which includes the packs of 35 liters, 45, 65, and 75, please have a look:
---
Specifications
Best use: backpacking, hiking, mountaineering, travel.
Weight: 1.76 kg (3 lb 14 oz).
Volume: 75 L (4577 in³).
Dimensions: 72 x 36 x 31 cm (32 x 13 x 12 in).
Rain cover weight: 0.105 kg
Carry weight: 23 kg (50 lb).
Fits torso: 41 – 56 cm (16 – 22 in).
Fits waist: 64 – 135 cm (25 – 53 in).
Materials:
– Body: 200D x 900D high-strength dobby polyester & 210D ripstop polyester.
– Base: 630D ballistic polyester with 135 high-density polyester reinforcement layer.
– Padding: dual-density CLPE foam.
– Frame: 3 mm & 4 mm spring steel wishbone frame.
– Lining: 135D high-density embossed polyester.
Adjustable Trailflex suspension system.
Trailflex adjustable hip belt.
Trailflex ventilation technology.
Dual zippered hip belt pockets.
Rain cover.
Dual side pockets.
Front stretch mesh pocket.
Solar cell attachment points.
Reinforced bottom panel with dual-layer construction.
Dual trekking pole and tool attachment points.
Dual side compression straps.
Bottom compression straps.
---
Gregory Stout vs Baltoro
The famous and award-winning Baltoro packs are also modified in 2017, so you have a new version available, please follow the link to read about the new Baltoro 65.
Here to point out only a few features in the Baltoro pack which are very different from the Stout pack:
It comes in three sizes.
Note, the Baltoro pack is without adjustability in the harness, hence its 3 sizes.
All three sizes are far heavier than this Stout 75.
The Baltoro pack is officially designed for the same maximum weight, but my feeling is that this is a far stronger pack. I may be wrong.
Baltoro comes with a bonus daypack.
It has three access points.
It has 9 external pockets.
In the Baltoro pack you have independently pivoting shoulder straps and hip belt fins.
---
Gregory Stout vs Paragon
Both Paragon and this new Stout version are 2017 models. They look similar from the front but there are many differences of course. The biggest pack in the Paragon series is the Paragon 68, so just follow the link to see more. Both packs are ultra-lightweight and with similar adjustability features for the harness and the hip belt.
You have seen the features of the Stout pack above, so here to say a few words about the Paragon only.
It is in two sizes, and its suspension system is different.
They introduced what the call the Aerolon suspension system.
Its water bladder sleeve doubles as a daypack.
Also, it allows for a lidless use.
It has the Quick-stow feature for glasses on the shoulder strap.
Please see more in the link above.
---
Summary, rating, pros & cons
So to conclude this Gregory Stout 75 Pack Review, they built a completely different pack but still kept the same name. If you are an ounce counter and need something ultra-lightweight for your outdoor adventures that still has all essential features, this is the pack for you. I do not think you will find anything with such a huge volume/weight ratio combined with so many features. I can warmly recommend it.
Note that the volume/weight ratio for this pack is incredibly high, 43 L/kg, which is in the group of the best rates for all packs reviewed here in the site. This tells you how ultra-lightweight it is, and yet, it has all the features you need on the trail. See how I rate this pack:
I already mentioned a few different packs above, but if you still need more options in this size range, please check my page with packs above 56 liters.
Thank you for reading. Please let me know if you have any comment or question. There is a comment box below. Have a nice day.