---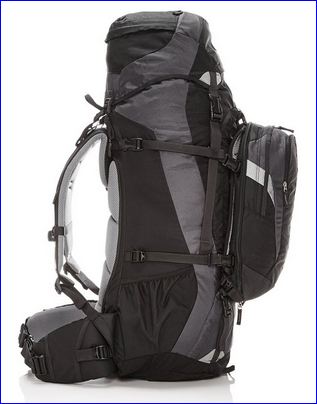 If you are reading this Deuter Quantum 70 10 review then you are surely looking for a reliable convertible travel and trail pack.
The Deuter designers were really thinking about every detail as you will realize from this text.
Due to its Vary Quick adjustment system, this large backpack can easily fit any torso between 15 and 20 inches. The adjustment is truly quick and easy and you can see it in the video below.
Product name: Deuter Quantum 70 + 10 L.
Amazon price: $269, check the link for updates.
Place to buy: Amazon.
My rate: 9.2/10.
---
Specifications
Weight: 2980 g.
Size: 86/34/26 (H x W x D) cm.
Volume: 70 + 10 (+18 dp) liters, over 4200 cubic inches.
You will be able to carry over 5o pounds of load.
Material: Deuter-Duratex, 330D Pocket Rip.
---
Extra day pack
I particularly like its extra daypack attached to the front. It can be removed easily and it truly looks like a small stand alone pack, contrary to some other Deuter models (see the list at the bottom pf the text below) which also have possibilities to remove the top lid and use it as a daypack.
This extra day-pack however even has padded shoulder straps. And if this is not enough, it has additional integrated expandability, plus a very big pocket on the front, plus a sleeve inside!
It is attached to the main body through 4 buckles.
---
The top lid has a zipped storage space, plus a hidden zipped pocket inside.
The divider between the main and the bottom compartment can be removed, making a huge single compartment.
The backpack can fully be enclosed into the cover which you will find in the pocket on the bottom. I like to see this, in particular after my daughter came from a flight from Barcelona without the hip belt on her rucksack. A great feature indeed.
---
Summary of some features
Aluminum frame.
Vari-Quick back adjustment system.
Anatomical hip belt.
Separate bottom compartment.
Main compartment with dual access: from the top and through the U-shaped zipped front entrance.
Additional detachable day-pack.
Hydration compatible.
Adjustable sternum strap.
Integrated transport cover with name tag, serving as protection in transport and as a rain cover. It has 3 handles itself.

Stretch side pockets on both sides, for 1 L bottles.
Three durable grab handles, one on the back and two on the front face.
Hip belt pocket (on one side only, pity).
Numerous loops and compression straps on the outside body for attaching gear.
Expandable collar on the top of the backpack, which gives +10 L of volume, hence the number 10 in the name of the product.

---
Please see this nice video presenting Deuter Quantum 70 10 backpack:
---
Deuter Quantum 60 10 SL pack – slim version for women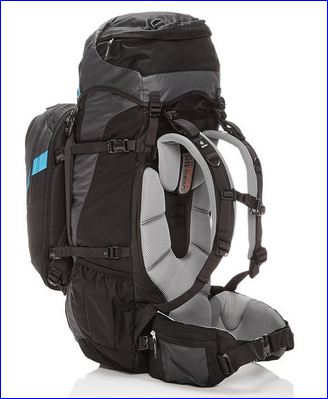 This is a smaller (slim line) version for women with all similar features as the 70+10 model.
Deuter has developed such slim line models for most of their series of backpacks.
Price: $269, check the link for updates.
Place to buy: Amazon.
My rate: 9.2/10.
Specifications:
Weight: 6 lbs 2 oz; 2790 g.
Size: 31/12/9.1 (H x W x D) inches; 80/30/ 23 (H x W x D) cm.
Volume: 3660 + 610 (+1100 dp) cubic inches; 60 + 10 (+18 dp) liters.
Slim line implies the following differences as compared to the 70+10 model:
torso length shorter,
more contoured hip belt,
the shoulders harness is more narrow,
the shoulder harness is shorter.
---
You can see a lot of details about Quantum 60 10 SL version in this video below:
---
Finally, just to add that there exists also a smaller women version,  Deuter Quantum 55 10 SL, and you can order it on Amazon.
I hope you find this Deuter Quantum 70 10 review and the addition of SL pack text useful. These Deuter's models are designed for travel, but they can be used as trail packs, for multi-day or weekend trails as well.
Please leave some comment in the box below.
You might like to see also some other Deuter series of large backpacks like:
---