---
The Big Agnes Sun Dog 45L Pack for Women is ultralight, with a roll top access and a back panel zippered access, and built from recycled materials.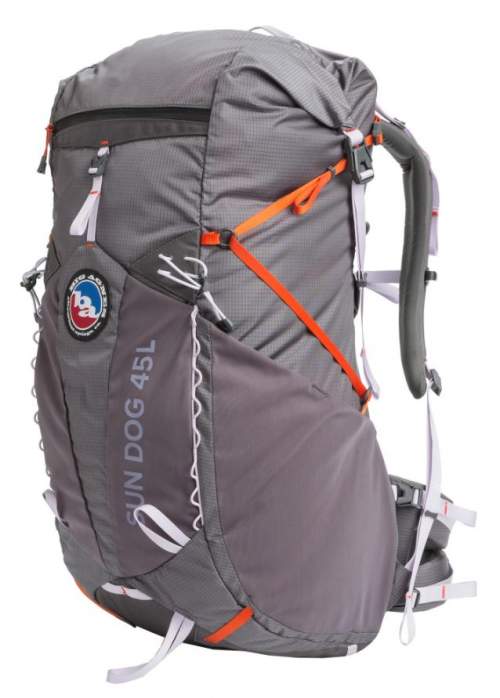 ---
Key features & benefits
Ultralight pack.
Women-specific.
Two access points.
Recycled materials.
Top quality fabric.
Bonus 7L Trash Can included.
---
What this Big Agnes Women's Sun Dog 45L Pack is about

They launched the pack parallel to yet another pack for men, the Big Agnes Prospector 50L Pack. So as you see, Big Agnes has started making packs, and these are their first.
This is a women-specific pack and they build it in one size, as compared with the mentioned version for men where there are two sub-sizes. So this is a design with adjustments on contoured shoulder straps and hip belt to fit to a female body shape.
The pack is top loading but of a particular type, there is no classic lid here. You have a roll top closure with two buckles on the sides. This design looks cool, but a lid usually offers some pockets, and you can also use it to store some gear like a rope and keep it in place with the lid. Here you do not have this but you have an easy access.
But there is also a full-zip back panel access. This means that the pack opens like a suitcase but on the opposite side of what you would normally expect. The picture below shows how it looks.
Inside of the main compartment there is a sleeve for a 3L hydration bladder (not included), equipped with a bladder hook, a tube routing port, and a hose keeper clip on the sternum strap.
The picture shows how it looks with a bladder in place. Observe that it is on the inner side of the back panel, so it is easy to access when you have to refill the bladder.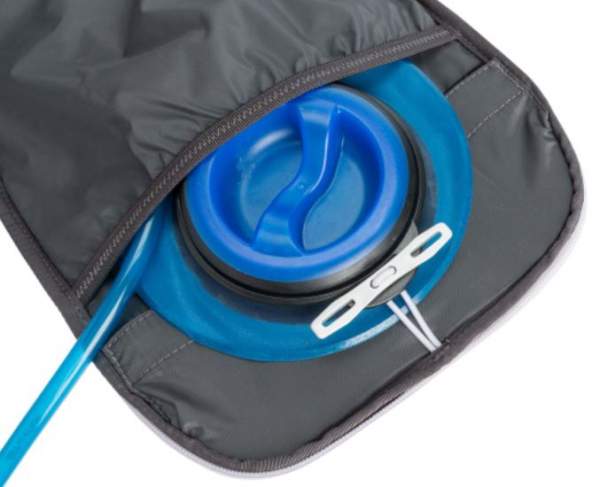 Suspension
The carry load is based on an aluminum perimeter frame which works together with a back panel and a massive hip belt. The picture below shows the back panel so you realize it has ventilation channels, but the design is such that the pack remains close to the body. It is anatomically curved and with a body mapped foam for a precise fit.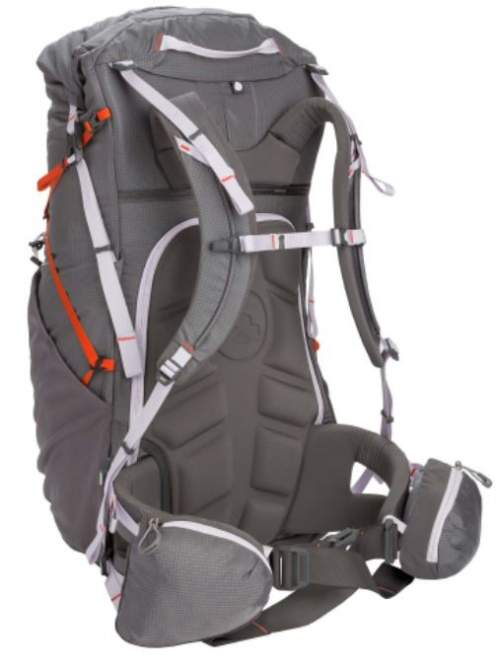 The hip belt is a cut-to-fit structure with what they call the Open Range design. You can see below how this looks. It is equipped with two, upper and lower stabilizer loops, so you can adjust both parts separately. A better hips hugging is hard to imagine.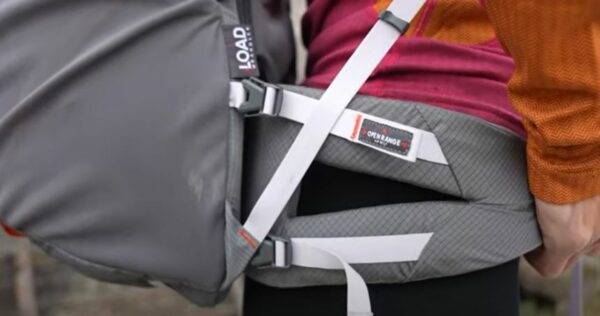 Note that the hip belt padding goes too far on the front, so if you are of a smaller body size around hips, it might be difficult to tighten the hip belt properly. I wonder what kind of person they had in mind when they designed these packs.  
The pack has the usual set of load lifters and an adjustable sternum strap. The shoulder straps padding is also well-done. Note that the torso length is not adjustable.
Pockets
There are 6 pockets in total and they include the following:
Two stretch mesh side pockets. They are really large and useful.
Two hip belt zippered pockets, both removable.
One large stretch mesh front pocket with a top buckle.
One zippered top pocket visible in the picture below. This is probably the only waterproof part of the pack.

Details on the front.
Attachment options & straps
The pack has two long daisy chains on the front, see them above. With a piece of string you can attach your gear here.
They have introduced a unique Hoist Compression system on the sides. This is what you see as those orange straps that zig-zag from the bottom to the top on the sides. On the top you have pull loops to cinch the pack.
Dual webbing and bungee cords are available for trekking poles.
An ice axe loop is also available, see the picture below.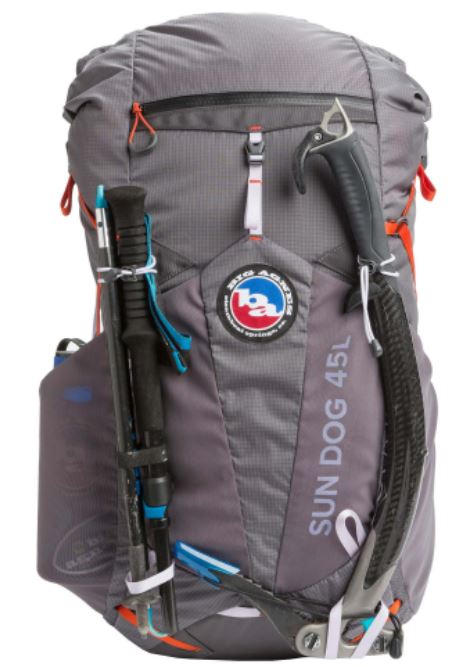 Bonus
The pack comes with a bonus 7L Trash Can for camp trash and for collecting litter on trail.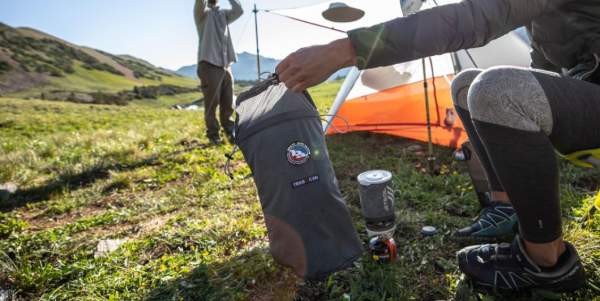 Materials
This pack is built from a 100% recycled material, and it is GRS certified, these letters mean Global Recycle Standard.
So you have a puncture and tear resistant micro-fine denier yarn Mipan regen robic nylon. Note that it is solution-dyed, this means pigment is added directly to the molten plastic solution before the fiber is made.
The fabric is with an UTS environmentally sustainable coating with a 1500 mm rating. But I would not rely on this official rating, take a rain cover if you think you will have rain on the tour. Pity they did not include it here.
On the bottom you have a heavy-duty twill fabric for maximum reinforcement and increased durability. 
Please see more in this short video:
---
Who is it for
Regarding the volume, you have a mid size pack with 2746 in³ (45 l). This may be good enough even for day tours, I sometimes use even a bit bigger pack if I have to carry more stuff. But this should be a perfect size for some overnight or weekend adventures.
Regarding the weight, the pack is in the category which I rate as ultralight. The volume-to-weight ratio is around 35 liters/kg. You have seen the pack, so such a great weight is not because of lack of features.  
Regarding the price, it is quite normal when you compare the pack with some of its top-brands competitors.

---
Specifications
Type: internal frame pack.
Volume: 2746 in³ (45 l). 
Weight: 2 lb 13 oz (1.28 kg).
Dimensions (H x W x D): 32 x 10 x 8.5 in (81 x 25 x 22 cm).
Torso fit: 16 – 18 in (41 – 46 cm).
Maximum load: 40 lb (18 kg).
Waist/Hips fit: 32 – 54 in (81 – 137 cm). 
---
Final thoughts & rating
So this Big Agnes Sun Dog 45L Pack for Women is nicely designed, ultralight, and functional, and it comes with some unique features. These include its back panel access and its Hoist Compression system. 
I like the fact that they use recycled materials. But it does not have a rain cover and the torso length is not adjustable. If these features are not essential to you, fully recommended. 
The table below summarizes my usual rating criteria and some pros and cons, so that you can easily compare it with other items of this type:
BEST PLACEs TO BUY
Big Agnes is a top brand and this is something new, so there are many sellers that offer the pack.
For more options, please check under the category Mid Size Packs. Bookmark this site and come again, this will keep you informed because I add texts here regularly. Let me know if you have questions or comments, there is a comment box below. Have a nice day.