---
This is a Guest Author post by Mihnea M.
I wanted very much to have a last go at higher mountains this summer, but I also was under time constraints. So I chose and went to Barrhorn in a manner that I do not recommend to anybody.
I drove at night from Strasbourg and started the ascent very early in the day. At 22 hours the same evening, I was already back in Strasbourg. This crazy project proved doable, but fatigue severely penalized me all the way.
Here is the zoomable map of the area, to see where the mountain is located:
In practical terms, the starting point was Vordere Sanntum. To get there, especially at night, you need to drive up from Turtmann to Unteremse, Oberemse, and Gruben.
I was very fortunate with the gorgeous weather. However, the temperature difference between the baseline (Turtmann) and Barrhorn was a crushing 32 down, and -2 up.
Barrhorn lived up to its reputation as the highest hike-able, snow-free mountain in the Alps. While not involving any technical climbing or particularly dangerous segments, the ascent is long, very steep and strenuous most of the way. It also presupposes a lot of scrambling.
Already from the Turtmann Hutte and definitely from the summit, the scenery is gorgeous.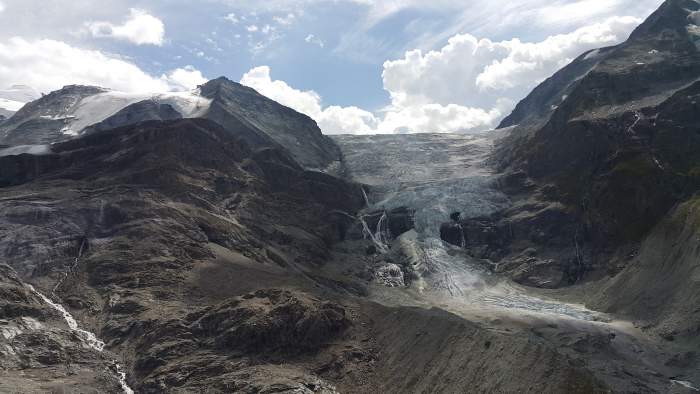 On Barrhorn, I met fewer people (mostly Swiss) than normally expected for such a stunningly beautiful day. I should note however that I did the ascent alongside a group of 5 MTB-ers. Carrying your bike all the way up to Barrhorn, and then riding it down the narrow pathways, is both incredible in terms of physical condition, stamina and resolve, and dangerous. This is very risky for bikers themselves and for climbers as well. An amateur mountain biker myself, I have little comprehension for allowing MTB-ing in what should remain a pristine environment.
As for the Hut, it was a major disappointment. I had coffee there on the way up, and a sort of lunch on the way down. The young lady there was very helpful with explanations about the ascent. Apart from that, service was dismal (in spite of their very pricey offer), half of the items on the menu were unavailable, and those available were below any hut standards I got used to.
On top of that, beer was warm. To be avoided. In general, the area seems far more modest than what you see and get in Switzerland.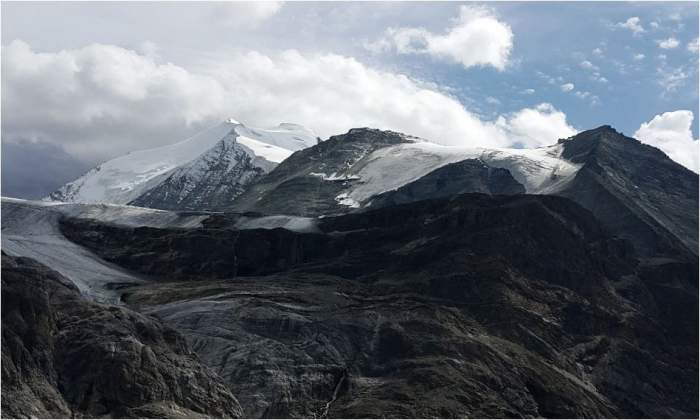 To sum it up, with the above-mentioned caveats, Barrhorn is a fantastic and very accessible introduction to high mountaineering.
---
Many thanks to Mihnea for adding this text. He did the climb hard way indeed. It brings back memories from
my own tour to Barrhorn
long ago.I use this opportunity to invite you, the readers, to submit reports about your outdoor adventures, such texts can be of great importance for others. Please
see more here
about the procedure. Thank you in advance.
---