---
This Sierra Designs Divine Light 1 FL Tent review is about a backpacking solo 3-season tent from a completely new series with several unique features.
---
Key features and benefits
Very lightweight.
Two entry points.
Hybrid design; tent and the fly are not separable.
Versatile.
Very packable.
Night Glow accessory.
---
Description
The Sierra Designs Divine 1 FL tent is a very lightweight versatile backpacking tool. This is a non-freestanding tent, and this is not its best feature because it must be fixed to the ground so you have to plan where to make your camp. There are guylines and stakes included for this purpose.
You cannot pitch it on a rock, concrete, sand or gravel. Yes, I know, in the Sierra Designs video below you will see it pitched on something that looks like a sand surface, but such a ground cannot hold stakes it in a strong wind.
They describe it as very roomy, but let's see the numbers. You have 17.10 square feet (1.59 m²) of the sleeping area. With the weight of 1.5 kg, this gives the surface-to-weight ratio SW = 1.06 m²/kg, so this is quite moderate. To realize this, you can have a look at this text with some impressive solo tents where this ratio goes up to 2.49 for one of the tents. But the Divine Light 1 FL tent looks bigger because of all other elements that are included, see more below.
Inside the tent, you have a small storage pocket, and the tent comes equipped with a Night Glow accessory where you can put your headlamp and this becomes a pleasant lantern. I find this a really nice and useful feature, see the picture: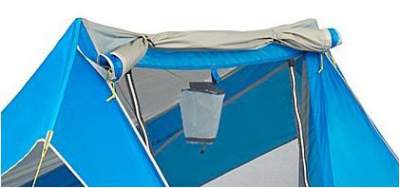 The value of the Night Glow alone is around $15 if you would order it separately, but it is included here. See a bit more in this short video:
Versatility
The term versatile will be used here a lot. It implies that it offers various ways of using the tent, with two different entrances and with possibilities to have a standard vestibule or a huge awning.
So yes, there is a vestibule with 6.20 sq. ft (0.58 m²) which makes the living area considerably larger, in particular, because of its design. Namely, the vestibule is in front of the head door, so it is not in your way, which means that this covered surface can indeed be completely used for the storage are for the equipment, perhaps even as an area for your dog.
But this tent allows for using it without poles, so you use your trekking poles to pitch it. In this case, the trail weight is 1.11 kg, and then you have SW = 1.43 m²/kg, which makes a lot of difference of course. So this possibility of using it with poles also shows the mentioned versatility of this tent.
This versatility could be summarized in the configurations it offers:
Full ventilation; this is shown in the first picture above.
Full rain protection. This means the vestibule is closed and used as a storage area.
Awning configuration, shown below.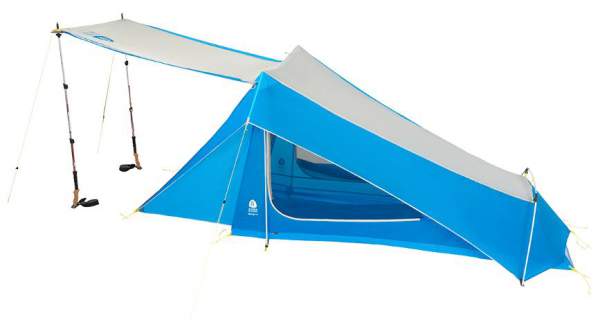 Windows & doors
You have 3 windows on three sides, and in addition to this, there is a vent at the foot of the tent. The two of the windows are on the two doors, so you have one side door and one door at the head. Quite impressive indeed.
The head door is with a vestibule with two zippers. This means you can unzip it and make a pleasant awning to sit under it in its shade. This awning can also be rolled up and fixed to the tent and you have a head window with mesh.
There are small awnings on both sides for the protection of windows, so it is possible to keep them open even in the case of light rain without a lot of side winds.
The poles
There are three in total, the Divine 1 FL tent utilizes 2 vertical DAC NSL aluminum poles and a DAC Pressfit hoop at the rear; they are visible in pictures. The two vertical poles determine the height and make the wall vertical, so you have a lot of volume inside. But bear in mind that the highest point of 45.5 inches (115.6 cm) is really only at the poles, and the tent is far lower in the feet area.
Using the tent without vertical poles
This is the part of its versatility. To save the weight, you can use your trekking poles in place of the two vertical poles. In this case, you can create the mentioned awning by connecting the guylines to the trees if you have them around. But you can also use its original poles, and then use the trekking poles to create the mentioned awning.
Hybrid design
This tent is of a hybrid type. This means you do not have a standard inner tent plus a fly. In fact, most of the structure is a single layer and only in some parts you have double layers, like on windows/doors. Such a construction is both good and bad, and here are the reasons.
Have you ever tried to pitch a tent when it is raining? If so, then you know that everything becomes instantly wet, the inner tent net and walls are soaked with water and you will spend the night in such a tent, with a lot of moisture everywhere. This is not so with this tent because the fly is the part of it, and when you start pitching it in the rain, the interior is protected all the time.
On the other hand, double-layer tents are more pleasant and warmer in general. There is always condensation on the ceiling and the water will not drop down on you if you have the inner tent. However, this particular tent has openings on all sides, literally, so the condensation should be minimal.
Single wall design is lighter, and you can see it even in this hybrid construction which is indeed very lightweight.
It is easier and faster to setup a single wall tent than a double-wall tent.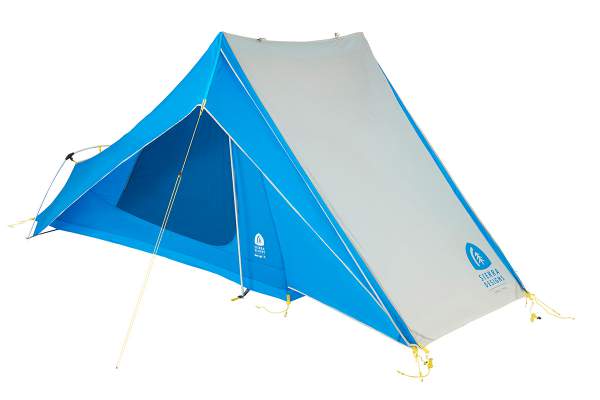 Waterproofness
The fly and the walls are 20D nylon ripstop with silicon, and with 1500 mm rating. The floor is 30D Nylon Ripstop, WR, and 3000 mm. So the materials are rather tiny and fragile, but this is nothing unusual, and the waterproofness rating is also quite normal for such a tent. All the seams are factory sealed.
Here is a short promotion video about this series which includes the tents for 1 and 2 people, please have a look:
---
Specifications & summary of features
Minimum weight: 2 lb 7 oz (1.11 kg) – this is without 6 oz. vertical poles.
Packaged weight: 3 lb 5 oz (1.50 kg).
Doors: 2.
Vestibules/gear closets: 1.
Vestibule area: 6.20 ft² (0.58 m²).
Floor area: 17.10 ft² (1.59 m²)
Peak height: 45.5 in (115.6 cm).
Dimensions (L x W): 88 x 30 at head/26 at foot (224 x 76 cm head/66 cm foot).
Packed size (L x W): 14 x 5.75 in (35.6 x 14.6 cm).
Guylines: 4.
Stakes: 11 DAC J-Stakes.
Poles: 3 (2 vertical poles, 1 foot box pole).
Materials:
– Poles: DAC NSL / DAC Pressfit.
– Fly: 20D Nylon Ripstop, Silicon, 1500 mm PE, FR CPAI84.
– Floor: 30D Nylon Ripstop, WR, 3000 mm PE, FR CPAI84.
– Body: 15D Nylon No-See-Um Mesh.
Wider ceiling than the floor.
Trekking pole compatible.
Out of the way gear storage.
J-shaped door with a waterproof window panel.
10 inches awning coverage over side doors.
Reflective guylines and guyout loops.
Awning vestibule.
Interior mesh pocket.
Hybrid double/single construction.
Fully taped seams (PVC free).
Night Glow included.
---
Footprint
They have designed a footprint specifically for this tent. This adds to the lifetime of the tent itself as it reduces wear and tear on the floor. With the footprint, you reduce the chances of having the floor punctured by sharp objects on the ground. It has loops on each corner so you fixed it by the same stakes used for the corners of the tent.
The footprint is really inexpensive, see the price given here, and it can make a lot of difference regarding the lifetime of the tent. It is also quite lightweight, and it can be used to cover your extra equipment or to make a shelter for a dog.
As usual, the footprint is slightly smaller in size than the actual floor. This is to avoid water being funneled by the footprint under the tent. Here are its specifications:
Weight: 4.23 oz (0.12 kg).
Length: 83 in (211 cm).
Width: 25 in (63.5 cm) at the head;  21 in (53.34 cm) at the foot.
Storage bag size: 10 x 7 in (25.4 x 17.8 cm).
Fabric: 70D Nylon Taffeta, WR/PU 3000 mm, FR CPAI84.
---
Summary, rating, pros & cons
So to conclude this Sierra Designs Divine Light 1 FL Tent review, this is a very nicely built and very versatile tent, definitely top-notch. I have all confidence in the brand behind this tent and I can fully recommend this tent as a great solo tool for backpackers.
It is expensive, so why would anybody want it? Well, you have seen, it is quite unique, with an unusual and functional organization and features. We are used to seeing such new concepts from the Sierra Designs company. This is a solo tent, but it has two doors, and one could ask why, and the answer is why not when it is so easy to have such extra comfort and functionality.
The trail weight which you have here does not imply less functionality if you normally use trekking poles, and in such a case, this becomes a truly ultra-lightweight tent.
My relatively low rating is mainly because of a) its price and b) the fact that it is not freestanding. The effective living surface may look small but bear in mind the big and functional vestibule. I do think there is enough space for a smaller dog under it. The included Night Glow tool is really cool.
Please see my rating of this tent:
Note there is a version for two people described in my another text. But if you feel this tent is not for you, no worry, there are tens of great tents described in this site, just have a look at this page.
Thank you for reading, I shall be happy to hear from you, so please use the comment box below. I wish you a pleasant day.