---
This Osprey Skimmer 30 review is about a women-specific hydration pack, an ultra-lightweight tool for day hiking tours, biking, and travel.
| | |
| --- | --- |
| Osprey Packs Skimmer 30 Hydration Pack Women's – new 2017 version. | Osprey Packs Women's Skimmer 30 Hydration Pack – the previous version |
Key benefits
Hydration bladder included.
External reservoir sleeve.
Ultra-lightweight.
Magnetic sternum strap bite valve attachment.
Many pockets, more than 9.
---
Skimmer 30 pack – description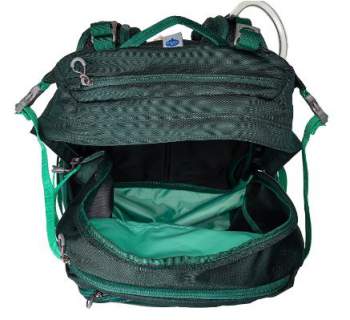 As you realize from the pictures above, there are two versions of the Skimmer 30 backpack for women currently available on the market. The differences are minor, and the price is the same.
This is a panel-loading type pack, with two zipper pulls, so you can open it independently at different positions, on the top, and on the side as well.
This pack is a part of the series of three packs for women, with a volume of 30, 22, and 16 liters. There are also the corresponding Skarab packs for men in the sizes 32, 24, and 19 liters.
Hydration bladder
This pack comes equipped with a 2.5 liters hydration bladder, and in view of this, this is a real bargain. For the bladder alone you would have to pay $34 if you would buy it separately. Now subtract this from the $120 current price of this pack and you will understand what I am talking about.
This is the Osprey's reservoir with welded baffles which are there to minimize barreling. It is with a wide mouth for an easy access, and with a leakproof sliding closure designed for a speedy refill. You also have an antimicrobial treatment that prevents bacteria and mold from building up inside it.
Yet another nice feature is the external reservoir sleeve behind the harness, see the picture below. This is always good to have, it adds to the functionality of the pack as it allows for an easy access to the bladder, no need to mess with the stuff in the main compartment.
The suspension and sizes
From the specifications below you will see that the pack is built in two different sizes, XS/S, and S/M, so you can choose 28 or 30 liters with the corresponding sizes of the torso and the hip belt. So the smaller version fits torso lengths in the range 15 – 18 inches (38 – 46 cm), and the bigger one 17 – 20 inches (43 – 51 cm). Note that there is no torso length adjustment in this pack, so choose your proper size in the moment of purchase.

The pack is without any metal frame. Instead, you have a very flat foam frame sheet with a stiffener, so this is a rather flexible and lightweight design. There are cutouts in the foam for ventilation, and all is covered with a breathable mesh.
The harness and the hip belt are with the BioStretch technology, and the sternum strap is adjustable as usual. Note that you have a magnetic hose attachment system on the sternum strap, one extra bonus with the pack. The padding on the shoulder straps is with the cutouts similar to the back panel, the mesh is here as well, and the padding is very pleasant. There are load lifters to help you position your pack properly.
The hip belt is also padded, I would say well enough for the pack of this size. It is easy to adjust, and with a pull forward adjustment.
Attachment elements
Dual compression straps are on both sides, the lower and upper, very useful to secure items in the side pockets and to cinch the pack down in the case of a small load. Observe the difference in the design of these straps in the latest and on the previous versions, see the pictures above.
Attachment loops for trekking poles and for ice axe are on both bottom sides of the pack, and they are accompanied with the corresponding short straps on the top.
Pockets
This pack comes with many pockets, more than 9; 8 are external plus one internal, plus some organization mesh pockets inside one of the pockets, plus the external sleeve and the main compartment.
There are two zippered stretch pockets on the hip belt. Dual stretch mesh pockets are on the sides, big enough for any usual water bottle carried on the trail, and equipped with compression straps.
You also have a front panel shove-it pocket which provides a lot of space for gear. One media-friendly zippered pocket is on the top, behind the hydration sleeve. Yet another zippered pocket is on the top, and it has organization features inside, which include mesh pockets, a key clip, and one extra internal zippered pocket as well.  
One extra zippered pocket is on the front stash pocket; you will notice that the zipper is at different locations in the two versions. In this short video by Osprey you can see both Skarab and Skimmer series presented:
---
Specifications
Gender: for women.
Best use: hiking, biking, travel.
Two volumes:
– XS/S: 1709 cu in (28 l).
– S/M: 1831 cu in (30 l).
Weight:
– XS/S: 1.65 lb (0.75 kg).
– S/M: 1.76 lb (0.8 kg).
Torso fit:
– XS/S: 15 – 18 in (38 – 46 cm).
– S/M: 17 – 20 in (43 – 51 cm).
Waist fit:
– XS/S: 24 – 45 in (61 – 114 cm).
– S/M: 27 – 48 in (68 – 122 cm).
Size:
– XS/S: 16 x 14 x 13 in (41 x 36 x 33 cm).
– S/M: 18 x 14 x 13 in (46 x 36 x 33 cm).
Max carry weight: 25 lb (11.3 kg).
Hydraulics LT 2.5L (84.5 fl oz) reservoir included.
Access: panel loading.
No torso length adjustment.
Warranty: limited lifetime.
Materials:
– Fabric: 210D Nylon Double Diamond Ripstop and 600D Packcloth.
– Frame: foam frame sheet and stiffener.
Adjustable sternum strap.
Scratch free zippered stash pocket.
Pockets: more than 9.
Side stretch mesh pockets.
Front panel shove-it pocket plus zippered slash pocket.
Zippered hip belt pockets.
Zippered front organizer pocket.
External reservoir sleeve.
Upper and lower side compression straps.
Ice axe and trekking pole attachment system.
Magnetic sternum strap bite valve attachment.
Colors: 3 in both versions.
---
Summary & rating
To conclude this Osprey Skimmer 30 review, this pack is great from many points of view. Its weight and volume-to-weight ratio are hard to match, the price is excellent in view of the included water bladder, and it comes with an impressive number of pockets and with great colors.
I am not so delighted with the back panel, it does not allow much ventilation. So if you plan to use it in very warm areas, perhaps it is better to look for something else. But this is indeed a truly versatile pack and a high quality, from the world-renown brand.
The number of pockets in this pack is really impressive, they are all very useful and nicely designed. The pack is truly versatile, multi-purpose tool. It is designed to carry up to 11 kg, but I would not use it for heavy loads, you might get too much stress on your shoulders. See how I rate it:
If you need something smaller from the same series please check this text about the Osprey Skimmer 16 pack. Note again that the corresponding packs for men are the Skarab series.
But if you still need something different, please have a look in this page with tens of packs in this size range presented side by side.
Thank you for reading, I hope this text has been useful, and if this is so please share it with others. Have a nice day.