---
It is about your life, so it is important to know where to buy climbing equipment. It is fair to say that not every peace of your stuff is of equal importance when it is about life and death, but there are several which I would not buy just anywhere, and I would definitely not buy used ones. These in particular include the following items:
Climbing harness.
Climbing rope.
Carabiners.
Nuts and stoppers.
Climbing camming devices.
Quickdraws.
Y-lanyard.
This list could be extended with belay and rappel devices, etc., but I think these given here are essential. If you are not completely familiar with these peaces, I give a picture gallery below, so have a look; for the Y-lanyard (V-rope) and some other peaces, see my another page about equipment:
---
Buying used climbing equipment
Do not ever think about this, in particular the items given in the list above! Take as example climbing ropes. When you buy one, take care that it has passed UIAA (Union Internationale des Associations d'Alpinisme) safety tests. Ropes are designed to withstand a number of falls. So when you buy a used one you do not know its history. Even if it looks undamaged it may not be safe.
The same is with all other items mentioned above. Buy new, and buy from authorized dealers only.
---
The motivation for writing this short post is something I have just seen on the Internet. There was a warning by Petzl that some modified climbing harness is being sold on eBay.
This is about Petzl ASPIR harness. Here is the picture Petzl added to their site about the stitching on the harness, which does not exist on the original version of the tool: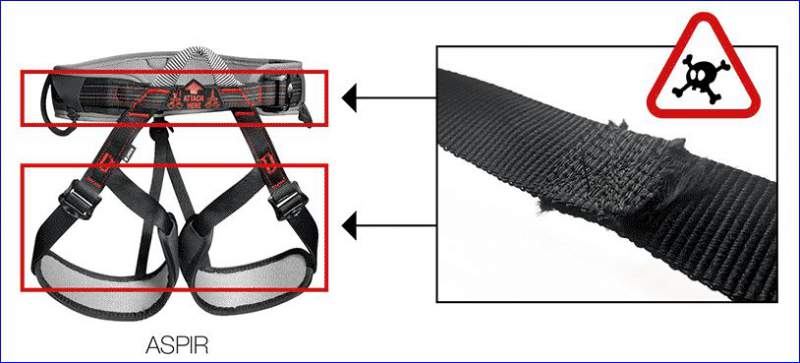 Petzl is a world famous company, I have many pieces of this brand in my own equipment, some are described here in the site, like my helmet and crampons. Their products are of top quality and tested, buying them I know I am buying something which I can rely on. So be careful.
Thank you for reading. I shall be happy to have some comment from you. Best luck to you.


---