---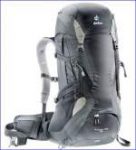 Deuter's Futura series is probably the best this brand has ever made and they have several separate lines within this series alone. So what is Deuter Futura Pro 36? The review below will tell you, please keep reading.
---
Why to use this pack – key benefits
This is a very typical Deuter's product: reliable and top quality.
The best back ventilation based on a suspended mesh.
Vari-Flex pivoting hip belt which follows body movement.
Integrated rain cover.
---
Futura Pro 36: description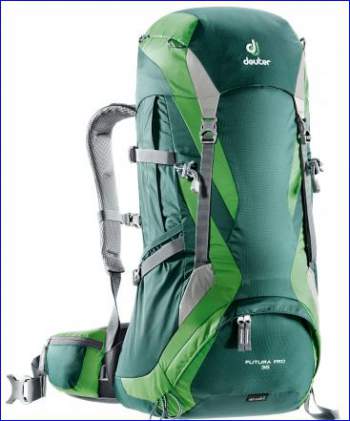 I am one of the users of Deuter's packs. My own most important pack is a Deuter Futura 38, the model which is not in production any longer. I bought it 13 years ago, and it seems it will last forever. You can see it in my recent text about Deuter company.
This pack presented here is from Pro series, very similar to my ordinary old Futura pack, but improved in some details which make difference.
To avoid confusion, do not mix the Futura Pro series with the Futura Vario packs. The Vario series packs are generally bigger, and they come with an adjustable harness. You do not have this option in the Pro series.
I put it in the group of daypacks, though it may be slightly too big for such a purpose. But my own pack is 38 liters and I use it for day tours. In view of the attachment features, it can serve you well as an overnight pack or weekend pack, in particular if this implies staying in a hut and you do not have to carry all outdoor sleeping gear. But trust me, you can attach a lot from outside.
The pack is top-loading, with the classic top lid with two buckles on the front. Under the lid, you have a spindrift collar, which is expandable and can give a few extra liters of volume.
The pack is with a separate bottom zippered sleeping bag compartment, see the picture below. The divider between the two compartments is with zipper, so it really closes the space and small items will not drop into the bottom compartment like what you have in packs which have some toggles there. You realize it is removable so you can make it one large main compartment if you need it.
The pack comes with the integrated rain cover shown above, which is stored in a separate zippered pocket completely on the bottom. This is something I always use, and for the Alps, I would not consider a pack without it. This adds a lot of value to this already great pack.
There are several tool loops on the bottom (two on the left for trekking poles and one on the right for the ice axe), and they are paired with bungee tie-offs higher on the front. Extra 4 webbing loops are on the lid, so here you can attach extra gear, like a pad or even a tent. You can see them in the picture above.
The water hose port is on the right side and the usual sleeve with hanger is inside the main compartment.
---
Pockets
One large zippered pocket with a key clip is on the hood, and yet another zippered pocket is underneath it, note this is not a mesh pocket, it is again a solid one. All Deuter packs have SOS labels and instructions underneath the lid.
There are 2 zippered bellows pockets on the sides, so one on each side. I love them, very useful, and when full they almost take no space from the main compartment. They expand outwards so you can put a lot of stuff there, between 4 and 8 liters of volume in total. I have a strict organization there, the left side for one set of items and the right for another type.
Below the bellows pockets you have the usual stretchy pockets for water bottles or for any other piece of equipment. You have dual compression straps on each side (the upper ones are with buckles), so you can store tent poles here or trekking poles, and fixed in place with the straps.
On the hip belt, you have dual zippered pockets.
---
Materials
As usual for Deuter, you have a very durable construction and the best materials Polyester and Nylon. This is 600 D Polyester thread, multi-purpose, robust and lightweight. The internal surface is with PU coating. In my own old pack, this coating is still in place and it looks intact. Second, you have Macro Lite 210 Nylon with PU coating.
The frame is spring steel, totally appropriate for the suspension system which you have here, see more below.
---
The suspension system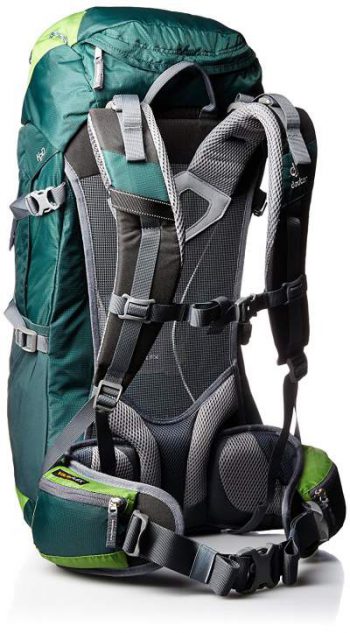 There are several great features here under the name Aircomfort Flexlite Pro System which includes:
Extraordinary Aircomfort ventilation.
Comfortable, floating Vari Flex hip belt.
Flexible carry comfort.
First about the ventilation, which is in the first place on purpose. This is a suspended mesh on the back, Deuter's own invention introduced many decades ago. It guarantees the best possible ventilation because air can pass through without restriction and in any direction. You have several inches of space between the mesh and back of the pack.
Yet another fantastic feature is the floating and ergonomically formed Vari Flex hip belt (see the picture below) which is not available in ordinary Futura. It is constructed to follow every movement of your body, so it accommodates to your body instead of opposing it when you have to scramble or to do anything similar. In general, it saves energy and allows freedom of movement. On the front, you have a buckle and pull-forward straps. There are side compression straps on the hip belt for load stabilization.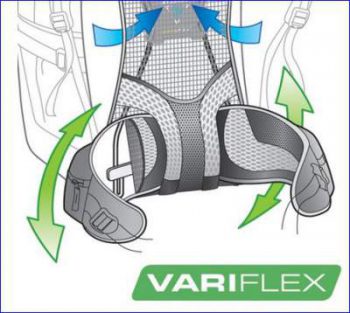 Contoured and softly padded shoulder straps are covered with breathable wide Air-Mesh and they are with very soft edges. Their anchor point area to the back is totally flat so you do not have any bump here, the mesh continues and you have ventilation even behind this anchor surface.
I have always been impressed with this segment because all the weight goes here, and yet in my own pack, after so many years these anchor seams are totally intact, strong as they were when I bought the pack.
As mentioned above, you have a round and very durable spring steel frame, which is in fact lightweight and very flexible. It is there to provide tension to the mesh and to offer stability and transfer of load to the hip belt.
You will hear in the video that you can carry up to 12 kilograms very comfortably. I know for sure that I have carried far more than that.
The chest straps are adjustable both horizontally and vertically. They slide along webbing straps, so this is a construction that can never fail, contrary to rail systems you have in some packs.
The harness length is fixed, but load lifters allow for a few centimeters of adjustment. As it is, it fits torso size in the range 17 – 20 inches (43 – 51 cm). Note, they have separate SL versions for women, and also EL versions for tall people.
---
---
Pros & Cons
My summary looks as follows:
  Pros
 Cons

Very reliable and durable construction.
Great organization features.
Rain cover.
The best possible ventilation.
Side zippered pockets.

The weight?
No bottom straps. Why?
Deuter's packs are sometimes heavier than other top brands, and Futura Pro 36 is not an exception, see the table below. But if you wish to realize why this is so, just go to any sport shop and try one to see how solid such packs are. So yes, my own Deuter pack is not lightweight, but I would not change it for any other on the market.
I have seen some complaining about not having a mesh or a pocket on the front. To tell you frankly, I became aware of this only after reading such comments. I never really needed this with the pack, but indeed having such extras would only increase its functionality. So yes, I agree, a mesh would come very useful there.
My ordinary Futura has bottom straps. Do not understand why they did not include it in the Pro series. Most likely this was to shave the weight, but they could have used a velcro in the bottom rain cover pocket, instead of a zipper, and save a gram or two, and perhaps more narrow side straps.
At Amazon, Deuter Futura Pro 36 has received great reviews, with 4.7/5 average rate.
---
Specifications
Weight: 3 lb 12 oz (1700 g).
Volume: 2200 +240 cubic inches (36 +4 liters).
Size (H x W x D): 27 x 13 x 9.4  inches (68 x 33 x 24 cm).
Torso fit: 17 – 20 in (43 – 51 cm).
Purpose: day tours (hiking, mountaineering), overnight and weekend hut tours.
Materials:
– Deuter-Super-Polytex.
– Macro Lite 210.
– Frame: round spring steel.
Anatomical Vari Flex hip belt in bi-laminate construction and with 3D AirMesh.
Anatomical 3D AirMesh shoulder straps with load adjusters.
Suspended mesh on the back – Aircomfort system.
Detachable rain cover.
Bottom compartment with zippered divider.
Two zipped pockets on the hip belt.
2 zippered side bellow pockets.
Zippered lid pocket.
Mesh stretch side pockets.
Internal valuables pocket.
Fixed harness.
3 attachment loops for ice axe and walking poles, and 2 bungee loops.
4 gear loops on the lid.
Hydration system compatible.
Dual side compression straps.
Side compression straps on the hip belt.
Colors: 4.
---
Summary
So to conclude this Deuter Futura Pro 36 review, if you need a reliable tool with the best possible ventilation, then here it is. I know what is available on the market, and you will not find anything better. I can fully recommend Futura Pro 36 to anybody.
If you need something similar but bigger, there exists also Futura Pro 42. They did not forget women, of course, there exist SL models with specific features for women's body, so please have a look in my separate text with packs of 34 and 40 liters.
Thank you for reading. I shall be happy to hear from you, there is a comment box below. If you find the text useful, please share it with others.