---
Wasing 55L Backpack is an entry-level ultra-lightweight backpacking and hiking tool or a pack for occasional outdoor use and travel, with a price that is very hard to match.
---
Key features & benefits
Incredible price.
Rain cover included.
Ultra-lightweight.
Many useful features.
Nice colors to choose from.
---
Wasing 55L internal frame backpack – who is it for
This pack is a nice choice for:
entry level backpackers and hikers,
occasional outdoor tours,
travel.
If you are a beginner, you really should not spend much on the activity which you still do not know well, and you are not certain if you would continue with it or not. In my page about outdoor equipment, I wrote against investing too much in the beginning. The same is about occasional use, there is no point spending too much on a tool which you will not use a lot.
On the other hand, this pack indeed has all the features a hiking or backpacking pack should have. But make sure to check the pack thoroughly when you get it, and test it properly before setting off for a tour. Bear in mind its 90 days limited warranty.
Regarding the size, with 55 liters of volume this pack is big enough for multi-day and weekend tours, and even for longer tours dependent on the bulkiness and weight of your equipment and on your habits of course. Even if you are not a minimalist, this pack will have enough space for you, both inside and outside, see more below about its numerous attachment points.
---
Description
This pack has so many features, it will be hard to mention all of them. So first to say that this is a top-loading pack with a classic lid shown in the pictures above, and an extendable collar underneath it. This collar adds some 5 liters of volume, useful if you have too much stuff, otherwise you simply cinch it down with its drawstring and toggle.
There is also a bottom entrance, so you have the classic zippered bottom compartment. The divider between it and the main compartment is again a sort of collar with a drawstring and toggle, almost the same as on the top of the pack. So you can close it or keep it open if you wish.
In the main compartment, you have a very large water bladder sleeve and the hose port is on the side close to the shoulder strap.
The pack comes with an integrated rain cover (the picture above) stored in its separate pocket. This is an obvious bonus; I would not consider using a pack without it in the Alps where I normally go (I am just preparing for a long tour).
The suspension system
This is usually the most important part of any pack, and I must say I am not impressed with what I see here. It is based on a pair of aluminum stays that run vertically along the back. The torso length is not adjustable, just to know. This may not be a big issue if the pack is your size, but it can be in general.
The shoulder straps are with enough padding, nothing exceptional, just good enough, see the picture below. Load lifters are in place and they do the job.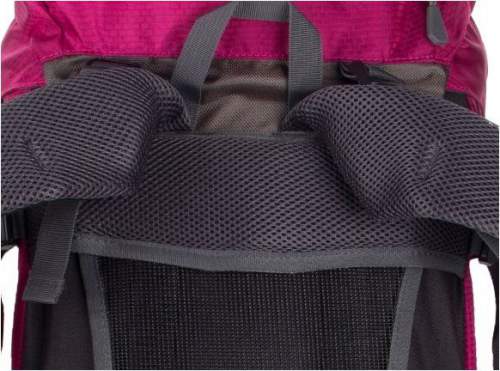 The sternum strap is adjustable, it can be moved up and down along the straps on the shoulder harness, so this is a system that should not fail, contrary to rail systems that you have in some other packs. There is an integrated emergency whistle on the sternum strap.
The padding on the hip belt is not the best, it is not thick enough and it does not go around the edges, so this can create some hot spots on longer runs. See it below.
The back of the pack is a sort of suspended mesh, but there is no real suspension here, so the backpack is not separated from your back and ventilation is far from optimal. The mentioned metal stays are directly behind the mesh, no padding at all. If you want a real suspended mesh system, you would pay far more, say 4 or 5 times more; see for example in the in Deuter Futura Vario 50 pack and Gregory Zulu 40 pack.
A nice feature is that excess hip belt straps can be slipped behind the hip belt pockets so that they do not hang around and annoy you when you are walking.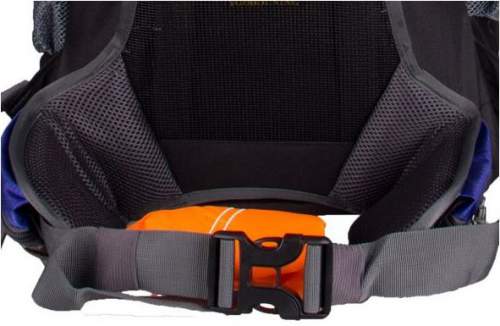 Pockets
This pack has them many, but it is never too many as far as I am concerned, so yes I am pleased with this side of the pack. There are 9 pockets here plus the rain cover pocket.
On the lid you have one very large zippered pocket with external access and yet another smaller zippered pocket on the underside of the lid.
On the front you have a centrally positioned vertical zipper which represents the entrance to a large but shallow pocket. So here you can store some flat and relatively big items like maps or books.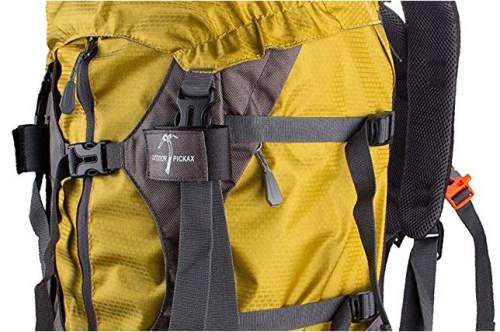 One quite large pocket is completely on the bottom, and here you have stored the integrated rain cover.
The feature which I cannot possibly miss to mention are two upper zippered side pockets, one on each side. Not many packs have them nowadays, but this is my favorite feature. These are rather flat yet large pockets, and they are not bellows pockets like those you can find in Deuter Futura Vario 50 pack. Nevertheless, they are very useful.
The usual stretch mesh pockets are on the sides, and yes, you have zippered hip belt pockets as well. So I think I did not miss any of them.
Attachment elements
This is yet another great feature of the pack, a lot of attachment options. To start from the top of the lid, where you have large dual straps to attach a sleeping pad or anything similar.
On the front, you have noticed two horizontal straps that are fixed to two flaps that run vertically on both sides. So this is a very effective system for attaching any bulky object, the flaps and the straps will keep it securely in place.
Dual compression straps, upper and lower, are on both sides. This is very functional, so you can fix in place any elongated object stored in the side mesh pockets. And yes, the lower straps are just above the mesh pockets and they will be on your way when you try to put the bottle there. This is a design quite typical for many packs and I know some people are annoyed with this.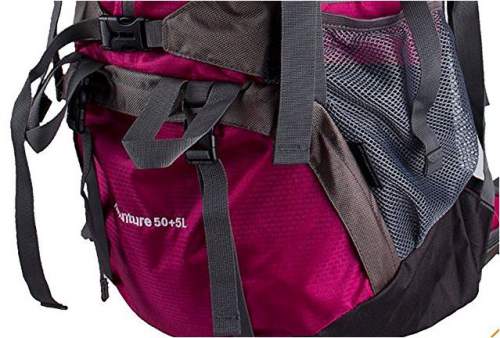 Dual compression straps run across the bottom compartment, so here you can also attach a pad or tent or just anything that cannot fit in the pack.
There are dual gear loops on the bottom front section for attaching trekking poles or axe or an ice axe. They are paired with dual Velcro loops higher on the front. You also have a few D-rings on the shoulder straps for attachment of some smaller items.
So plenty of options really, quite impressive.
Here is a woman presenting her pack, she is obviously very happy with it so have a look:
---
Pros & Cons
Here is my summary:
 

Good

 

Less good

Crazy price.
Bonus rain cover.
Ultra-lightweight.
It really looks cool.
Many useful features.
Nice colors.
Numerous pockets.

Not adjustable torso length.
Reports of problems with buckles.
Not great suspension.
Not enough padding in general.
The pack is ultra-lightweight but this is partly because of the lack of padding in critical areas. The torso length is nowhere specified so you can only guess the size. This all together with the fact that you have only one size makes a really bad impression about this pack which otherwise looks so cool. The suspension in general is its weakest part. Pity.
What users think
This WASING 55L Internal Frame Backpack is very popular, no surprise in view of its price, but you have also seen some of its great features described above, and it has received a huge number of reviews by customers. Only on Amazon you can see hundreds of reports with a very high average rating. 
---
Specifications
Gender: unisex.
Best use: hiking, backpacking, travel.
Weight: 2 lb 14 oz (1.3 kg).
Dimensions (H x W x D): 27.1 x 12.5 x 9.8 in (69 x 32 x 25 cm).
Not adjustable torso length.
Rain cover included.
9 external pockets.
Colors: 5.

90 days limited warranty.
---
Summary
So to conclude this Wasing 55L Backpack review, this pack has practically all the features you need, its price is hard to match, and above all, it looks really great.
But the price shouldn't be the main factor when you are buying an outdoor tool that is supposed to last for many years. My old Deuter Futura is 14 years old and it looks intact after all the mountains I climbed with it.
I do not think this Wasing pack is a heavy-duty tool. But if you need a tool for occasional use, or if you are an outdoor beginner, you might want to give it a try. Note that the top-notch packs of this size would cost you 4 – 5 times more. Many of them are described in this site and you can see them here.
So remember what I said above, inspect it thoroughly and test it so that you can return it in time if something does not work properly. If you want to stay in the same price range, you might want to check those packs in the table above, the High Sierra Titan 55 or Teton Sports Scout 3400.

Thank you for reading. Please let me know if you have any question or comment, there is a comment box below. Have a nice day.