---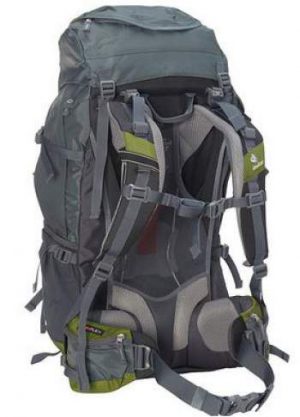 You need a pack for multi-day tours or extended tours, and you have concluded that 60 liters of volume should be fine. So, what is the best 60-liter backpack that would satisfy your needs in such an adventure? Find out the answer here in the text.
I am sure the choice is not easy. It depends on many factors, but below I give my list of top 5 backpacks in this size range, which you should definitely consider. I am confident in saying that you will find something for you, so please keep reading.
My list includes the following packs, all described in detail in separate posts, all top quality, and with quite different features:
Deuter Futura Vario 60+10.
Osprey Aether 60.
Gregory Cairn 58.
Osprey Exos 58.
Osprey Volt 60.
Note the following:
The list above is based on the features of the packs and on my own preferences which may differ from what you need to have in a pack.
Although the title says 60 liters backpacks, I also include sizes that are very close to this value. This is appropriate because of the following: a) Such small differences in volume do not play a big role in any case. b) Some models have "+ 5" or "+10" or even sometimes "+15" in their names (see for example Deuter ACT Zero 50 + 15). This implies that you have an expandable collar to add extra space and volume when needed, and an adjustable lid to accommodate to such changes in the volume. c) Within each size, you can have several sub-sizes like in the case of Osprey packs, so for example 60 is the medium, and you can have 58 and 62 versions as well.
Some of the models included here are for men and some for women. But typically, with these top brands you have the corresponding models for the opposite gender. This is clearly pointed out in the text.
---
Here are a few basic facts about the packs, for more, please follow the links:
---
Deuter Futura Vario 60+10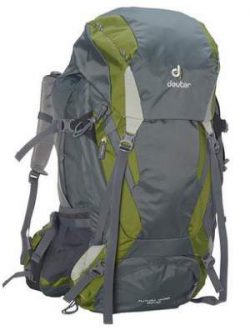 This is a model for men, the version for women is Deuter Futura Vario 55+10. So why is this pack in my list? Here are a few of its features:
The Vario in the name implies an adjustable harness length.
Very durable construction with a steel frame.
The best possible ventilation based on a tensioned trampoline-style mesh.
Side zippered bellows pockets.
VaryFlex system with the hip belt.
Three access points (top, front. zip).
Rain cover included.
This pack has received one of the highest rates I have ever given to any pack, 9.3/10. To see more, please follow the link.
---
Osprey Aether 60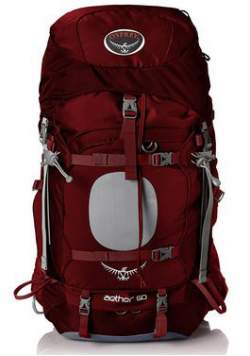 This is a model for men, the corresponding version for women is Ariel 60. No other pack in the list can compare with the number of features you have in this great pack.  Yet, my rate 9.0/10 is lower as compared with the Deuter pack. This is the matter of preference, it is best to follow the link and to see and decide yourself. Here are some of the features:
Moldable hip belt. This is a unique feature, you will not find it in any other pack in the list.
Complete adjustability of the harness and waist belt.
Top lid converts into a lumbar pack.
Separate external hydration sleeve.
Attachment points for Osprey's Daylite pack.
Three access points: top, front, bottom.
Note, there will be a new version of this pack available on Amazon very soon, with the anti-gravity suspension system. This new version is with a rain cover. See more in this news.
---
Gregory Cairn 58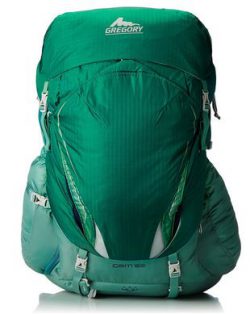 This is the model for women, the series comes in sizes 48, 58, and 68 liters, just to know if you need a different size. The corresponding version for men is the Contour 60.
Why is it included in my list? See the following:
This is an exceptionally well-structured backpack, and Gregory brand is rather proud of it. There are 3 different storage systems for different items:  the main compartment, the front storage, and on-the-go zone with various pockets around.
Rain cover included.
Several unique features. One of them is the top roll pocket.
Two access points.
Good price.
My rate is 8.9/10. To see more, please follow the link.
---
Osprey Exos 58
This is a model for men, the series also includes the packs of 38 and 48 liters. The design is minimalist, hence the weight, you can read more here. Here are some great features you have in this pack:
Removable lid.
Ultra lightweight. I had it in hands just yesterday, an incredible construction.
Exceptionally good ventilation, similar to the Deuter Vario model above, based on a tensioned mesh.
Fit-on-the-fly hip belt system, and a few more features.
My rate for this pack is 8.8/10
---
Osprey Volt 60 pack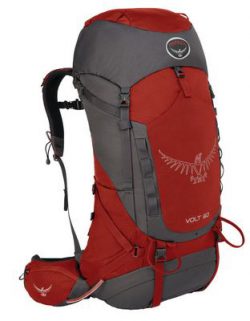 This is a rather minimalist design, yet the pack comes with several standard Osprey's features like Stow-on-the-Go system, floating lid, dual-access stretch-mesh side pockets, etc. Other features worth mentioning are:
This is a lightweight pack.
Adjustable torso length.
Bottom compartment.
Fit-on-the-Fly hip belt system.
Very reliable.
Reasonable price.
My rate for this pack is 8.8/10. Please read more in my separate text.
---
Summary & conclusions
So to conclude this text about the best 60-liter backpack, what you have here are truly great models. At the moment of writing this text, the prices for the packs in the list are, respectively: $239, 180, 155, 180, 180. The Deuter pack is the most expensive, but this is partly due to the recently reduced price of the Aether series in view of the new AG version wich will appear very soon.
I have been using Deuter packs for many years now, I know what they offer, and this together with all its features is the reason for having the Deuter Futura Vario pack in the position one. This is so complete pack, with all what I love to have in such a tool, and its ventilation is definitely better than what you have in the Aether pack, hence my rating. But this is based on my priorities, so please follow the links and decide yourself.
You realize that there are many ways to make a top-5 pick, this is the matter of purpose and preference. I could have filled the list with Osprey's packs only, or with Deuter's packs. There are so many of them that are not included, like the Atmos and Aura by Osprey, or Deuter ACT Lite and Deuter Aircontact. But, hey, this is a very limited list, and I wanted to present rather different packs with respect to the price and overall features, so that everybody can find something suitable. If you need something smaller, please see this list of my top 5 packs of 50 liters.
Thank you for reading, in the case of comments and questions please use the comment box below. Have a nice day.
---