---
This mid-size 50 liters range has so many great packs that it may be very hard to choose. So what is the best 50-liter backpack? I must say, I have my favorite, but this is the matter of preference and needs, so your choice may be different. This is why I present 5 top models, all quite specific. Have a look below.
My list includes the following models, the numbers show my order of preference:
---
1. Deuter Futura Vario 50 10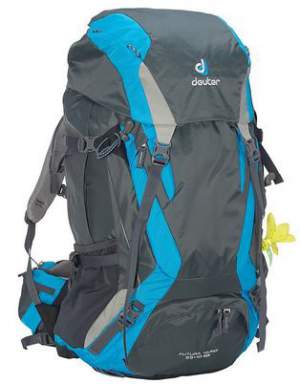 This is the pack that has received one of my highest ratings ever, 9.3/10. I find it the most complete of all packs here, and equally important, it offers the best possible ventilation based on a trampoline-style tensioned mesh. The tension is achieved by the spring steel frame which you have here.
The features of Deuter Futura Vario 50 + 10 include:
Integrated rain cover.
Adjustable harness with Vary Fit and Vary Flex systems.
Side zippered pockets. Not many packs have them, and I find them necessary.
The ventilation system is without a match on the market. This is tensioned mesh invented and introduced by Deuter several decades ago. Many other brands have been introducing it recently.
The stuff in the pack can be accessed through 3 different points, from the top, from the front, and from the bottom.
The pack comes with 10 pockets in total.
You have a very durable and sturdy construction.
Extra 10 liters of volume when needed, hence the number in the name.
To see more please follow this link.
---
2. Deuter ACT Lite 50 10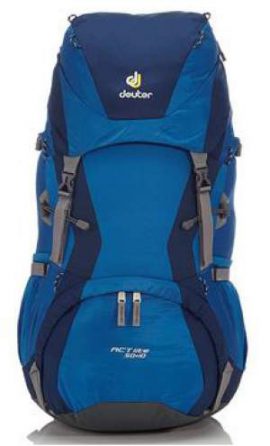 So, why is this pack in the list? Well, because I love Deuter, I have been using their packs for many years now. But seriously, this is one of great Deuter series, and you can read more here. See some features:
Anatomic X-frame which gives a balance of torsional rigidity, and flexibility to follow body movements.
The pack comes with Aircontact system which includes breathable padding. Pump effect circulates air through the breathable Aircontact cushions.
Vari Quick system allows for torso adjustment to any back length.
Three compression straps on each side.
Bottom compartment.
A lot of attachment points.
Extra 10 liters of volume when needed.
My rating: 9.0/10.
---
3. Osprey Atmos 50 AG

Note, this is the model for men. Completely the same features you have in the Aura 50 versions for women, so this list can include any of the two.
If you know anything about packs of this size, then surely there is no need to explain why this pack is in the list. This is the most sophisticated tool of this type that exists. This is a pack with a long list of awards, you can see some if you follow this link.
So why is it not my number one? It lacks some features, you guess: no side zippered pockets, no rain cover. But see what it has:
So-called anti-gravity (AG) suspension system. This is again a tensioned mesh system, but totally different from the Deuter's model above. Truly unique, nothing to compare with it. The problem with this is: you hate it or you love it. Try it.
Adjustable torso length.
On the hip belt, you have a unique fit-on-the-fly adjustability.
Three possible sizes to choose.
Removable lid.
Stow-on-the-go trekking pole attachment.
Lightweight pack.
My rating for this pack is 8.9/10.
---
4. Kelty Redwing 50
Perhaps some may be surprised to see this pack here, but I love it in spite of the fact that it lacks some features that I want to have in a pack. So definitely, it is not so complete as the Deuter packs or the Osprey Atmos, and it is far less sophisticated than those top class models. Yes, it has great features, see some below:
This is the only panel-loading type pack here. I find this a great feature which makes it far more suitable for travel as compared with classic top-loading packs, while in the same time you will be doing great with this pack in your outdoor adventures.
Redwing 50 also comes with 2 great zippered side pockets. Well, I was immediately sold when I saw this feature.
It comes with what they call the Perfect Fit Suspension. This means that you can adjust the torso length when the pack is on your back. There is no other pack in this site with something like that.
You have a pass-through space behind these side pockets, very useful to store poles.
My rating: 8.9/10.
To see more please follow the link to my detailed review which presents the latest 2016 version of this pack.
---
5. Kelty PK 50

Why is this pack in the list? To be completely honest with you, the reason for adding PK 50 here is mostly because of its totally unique features. You will not find anything on the market that would even remotely be close to this pack. Some may dislike them, some may be delighted with them, in any case, I think it is worth showing it to you. See what you have in this pack:
It converts from 50 to 35 liters, so you effectively have 2 packs in 1. Its front part can be removed together with what it contains, and used as a pillow when you are in the camp.
This is a pack without zippers. Yes, you are reading correctly. No zippers at all.
Being without zippers it is very lightweight.
A rain cover is included.
Very good price.
My rating: 8.7/10.
To see more please follow this link, the pack is described in detail in my separate text.
---
Conclusion
You may be surprised that I did not include some other great models like Osprey Stratos 50 or Osprey Exos 48. Well, I have my preferences, and you may follow the links and see my pros and cons. Besides, this is a short list, the choice is therefore tough.
I wonder what you think, what is the best 50-liter backpack for you? Any from the packs in the list? Do you need something bigger? If so, please see my list of top five 60 liter backpacks.
In any case, thank you for reading, and please use the comment box below in the case of questions and comments. I shall be happy to answer. Have a nice day.
---