---
This Teton Sports Outfitter 4600 review is about a large pack with 65 + 10 liters of capacity and a lot of features. Its price tag is hard to match and the pack really looks great.
---
Key benefits
The price.
(Too) Many features.
---
Best price & place to buy
The best place regarding the price and shipping conditions is usually Amazon.com.
---
Descriptions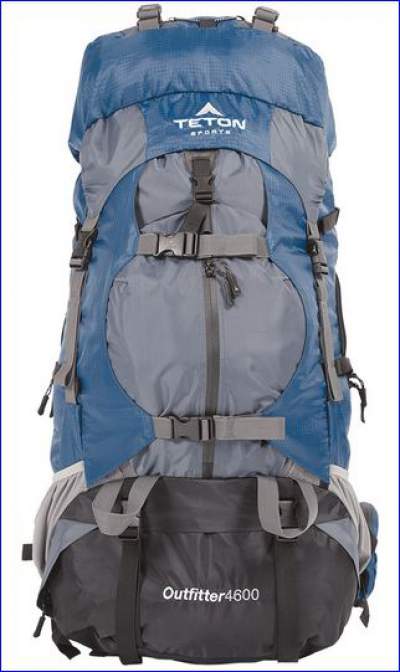 Teton Sports Outfitter 4600 backpack is a classic top loading pack with a lid and a collar. The collar is expandable and it offers + 10 liters of volume.
The lid is floating type and it is also removable, so it can be used as a day pack or lumbar pack, it has its own straps for this purpose.
Apart for the top entrance, you have an extra zipper on the side of the pack which allows for the side entrance to the main compartment.
The pack is hydration compatible, which means you have a sleeve inside the main compartment. It accepts a water bladder of up to 3 liters. You have a velcro tab to attach the bladder so it will hang securely in the sleeve.
Inside the main compartment, you also have a zip-away partition, a useful feature very rarely seen in backpacks. It is good to have it to separate the load, heavier items should go closer to your body and more lightweight in the outer part.
The Teton Sports Outfitter 4600 backpack also has the lower sleeping bag compartment, pretty large and nicely done, you can see it in the picture above.  It is separated from the main compartment with a zippered divider.
Completely on the bottom, you have a velcro tab with the entrance to the separate pocket for the integrated rain cover.
---
Suspension system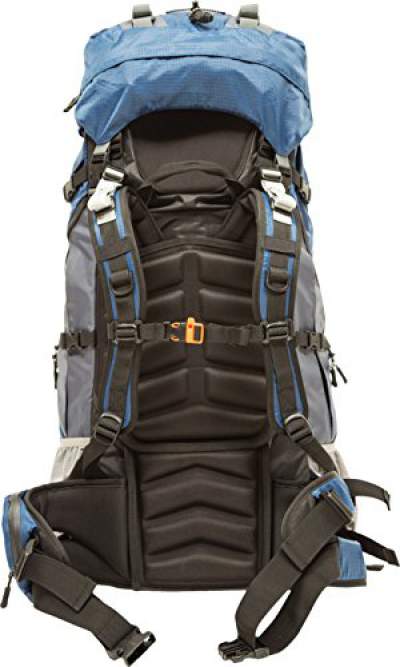 The Outfitter 4600 pack comes with a highly adjustable suspension system which is based on dual internal aluminum stays. So the harness can be moved up or down to adjust to your torso length.
The back side is pleasantly padded with a molded foam which offers a reasonably good ventilation.You can see the ventilation channels in the picture.
But I have an objection regarding the lumbar padding, it is not so great really.
The chest strap is with an emergency whistle, it is visible in the picture.
You will notice in the video 2 positions for load lifter straps, this is rarely seen in packs, useful to have when you have expanded collar and more load.
Dual adjustment straps are also on the rear side of the hip belt.
---
Attachment points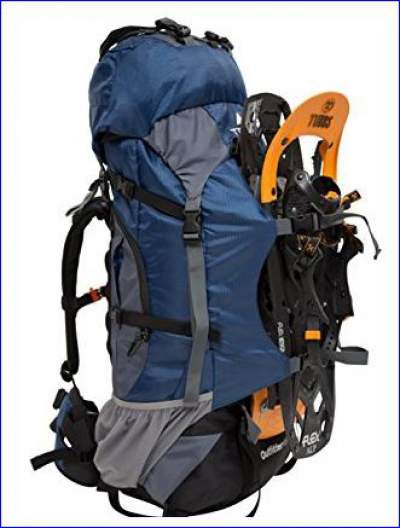 You have a lot of them everywhere, and you can see this partly in the picture. So on the lid, you have a bungee cord to fix pieces of equipment or clothes, plus 4 attachment rings to attach some stuff there, plus two compression straps.
There are compression straps that run horizontally on the front of the pack. Those are very useful to attach equipment or clothes.
Dual compression straps are on the lower compartment, so here you can attach your tent or sleeping pad, or any other piece of equipment. Dual compression straps are also on each side of the pack.
Several attachment loops are on the bottom section, for trekking poles and ice axe, and other stuff.

---
Pockets
You have one zippered hip belt pocket, two side zippered pockets which I love to have in a backpack, and two mesh side pockets.
One very big zippered pocket is on the lid, and yet another zippered pocket is inside this large pocket.
One large pocket is on the front, positioned beneath the compression straps mentioned above. It has a vertical zipper. Underneath this pocket, you have yet another big stretchy pocket, secured with a buckle on the top side.
---
You can see all these features in this video by Teton Sports.
---
Pros & cons
Here is my summary:
  Cons
  Pros

A bit in the heavy range.
Only one hip belt pocket.
Only one color.
Issues with the quality.

Great price.
Rain cover.
Adjustable torso.
Many features, perhaps too many.
This pack is loaded with features. I am sure you may use all of them, so this is fine. But there are complaints about the quality of materials and about the suspension system.
The pack is a bit heavy, but I would not take this as a serious objection. It comes with so many features that such a weight is indeed very appropriate. I am typically more concerned when I see an ultra-lightweight pack and my first thought is always 'what is missing' (see the Granite Gear pack in the table below). But this is not the case with the Teton Sports Outfitter, nothing is missing here, it is just the other way around, perhaps it has too many features.
I would say, this pack might serve you well for relatively short and occasional outdoor tours, for travel, and for every other activity which does not require a lot of weight and long distances.
The most important feature of this pack is its price which is indeed hard to match. It has received a very high average rating by Amazon customers. But my own rating is a bit different.
---
Specifications
Unisex model.
Weight: 5.5 lbs (2.49 kg). Note that various numbers for the weight are available on the Internet, the value given here is from the site of the Teton Sports company.
Size: 35 x 16 x 14 in (81 x 41 x 36 cm).
Volume: 4600 cubic inches (65 + 10 liters).
Adjustable torso length: 17 – 21 in (43 – 53 cm).
Waist belt fit: 28 – 50 in (71  – 127 cm).
Hydration capacity: 101 oz (3 liters) internal sleeve.
Shell fabric: 420 D 2 mm squared double line ripstop; 600 D PU;  900 D PU.
Integrated water-resistant rainfly.
Color: navy blue.

Limited lifetime warranty

.
High-density foam back panel with air channels.
Vertical zippered side pockets with butterfly expansion.
Sliding tension torso adjustment supports up to XXL.
---
Comparison with competitors
Here is a comparison table with a few other brands and some basic features, see where Teton Sports Outfitter stands:
Teton Sports
Outfitter 4600
Osprey Aura
AG 65 M
Granite Gear
Crown VC 60
Weight (kg)

2.49

2.13
0.96
Volume (l)

65+10

65
60
Rain cover

yes

no
no
Bottom compartment

yes

yes
no
Adjustable torso

yes

yes
no
Zippered side pockets

yes

yes
no
Hip belt pockets

1

2
no
Metal internal frame

yes

yes
no
My rate

7.5/10

9.1/10
7.3/10
In the moment of writing this text, the prices of the packs in the table are respectively: $94, 260, 200. So you realize where the Teton Sports Outfitter 4600 shines. Its price is indeed hard to match. Apart from this, the pack also has all bells and whistles you can imagine.
But the quality of this pack is below the top packs in this category. Its suspension is not a match for the steel frame you have in some of Deuter's packs, or for those of Gregory and Osprey in the table above. This is not a heavy duty tool.
---
Conclusions
To conclude this Teton Sports Outfitter 4600 review, this pack really comes with a price tag that is hard to match. But if you are looking for a tool that will be used frequently and extensively, I believe that the price should not be your main concern.
But if you do not want to spend much and need a backpack for occasional outdoor use and travel, this may be a good choice for you.
For some more demanding use, I warmly recommend you to see my another text about backpacks for multi-day tours. Also, if you need a pack with specific women's design, please see this text with tens of different packs for women.

So, I hope the text has been useful to you. If this is so please share it with others. It will be great to hear from you, there is a comment box below, and there is also a contact form in the site.
I wish you a pleasant day.
---