---
This Teton Sports Oasis 1100 Hydration Backpack review is about a very popular and versatile daypack with some really good features, which has been on the market for many years now. 
---
Key benefits
Included 2-liter BPA-free hydration bladder.
Included rain cover.
Separate zippered water bladder compartment.
Great price.
---
Description
Teton Sports Oasis 1100 pack has been around for many years already. This is a very popular pack with a nice design, and its main selling points are mentioned above. This is the most affordable pack in my list of top hydration packs for 2018.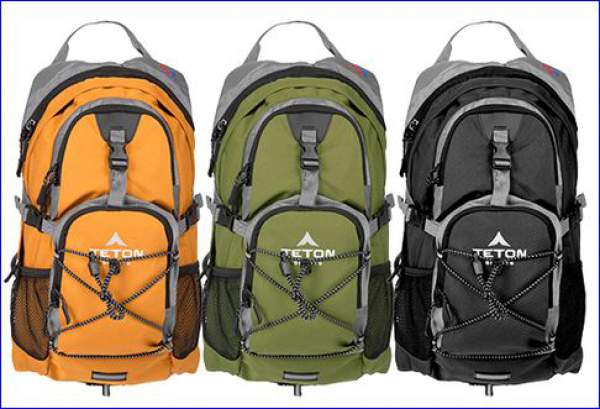 The pack is panel-type with a zippered entrance to the main compartment, so you do not have a classic lid. I would say this is what makes it so versatile and suitable for various activities. It will serve you well for around-town use and in commuting, as well as in short outdoor tours.
There is a separate external zippered water bladder compartment behind the main compartment, insulated and with a velcro tab on the top to hang the included water bladder. This compartment can also be used for a computer in commuting and for around-town use. The hose ports are on both sides.
The water bladder is 2 liters, narrow and elongated, made of a rather rubberized material. I must stress that many users have been complaining about the plastic taste felt in the water. It does not look very solid to me. But it may be good to know that there is an opening on the bottom of this compartment, in the case of leaking. Note that the water hose has a twist-to-open feature in the section before the bite part.
The material used in the construction of this pack is reasonably good, 210 D honeycomb ripstop. The zipper on the main compartment is with a water flap, and the zippers on the front pockets are water-resistant.
As mentioned above, the pack comes with an integrated rain fly stored in a separate pocket with a velcro opening on the bottom.
You will notice a bungee cord on the front, where you can store pieces of clothes or a helmet. On the bottom front section, you have reflective loops for equipment attachment. There are two straps on the sides, see more about them below, they are visible in pictures.
Suspension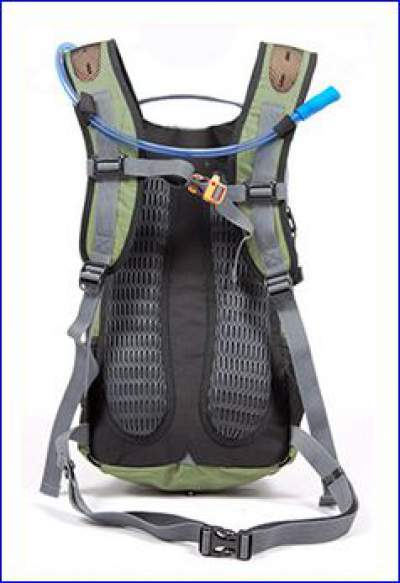 Oasis 1100 pack is without a metal frame or a back panel, which is not so strange for such a small item. Two vertical foam pads run along the back of the pack, creating a ventilation chimney in the central zone.You can see this in the picture.
But the problem with this structure is the following: when you fill the bladder with water, it hangs behind in the separate compartment and pushes the fabric of this chimney out. So do not expect a great ventilation here.
The shoulder straps are padded just enough for such a size, and they are with holes for ventilation.
The hip belt is narrow and without any padding or fins. This is not so great I must say, perhaps not so important if you do not have a lot of stuff, but I have seen some users complaining about it.
The sternum strap is adjustable, so if you are a big guy it will not be strangling you; you can move it a long way up and down.  It comes with an emergency whistle.
But bear in mind that the harness is not adjustable, and this is one-size model.
Pockets
The front pocket is a part of what they call butterfly opening, which means you have an extra storage space behind the pocket, and this all is secured by three buckles (see the picture above) which you can undo in order to store some items behind it. Two of the buckles are connected with straps that run to the side of the pack. The storage place is good enough for a jacket or even a tent. Inside this front pocket, you have small separate compartments for organization and a key clip.
Next on the front is yet another smaller zippered pocket with the entrance located above the mentioned front pocket.
On both sides, you have mesh stretch pockets for water bottles or for trekking poles, and higher above them you have the mentioned compression straps which you will also use to fix the items stored in the pockets. You can see some of these features in this video by Teton Sports. It is old, but the pack has not changed:
---
Pros & Cons
This pack is very popular and naturally, there are many reviews on various sites. On Amazon, the pack has received more than 900 reviews.
But many customers have reported problems with zippers, so check and test them carefully when you receive the pack. In some cases, the water bladder was leaking, and many have complained that sucking water through the hose was difficult.
Some users were complaining that the pack was smaller than they expected. Regarding this, please be realistic and bear in mind its capacity, this is only a tiny 18-liter pack so it does not matter how big it may look in pictures.
Here is the summary of my pros and cons:
 Pros
 Cons

Lightweight.
Versatile.
Rain cover.
Water bladder included.
Nicely built and good design.

No frame of any kind.
Very simple hip belt.
No harness adjustment.
---
Specifications
Weight: 2 lb (0.91 kg).
Dimensions: 18.5 x 10 x 7 in (47 x 25 x 18 cm).
Capacity: 1100 cubic inches (18 liters).
Waist belt: up to 60 in (152 cm).
Panel-type load access.
Separate zippered hydration compartment.
Included 70-ounce (2 Liter) BPA free hydration bladder.
Shell: 210 D honeycomb ripstop; 600 D PU.
0.5 inches thick mesh-covered pads on the back.
Integrated rain fly.
Colors: 3, shown in the pictures.
Limited lifetime warranty.
Large pocket with hidden teeth zipper and weather guard protects gear, clothes, and lunch.
Comfort-taped straps with high-density notched foam stabilizer and mesh covering.
---
Summary
I would conclude this Teton Sports Oasis 1100 Hydration Backpack review by saying that I love the design of this pack and its features. The pack is very popular and it has been on the market for many years, so naturally it has collected a huge number of reviews. Most of them are very positive, but there are complaints which should not be ignored. So inspect the pack thoroughly when you receive it.
So, can I recommend this pack after all? The price is hard to match in particular bearing in mind the extra bonuses like the rain fly and the water bladder. If you do not want to spend much and want a small versatile tool, I think it is worth trying.
Note that you do not have a harness adjustment here. So if you are a very tall person, the hip belt will be high above your waist line, and it will be useless. In this case, you should better try models with harness adjustment, like some of those given in the table above.
If you need a larger pack from the same brand please see this Teton Sports Talus 2700 or Teton Sports Scout 3400 pack. You might want to see this Oasis 1200 pack, only 2 liters larger but with quite different features, or this Rock 1800 backpack. See also this new CamelBak Cloud Walker 18 which also comes with a reservoir.

Thank you for reading. If this text has been useful to you, please share it with others. If you have any comment and question please use the comment box below.