---
TETON Sports Hiker 3700 Ultralight Internal Frame Backpack is a load hauling tool with only 1.81 kg (4 lb) of weight, and with an exceptional price tag. It is suitable for backpackers, hikers, and mountaineers.

---
Obvious benefits
Incredible price.
Rain cover as an extra bonus.
---
Best price & place to buy
The best place regarding the price and shipping conditions is usually Amazon.com.
---
Teton Sports Hiker 3700 – Description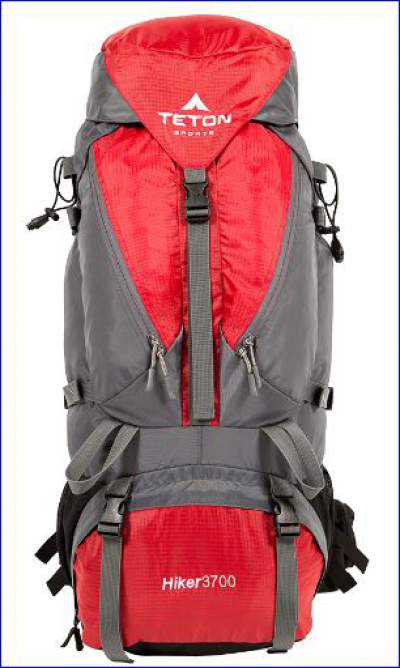 As the name suggests, you have 3700 cubic inches (or some 60 liters) of volume with this ultra-lightweight pack.
This is a top loading pack with a classic lid. The lid is floating type, so you can raise it in the case of an extra load when you expand the collar.
Under the lid, you have a collar with an extra compression strap and buckle, which is very useful to have if you carry a rope so you can add it there and fix with the strap. The collar is with dual cinch cords and with toggles.
A bit unusual is that the lid is closed through a single buckle and a strap on the front of the pack, as you can see in the picture right. Most packs of this size with a lid have two buckles for this purpose. But indeed some other packs, like the Deuter Cruise 28, have a similar design.
The Hiker 3700 has a separate sleeping bag compartment. You can see it in the picture above. A good feature here is that you have a zippered divider between the two main compartments. So this is a true divider but you can unzip it and have a single large space when you need it.
You have an integrated rain cover which is stored in a separate zippered pocket on the bottom.
The pack is hydration compatible, you have a sleeve in the main compartment, and a water hose clip is on the shoulder strap.
On both sides you have dual compression straps, see the picture below. You also have compression straps on the bottom front section, shown above, where you can attach bigger items like a sleeping pad or a tent.
Dual webbing loops are on the bottom section, and you have corresponding bungee cords higher on both sides of the pack, they are visible in the picture above. This is for the attachment of trekking poles and for an ice axe.
---
---
The suspension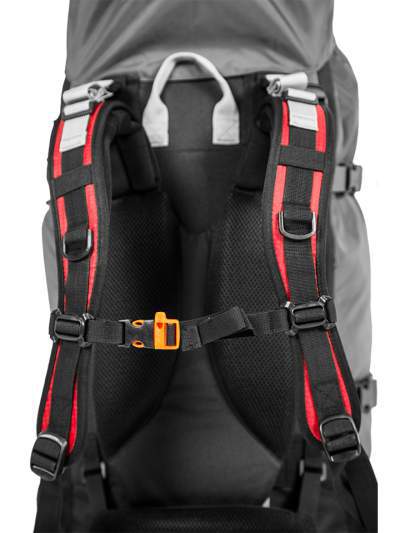 The suspension is based on dual aluminum stays that run vertically along the back, behind the padding. The lumbar padding is pleasant and the same is with the harness padding on the back. The padding is made of a durable open-cell foam with molded channels aimed at providing maximum comfort and airflow.
Note that the harness is fully adjustable to any position in the range 16 – 21.5 inches (41 – 55 cm). The strap for the adjustment is behind the lumbar padding.
The shoulder straps are anatomical and well padded. The sternum strap is adjustable and with a safety whistle, see the picture.
The hip belt is with a pull-forward system and you will notice that the front buckle is with two straps on both sides. So you have 4 points where these straps are attached to the wide hip fins. The purpose of this system is to improve the fit, and the belt fins will hug your waist more comfortably than when you have only one strap on each side. Such a system is well designed and you will see it in some very expensive packs described here
The purpose of this system is to improve the fit, and the belt fins will hug your waist more comfortably than when you have only one strap on each side. Such a system is well designed and you will see it in some very expensive packs described here in the site, like this Osprey Ariel 55 pack.

---
Pockets
The pack has one zippered hip belt pocket on the right side, pity they did not add one more on the other side.
There is one external zippered pocket on the lid, and you have yet another one underneath the lid.
A particularly useful feature which I simply adore is the two side zippered pockets which you do not see so frequently even in some terribly expensive packs.
Mesh stretchy pockets are on both side of the pack, for water bottles or for tent poles and similar stuff. The mentioned compression straps allow you to fix whatever you put there.
---
Here is a very useful promotion video from Teton Sports with a nice demonstration of the features of this Hiker pack, have a look:
---
Specifications
Weight: 4 lbs (1.81 kg).
Volume: 60 liters (3700 cubic inches).
Size: 33 x 15.5 x 12.5 in (84 x 40 x 32 cm).
Torso length fit: 16  – 21.5 in (41 – 55 cm).
Waist belt fit: 28 – 51 in (71 -130 cm).
Adjustable harness.
Split wishbone construction in the hip belt.
Materials:
– Shell fabric: 420 D 2 mm squared double line ripstop and 600 D PU.
– Frame: dual aluminum stays.
Integrated rain fly.
Thickly-padded split dual wishbone waist pad.
Independent top and bottom hip adjustments for a more customizable fit.
Hydration compatible.
Top loading.
Bottom compartment.
Dual compression bottom straps.
Dual side straps.
Dual side mesh pockets.
Dual side zippered pockets.
Single hip belt pocket.
Two lid pockets.
Dual attachment loops and bungee cords.

Limited Lifetime Warranty

.
---
Pros & cons
Here is my summary:
 Pros
 Cons

Exceptional price.
Rain cover.
Side zippered pockets.
Exceptional weight.

Only one hip belt pocket
No front pouch.
The Hiker 3700 pack has received a rather high rating by Amazon customers, with 4.5/5 average rate based on 140 customers' reports. From what I have seen, there have been complaints about stitching at some places, and about padding on the shoulder straps. So in the case of a really heavy load and long distances this can be an issue.
---
Summary
So to summarize this review of the Teton Sports Hiker 3700 Ultralight Internal Frame Backpack, when it is about the price you will hardly find a pack that can match it. It has so many good features, and the rain cover is an extra bonus.
The word ultralight in the name is indeed appropriate, this pack is lighter than many other much more expensive packs on the market, and yet, it does not lack any essential feature at all.
If you are an occasional outdoor person and therefore not willing to spend much, then this could be a great choice for you. But if you want something for a heavy use, I think you will have to spend more. There are many great packs described in this site, so please visit my page about equipment.
Note that there are several other Teton's packs in the similar size range described in the site, like the Teton Sports Scout 3400,  and the Teton Sports Explorer 4000. If you need a smaller pack, you might want to see this Teton Sports Talus 2700 backpack.

I hope this text has been useful to you. If you feel the same, please share it with others. It will be great to hear from you, there is a comment box below. Thank you and have a nice day.
---