---
Teton Sports Fox 5200 internal frame backpack blue color described here is the largest of the presently available packs of Teton Sports. The number 5200 describes its volume in cubic inches, and this is equivalent to 75 (+10) liters. This is a large pack suitable for extended mountaineering and hiking tours.
---
Best price & place to buy

The best place regarding the price and shipping conditions is usually Amazon.com.

---
Construction and materials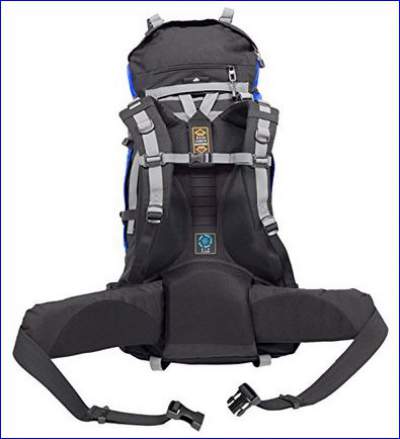 Fox 5200 is a huge backpack with plenty of nice features. This is an internal frame pack, but this implies not much more than dual aluminum stays, with the access to them from the main compartment.
Harness and hip belt
The harness on Teton Sports Fox 5200  is adjustable. For this, you only have to break a velcro connection, and to slide the harness up or down. You can see it in the image below.
Close to the velcro, you have a single hole for the water tube. This is all similar to other Teton Sports packs, like Explorer 4000 or Scout 3400 pack.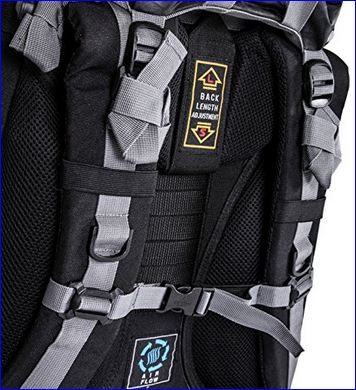 Shoulder straps are contoured and well padded, and with load lifters on the top. On the shoulder straps, you have a chest strap, D-rings, and water tube clips.
On the back of the pack, you have a molded back panel with thick, channeled pads. They provide comfort with heavy loads. You can see it partly in the image here on the right.
On the hip belt and the lumbar area, you have 1-inch thick foam padding. Webbing clips are available for the strap.
The lid (hood)

Teton Sports Fox 5200 is a top loading backpack. The main access to the main compartment is below a removable hood (lid). The lid itself has 3 zippered pockets, 2 accessible from above, and one is on its lower side, accessed when you release the buckles on the front of the pack.
One of these pockets is used to store the attached rain cover. You can see this zippered pocket in the first picture above. In fact, this is the only backpack known to me with the rain cover stored in the lid.
On the top of the hood, you have added 4 anchor points. This is always good to have.
The lid is height adjustable to accommodate extra stuff, this is achieved by a pair of straps on the back. You can lift it for some 20 cm very easily. For this purpose the collar on the main entrance can also be lifted to add extra volume, hence the number +10 which you have seen above.
The lid can be removed when you release it from the front of the pack and then break a velcro on the back side of the pack. Frankly, I do not see the purpose of removing the lid. The remaining body of the pack is then unprotected from above and it looks ugly.
But the lid can be used as a waist pack for short summit tours or something similar. In the specifications, they claim it can be used as a pillow as well.
Front of the pack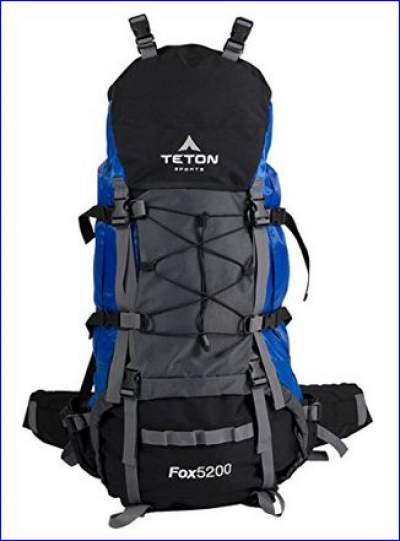 Here you have a bungee mesh (shown in the picture), very useful for stashing things like gloves or a fleece.
The mesh is positioned on a flap which is secured by 4 straps and 4 buckles, it is thus movable and it offers a possibility to store some pieces of equipment or clothes behind it. There are several anchor points on the face of the flap, you can see them here and in one picture below.
The flap itself contains a zippered pocket with the side entrance. Not bad to have indeed.
Below on the front face of the pack you have a zippered entrance to the bottom compartment shown below. It is secured by 2 compression straps with buckles, which can also be used to carry a sleeping bag or a sleeping pad. On the face of the bottom compartment, you have a horizontal daisy chain, you can see it in the picture below.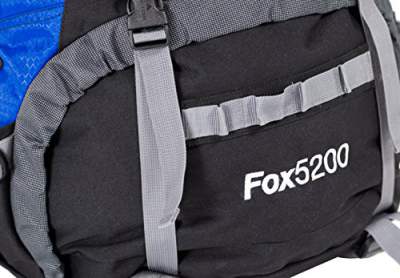 Completely on the bottom of the front, you have dual attachment loops for ice axe(s) or/and walking poles.
Below the bottom compartment you have yet another pair of compression straps to attach some more gear. This is not the best option; whatever you attach here, it will be kicking you on the bottom in every step you make.
Sides of the pack
On the level of the bottom compartment, you have a water bottle pocket, one on each side, secured by a compression strap.
Farther above you have an expandable zippered and truly huge side pocket, again one on each side. The same type of pockets I have on my Deuter Futura pack. So this construction is different from the other two Teton Sports packs, Explorer 4000 or Scout 3400.
The problem with the design of these 2 pockets is that, when full, they partly take the space of the internal compartment.

Internal structure
Teton Sports Fox 5200 has dual access to the main compartment, from the top and through the bottom compartment entrance.
The main top entrance is secured by a compression strap with a buckle which goes to the front of the pack. Two drawstrings with clips are also there to close the entrance and the extended top collar.
The divider between the two compartments is zippered, and this is what I like to see, far better than the clips which you may find in some other brands.
The bottom compartment is indeed huge, just what you would expect from such a large backpack.
Water bladder sleeve is on the back side of the main compartment. It is equipped with a velcro bladder hanger. The access to the frame stays is from there as well, closed by yet another velcro.
---
Technical specifications & summary of features
Bungee mesh on the front.

Weight: 5.5 lbs (2.49 kg).

Size: 34 x 16 x 13 in (86 x 41 x 33 cm).
Volume: 5200 cubic inches (75+10 Liters).
Torso fit: 15.5 – 23 in (39.4 – 58.4 cm).
Waist fit: 30 – 74 in (76 – 188 cm).
Material: shell: 600 D diamond ripstop; 1000 D PU.
Internal frame.
Adjustable harness.
Detachable hood for use as a waist pack or as a pillow.
Hydration compatible; 101-ounce (3 Liter), bladder not included.
Integrated rain cover.
Top and bottom compression straps for a sleeping bag, pad, or tent.
Back and hip padding of durable open-cell foam with lumbar pad and molded channels for air flow.
This text is about the blue pack, but there is Teton Sports Fox 5200 internal frame backpack red color available as well.
---
Pros and cons, users experience
Teton Sports Fox 5200 internal frame backpack is a very popular piece of outdoor equipment. There is a huge number of Amazon customers' reviews, with a respectable average rate of 4.2/5.
However, there are complaints about various elements of this pack, in particular about buckles, zippers, and shoulder straps.
I have summarized these complaints in the table below.
 Cons
 Pros

Complaints about easily broken buckles.
Complaints about zippers.
No belt pockets.

Great price.
A huge amount of nice features.
Integrated rain cover.
Harness adjustability.
---
Comparison with other brands
Here I give a comparison table with several other brands:
Teton Sports
Fox 5200

Gregory
Baltoro 75

Osprey Volt 75
Weight (kg)

2.49

2.42

1.84
Volume (l)

75+10

75

75
Lower compartment

yes

yes

yes
Hydration compatible
yes

yes

yes
Rain cover

yes

yes

no
Internal frame

yes

yes

yes
Harness adjustable

yes

yes

yes
Removable day pack
yes

yes

no
My rate

8.4/10

9.1/10

8.8/10
As you see Fox 5200 pack has all the essential features which you have in the most expensive brands on the market. So, you may be surprised with my relatively low rate of this pack with respect to others. But please note that the other models are the absolute top quality brands, and the price is definitely not my priority.
---
 Conclusion
Teton Sports Fox 5200 internal frame backpack blue color is full of features. In fact, it has them more than some of the far more expensive brands. Regarding the price, it is hard to find any other brand which could come close to it.
However, when it is about outdoor activity, the price cannot be the most important parameter. My preference goes to reliability and quality. Many users have a great experience with the Teton Sports Fox 5200 pack, see the Amazon rating picture above. This cannot be ignored, but the same holds for a number of complaints. Perhaps one needs a bit of luck in buying this backpack.
But the lack is for those who are unprepared. When you order this pack, check it thoroughly, load it and try it before going on a tour, to see if the harness and other crucial elements work well.

I wish to thank you for reading this text. If you find it useful please share it with others.
It will be great to have some comment from you, there is a comment box below. All the best to you!
---