---
In this text, I present Teton Sports Explorer 4000 Internal Frame Backpack gray color, a load-hauling pack of 4000 cubic inches (65 liters) volume. The bag is big enough for several days backpacking and mountaineering tours.
---
Best price & where to buy
The best place regarding the price and shipping conditions is usually Amazon.com.
---
Construction and materials
This is a pack with an internal frame, suitable for carrying heavy loads. The role of the frame is to transfer the load weight to the hip belt and thus waste area.
The body of the tent is a durable 600 D ripstop and 600 D polyester.
Suspension system
Here you have a height adjustable harness, well padded with a half inch foam along the shoulder straps. A similar but far thicker structure with one-inch foam you have on the hip belt.
The lumbar area is also generously padded. The back side of the pack is contoured, with panel channels with ventilation airflows. This is visible in one of the pictures below.
The adjustment is the same as in Teton Sports Scout 3400 pack, with velcro again and with an easy way of sliding the harness up or down within the range of 19 – 23 inches (48 – 58 cm). You can see it in the picture below.
The hole for the water hose is directly at the velcro system.
On the shoulder straps, you have dual D-rings and dual holders for the hydration tube.  The chest strap is adjustable.
---
Other features

This is a top-loading pack, with a top lid which has 2 compression straps on the top, and one large zippered pocket with the access from outside. When you open the buckles which fix the lid to the front of the pack, you will see yet another internal zippered pocket in the lid.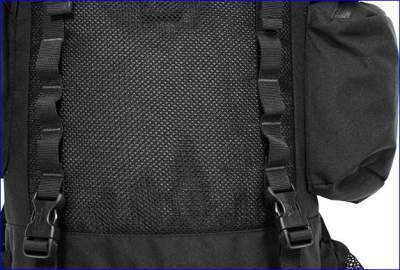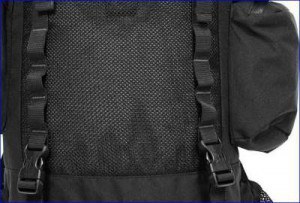 On the front, there is a mesh pocket for items like maps. Do not expect to stash a lot into this pocket when the pack is completely full. Along both sides of the mesh pocket you have very useful daisy chains, see them in the picture right.
Below this you have compression straps which run over the zippered entrance to the bottom compartment. These compression straps can be used to carry a sleeping pad or a sleeping bag.
Farther on the bottom you have a pair of multipurpose attachment loops (for ice axe, walking poles).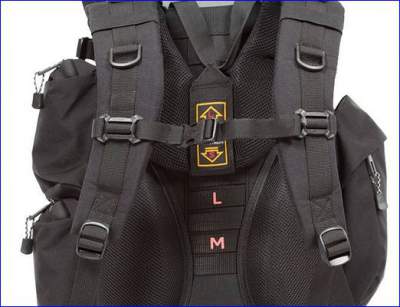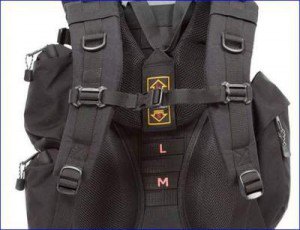 At the level of the bottom compartment, you have stretchy mesh side pockets, one on each side.
Higher up you have one quite large zippered pocket on the left side, and two similar zippered pockets on the right side. You can see them in the picture on the right.
I find this asymmetry a bit unusual. These 2 pockets on the right are sewn to the body of the pack in such a way that you can pass walking poles behind both of them, and then put the poles into the lower side mesh pocket.
Completely on the bottom of the pack, you have a separate zippered pocket with an integrated rain cover.

---
Inside structure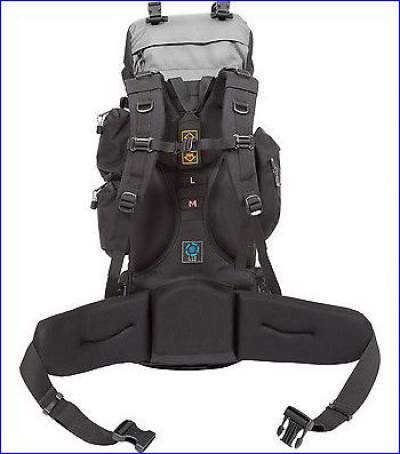 On the top of the main compartment you have an extendable collar for extra volume, and two separate cords with clips. These are great features which I like and find useful.
The main access to the pack is from the top of course, but the divider between the main compartment and bottom compartment is equipped with a zipper. So this can be open and you have access to the main compartment from below as well.
I like the fact that this is a zipper and not just a pair of clips as you may see in some other far more expensive packs. With this, you really have two separate compartments, and small items from the upper compartment will not slide down to the bottom one.
On the back side of the main compartment, you have a large water bladder sleeve equipped with a velcro hanger. In the same place, you have access to the internal frame area. The mentioned water tube hole is there as well.
---
Technical specifications & summary of features
Load hauling Teton Sports Explorer 4000 backpack.

Weight: 5 lbs (2.27 kg).

Size: 32 x 18 x 12 in (81 x 46 x 31 cm)
Volume: 4000 cu in (65 liters).
Suitable for people from 5'1″ to 6'4″.
Torso fit: 19 – 23 in (48 – 58 cm)
Waist belt fit: 28 – 70 in (71 – 178 cm).
Material: 600 D squared ripstop; 600 D polyester.
Internal frame with aluminum stays.
Back and hip padding of durable open-cell foam.
Lumbar pad and molded channels for comfort and airflow.
Hydration compatible.
Adjustable harness.
Top compression straps.
Bottom compression straps.
Integrated rain cover.
Floating pockets on one side for tent poles or long gear storage behind the pockets.
2 colors: metallic silver/gray and navy blue.
---
Pros and cons, users experience
This pack has received a very good average rating 4.5/10 from Amazon customers. There is a huge number of reports, which shows how enormously popular this backpack is.
I like to read first those reports with the lowest rating, so in the table below I give a summary of the most important objections.
  Cons
  Pros

Complaints of easily broken buckles.
Problems with zippers.
Problems with harness adjustment velcro.

Great price.
Quite a number of nice features.
Good weight.
Rain cover.
Harness adjustability.
---
Comparison with other packs
Here I give a comparison table, with several packs from some other brands, all in the similar size range:
Teton Sports
Explorer 4000

Osprey Atmos
AG 65

Deuter
Futura Vario
Weight (kg)

2.27

2

2.3
Volume (l)

65

65

60+10
Lower compartment

yes

yes

yes
Hydration compatible
yes

yes

yes
Rain cover

yes

no

yes
Internal frame

yes

yes

yes
Harness adjustable

yes

yes

yes
My rate

8.5/10

9.1/10

9.3/10
---
Conclusion
To summarize this Teton Sports Explorer 4000 Internal Frame Backpack Grey review,  this is a pack with many great features which you would normally find in far more expensive models. The comparison table given above indicates that the price is an important factor behind the popularity of this pack.
However, there are complaints about the quality of stitching and buckles. So I would say that if you need a really durable backpack for long tours with a lot of stuff, then the price should not be the only criterion. I have a Deuter Futura backpack which looks intact after 12 years of use.
But if you decide to go on a tour with Teton Sports Explorer 4000 backpack, then I would suggest that you have some spare buckles in the pocket. You might want to check also this Teton Sports Hiker 3700 pack, which has received very good reviews. If you need a smaller pack from the same brands, see this Teton Sports Talus 2700 backpack.
I hope this review has been useful to you, and if this is so please do share it with others. For updates about the price please follow the links given above.

Thank you for reading, it will be great to have some comment from you in the comment box below. I wish you a pleasant day.
---