---
In this Survivor Filter review, you can read about an incredible tool of 100 grams (3.5 oz) only, with filter pores of 0.05 microns, and with a price tag around $25. It is ideal for any outdoor use, for travel, and for emergency situations. See more below.
Main benefits
Ultra lightweight.
Great price.
Easy to use and to maintain.
Removes all bacteria.
Versatile.
Best price & place to buy
The best place regarding the price and shipping conditions is usually Amazon.com.
Here are a few items related to this tool, to order separately: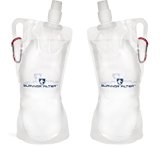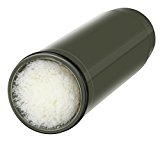 ---
In the moment of writing this text there are special discounts related with this Survivor Filter, please follow the link to see more.
Survivor water filter – description
The first thing you will notice is how lightweight this tool is. With only 100 grams (3.5 oz) it is still able to give a flow rate of 200 ml (7 ounces) per minute. It is able to filter 264 gallons of water (1000 liters), before filters' replacement, but this may depend on the quality of water you will be using.
In any case, this all is very impressive for such a tiny and inexpensive tool, because it comes with a very reasonable price tag below $30.
Now, this is just a bit more than you would pay for the Sawyer Mini, or the LifeStraw filter, but the benefits are numerous.
Namely, the Survivor comes with filters' pores of 0.05 microns, which is far smaller than what you have in other filters of this type. For example, in the Sawyer filter these pores are 0.1 microns (so 2 times larger), and in the LifeStraw they are 0.2 microns (thus 4 times larger).
Such a difference in pores is, in fact, crucial when you are at such scales. To realize this, have a look to these numbers: The smallest bacteria are above o.2 microns. Giardia and cryptosporidium are around 10 microns and 4-6 microns, respectively, Escherichia coli is in the range 0.25 – 1 micron diameter. Viruses are far smaller.
So the Survivor Filter will not remove viruses, but it will remove all bacteria, and this is what you have to deal with in most cases because your main threat are bacteria. But this is not necessarily so with the LifeStraw filter.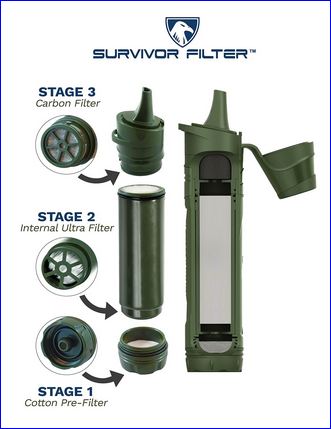 Warning:
In the specifications for the Survivor, you will see the statements that it removes 99.9% of viruses. Do not count on this. It is disappointing to see such a statement, and I find it really irresponsible. This is a great tool and adding such an absurd statement was totally unnecessary. If you really want to be sure about viruses, see an another tool from the same brand, the Survivor Filter PRO.
In the video below, from the Survivor Filter company, you will hear that the carbon and ultrafilters inside the tool remove heavy metals and chemicals. I am sure this is impossible and this cannot be taken seriously.
You will see many videos on YouTube repeating these claims by reading the tool's specifications. I suggest you disregard these claims.
You see in the pictures that it comes with a lid on the mouthpiece, which keeps this part clean. It is attached to the body with a rubber element. There is a slit on the filter's body so you can attach it to your backpack.
Inside the filter you have a triple filter system:
ultrafilter,
carbon filter, and
a cotton pre-filter.
All these filters are easily replaceable and you can clean them as well.
How will you use it and where

There are several possibilities:
Drinking through the mouthpiece directly from the water. Note that this may be hard for some, there is a triple filtration system inside and it may be hard to make strong enough suction.
On the other hand, if you are outdoor, to approach a water stream it may be rather complicated; you may become wet, and you will have to be in rather inconvenient positions in order to get to the water and drink it through the tool.
You can use the plastic canteen which they sell separately. You attach it to the inlet part of the filter and squeeze forcing the water through the filter.
You can use standard plastic bottles with 28 mm opening and do the same squeezing. Many bottles will fit but there may be some with a thread that does not fit.
Obviously, you can use this filter in practically any environment, in your outdoor activities, on the travel, in an urban environment in general, in emergency situations. etc.
What is in the box
You will get the following:
A package with spare pre-filters.
Instruction manual.
The tool completely assembled and ready to use, with all three filters inside.
See this video from the company:
Here is yet another very useful video about the Survivor Filter. The author has presented it nicely but he experienced difficulties in using it to drink directly from the water source.

Perhaps there was some problem inside the filter; although it may be hard to suck, it cannot be that hard. I would blow some air through it first, or it was just necessary to make it completely wet. If you are in such a situation, put the filter into the water approximately half-way up and keep it so for some time, say half a minute so that the microfibers inside become completely wet.
So I disagree with his conclusions about this tool. But have a look in any case:
Specifications
Weight: 3.5 ounces (100 grams).
Length: 7.09 inches (18 cm).
Flow rate of 200 ml (7 ounces) per minute.
Triple filtration system.
Pores 0.05 microns.
Easy flip-on and flip-off mouthpiece cap.
Filter body:

Military grade BPA-free ABS material.

Reusable and replaceable filters.
Filters lifetime: up to 264 gallons (1000 liters).
Best use:
– Outdoor: camping, hiking, trekking, fishing, backpacking.
– On vacations.
– For survivalists and preppers.
Guarantee: Money back guarantee and lifetime warranty.
Pros & Cons
Here is how I see the Survivor Filter:
 Pros
 Cons

Easy to use.
Very lightweight.
Great price.
Great design.
Versatile.
All filters easily replaceable.
Filters can be cleaned.
Spare filters are indeed inexpensive, see below.

It may be hard for some to drink directly from the water sources.
Canteen not included.
Problems of contamination when you take the water into bottles.
Not so big water flow rate.
As I said above, most likely you will have to use a bottle or the canteen which the company sells separately. But in the process of getting water to it, your hands will in principle become contaminated. This is the major issue I have with this tool and with all similar tools on the market.
In the specifications, they write about "super-fast flow rate of 7 ounces (200 ml) per minute". This really sounds like a joke to me.
But the Survivor Filter is indeed a very popular tool, highly ranked in various places, and its average rating on Amazon is an incredible 4.7/5 average rate based on more than 600 reviews. Very impressive indeed.
My verdict
So how to conclude my Survivor Filter review? I would say this tool will provide you clean water. Its pores are simply incredible and the filter will make you safe from all bacteria out there. I particularly like the fact that everything is replaceable and easy to maintain and clean. Spare parts (filters) are indeed inexpensive. This is a small and inexpensive tool and it is good to have it for emergency situations in any environment.
If you are looking for a nice and useful present for somebody and you do not want to spend much, well this is definitely something to consider. This is a tool for a lifetime, and the person who receives it as a present will remember you for sure.
I can also recommend the PRO version from the same brand, the Survivor Filter PRO, a bit more expensive but still with a very reasonable price, and with pores of 0.01 microns. This tool is currently without a match on the market.
There is an issue regarding the statements about removing viruses, and heavy metals and chemicals. I am sure these statements cannot be taken seriously. This all makes a bad impression about this tool and the Survivor company itself, although clearly the tool works well in other aspects and one should trust that its pores are indeed 0.05 microns.
As a comparison, you can see my another text about MSR Guardian purifier, where they clearly write that their obviously great tool, with pores 0.02 microns, does not remove such materials (chemicals and heavy metals). The same approach you will see in the specifications of LifeStraw Steel water filter. This is what I am able to appreciate and therefore I trust these brands.

Thank you for reading. If you find this text useful, please share it with others. I shall be happy to hear from you, there is a comment box below.
---