---
Sierra Designs Men Elite cagoule is built with backpackers and hikers in mind. As the word cagoule suggests, it has an extended length, minimalist design. It is completely waterproof and breathable, 3-layer fabric, and it provides a lot of ventilation and functionality.
Best price & place to buy
The best place regarding the price and shipping conditions is usually Amazon.com.
---
Description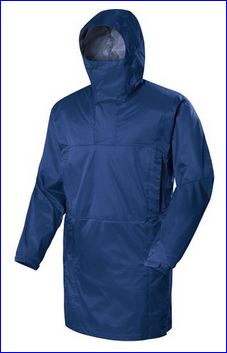 This jacket is waterproof and breathable fabric, so do not be confused with its previous version. What you have here is an improved version from 2016.
By its shape, the cagoule reminds me a bit of the traditional Pakistani peace of clothing called kurta.
The fabric is 30 denier nylon/polyester combination, so moderately to low durable, but the main purpose of this kit is to protect you from the rain. In the same time, this makes it very lightweight and packable, suitable to carry in your backpack and to wear only when you need it.
The material is 3 layer, which implies the external fabric, a waterproof and breathable membrane, and an extra protective layer on the membrane. About features of such types of fabric, you can see more in my another text. You also have DWR water repellent finish on the external fabric.
On cuffs you have both velcro tabs for adjustment and elasticity, this is a design I love to have.
As you realize, this cagoule is long and it goes nicely with Elite Rain Chaps. You do not need full waterproof pants with the cagoule.
---
Vents
The jacket is breathable but long, and to increase ventilation and prevent possible condensation inside, you have vents at various places.
♦ On both sides, from the hem to the hips you have two long vents. They are secured by snaps on the bottom, and higher up they are closed with velcro tabs.
When you undo all of them, you have a large flap in front of you. So now you can put the hip belt of your backpack under the flap, you can see this in the pictures below.
This is a really clever design because when you have the usual rain jacket, the hip belt normally closes air circulation from below. But this is not so in this design. Full protection from rain is there, and ventilation from below as well.
♦ Higher up, you have two chest (mesh) pockets with flaps. They are always open, so they serve as yet another ventilation opening system. I see this as a problem because the flaps do not look wide enough to prevent water from getting in.
♦ There also exist always open pit vents, equipped with flaps. The design is such that water should not get in.
Differences between the old and new versions
3-layer new version, and 2-layer old version.

The hip belt of the pack under the front flap.

Breathable new version, non-breathable old version.
Real chest pockets in the new version, pass-through in the old version.
Weight difference:
– old version: 6 oz (170 g),
– new version: 9 oz (255 g).
Redesigned pit awnings.
---
Pros & cons
I do not give the rating by customers. The reason is that all that you can find are in fact ratings for the previous version which was not breathable. This improved version has been available on Amazon for about 2 months only.
The cagoule is designed to provide protection from rain. Therefore there is no much sense looking for features that you would normally want to have in the usual rain jacket. So my summary is as follows:
 Cons
 Pros

Not enough hood adjustability.
High price.

Waterproof.
Breathable.
Windproof.
Lightweight.
Comfortable.
Nicely packable.
---
Technical specifications & summary of features
Weight: 9 oz (255 g).
Water entry pressure: 12650 mm.
Fabric: 3-layer, 30 D nylon face.
Soft knit backer.
Waterproof breathable membrane.
DWR finish.
Three colors:

---
Conclusion
To conclude this Sierra Designs Men Elite cagoule review, this is the new and improved 3-layer breathable version, so do not mix it with the old version which is still available on Amazon. The differences in design are minor, but breathability was a major issue with the old version. The new version is more expensive, but with good reasons, this is now a good and reliable kit.

Thank you for reading, I hope the text has been useful to you. I shall be happy to have some comment from you. Have a nice day.