---
This Sierra Designs Light Year 1 review is about the version of the lightweight versatile solo tent which comes with a price tag that is hard to match.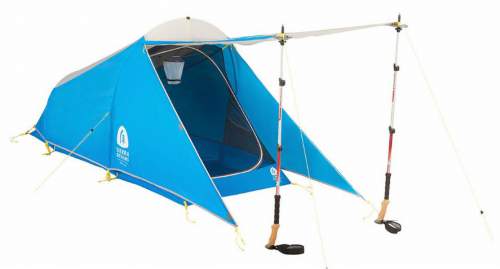 ---
Key features & benefits
Very versatile.
Various setup configurations.
Awning vestibule.
Lightweight.
Very good price.
Night Glow included.
---
What type is it
This tent has been on the market for many years. Long ago I have seen its 2012 version. But what you have here is the latest 2017 completely redesigned version of this popular tent. In particular, the vestibule and the door are completely different now, this is a big improvement.
The Light Year 1 is a non-freestanding tent. So this does not look so great, you will have to plan where to pitch it. This means that it must be staked to the ground, and this may be hard if you are on a rocky terrain, on a frozen ground, or on a sand and gravel. See more here about this terminology.
This is also a 3-season tent, which implies a two-layer structure, with an inner tent and a full-coverage rain fly.
By the construction, it is in the groups of tents with a front door, see the picture below. This is very convenient for a solo tent in particular if you use a cot. In this case, you can set up the cot outside the tent and bring it inside ready to use. It would be difficult to do so with a side door.
Note that it is long enough for almost any cot, but the width in the feet area is only 66 cm, so only the very narrow cots can fit there. You can see many of such backpacking cots here.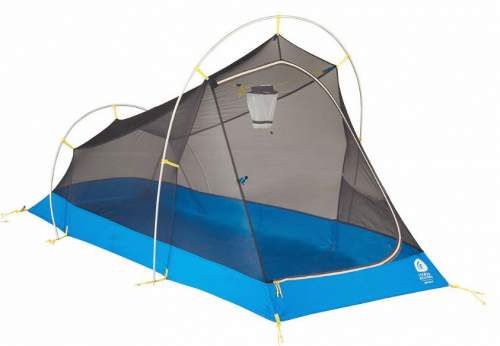 ---
Who is it for
Obviously, this is a solo tent, and with 17.9 ft² (1.66 m²) of the interior area, it offers a lot of space for one person. Weightwise, with its 3 lb 4 oz (1.45 kg), this is definitely a lightweight tent, light enough for hikers and mountaineers, but perhaps not the best option for backpackers. This is best seen if you compare it with this Big Agnes Fly Creek 2 Platinum HV Tent which is a typical backpacking tool, in fact the lightest currently available.
But note also that this tent offers 5.5 ft² (0.51 m²) of storage space for gear. You can have a look in this text with a long list of lightweight tents, to get some idea about the features of this tent. See also the comparison table below.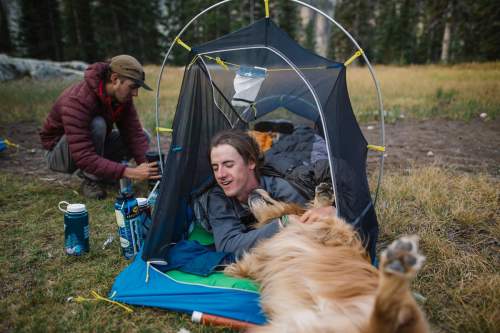 ---
Overview
This tent is a little cousin of the iconic SD Clip Flashlight 2 tent, you will see it mentioned in the video below. The peak height is 39 inches (99 cm), but this is only at the door. From the pictures you realize that the inner tent is all mesh, so this is great for breathability. But the fly is without vents.
Inside you have mesh pockets close to the entrance, so you can keep your stuff off the ground. The rest you can store under the vestibule.
The tent packs nicely to just 15 x 5.5 inches (38 x 14 cm), so it is really easy to attach it to the backpack or transport on a motorbike, bicycle, in a kayak, etc.
The Night Glow lantern
This is an extra bonus which you get with this tent, very useful indeed. You will use it with your headlamp for a nice ambient light in the tent.
The setup
To set this tent up, you follow the procedure typical for any non-freestanding tent. This means to stake out the floor, and after that start adding the poles. Clip the inner body tent to the poles and you will have the basic structure.
After that add the fly and clip it together with the main tent. The fly is not symmetric and you cannot miss the sides. The vestibule part must go to the front so it is really self-evident.
The vestibule
The vestibule is the best part here. It is with two parallel zippers, see the pictures below, and this allows for several different configurations which you can see in the pictures. You have an awning with the help of poles, and you have seen it in the first picture above. You can also roll it up and keep the sides fixed in the normal position, so you have a wind-sheltered sitting area in front of the tent.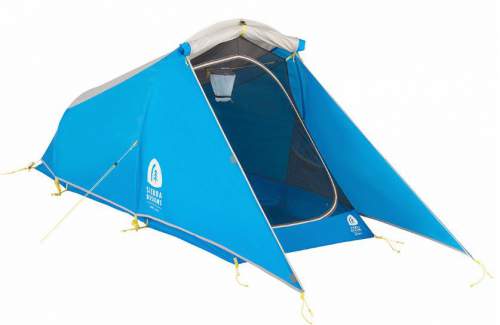 Waterproofness
This tent provides a full protection from elements. The fly is with a 1500 mm rating and the floor is 3000 mm. The fabric is with PU coating, and all seams are taped.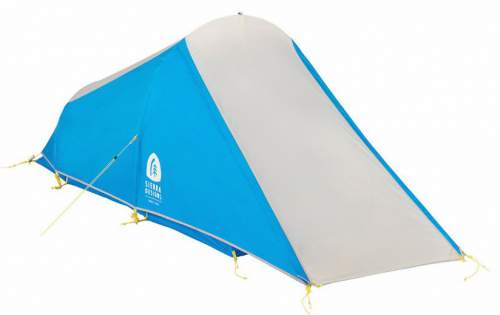 Materials
The materials used in the construction are durable, this affects the weight of course. So you have 68D 190T Poly Taffeta fly fabric, and 70D Nylon Tafetta floor fabric. The tent body is 15D nylon No-See-Um mesh. The poles are strong 8.7 mm DAC aluminum.
If you are not familiar with the technology, the DAC is a brand of aluminum poles produced by Dongah Aluminum Corporation (DAC) of Korea.
Here is a short video by Sierra Designs about their iconic tents, have a look:
Here is one more video about the first impressions about this tent, you might want to have a look:
---
Specifications & summary of features
Type: non-freestanding.
Minimum weight: 2 lb 12 oz (1.25 kg).
Packaged weight: 3 lb 4 oz (1.45 kg).
Packed Size (L x D): 15 x 5.5 in (38 x 14 cm).
Interior area: 17.9 ft² (1.66 m²).
Internal peak height: 39 in (99 cm).
Length: 89 in (226 cm).
Width:
– Front: 32 in (81 cm).
– Rear: 26 in (66 cm).
Doors: 1.
Vestibules: 1.
Gear storage area: 5.5 ft² (0.51 m²).
Guylines: 4.
Stakes: 9 Hex Peg.
Poles: 2, DAC press fit.
Pole diameter: 8.7 mm.
Pole set weight: 9.03 oz.
Fly fabric: 68D 190T Poly Taffeta 1500 mm PU WR FR CPAI84.
Floor fabric: 70D Nylon Tafetta, WR/PU 3000 mm, FR CPAI84.
Body fabric: 15D Nylon No-See-Um mesh.
Fast & easy 2 pole setup.
Large D-door.
Fully taped seams (PVC free).
Interior mesh pockets.
Reflective guylines and guyout loops.
Color-coded fly attachment.
---
Summary
To conclude this Sierra Designs Light Year 1 tent review, what you have here is a completely redesigned version of a famous tent. It is great as always, but bear in mind that it is not freestanding. Its price is truly great but this is not on the account of quality. I trust the brand and I can fully recommend this tent.

If you still feel that you need something different, please check my page with tents and shelters, you will find many top-notch tools described in detail. You might want to see this Divine Light 1 FL Tent from the same brand, and the famous Clip Flashlight 2 which has also been redesigned in 2017.
Thank you for reading. In the case of questions or comments, please use the comment box below. I wish you a nice day.