---
In this Sierra Designs Backcountry Bivy review, you can read about a high-performance ultra-lightweight outdoor sleeping tool ideal for backpackers, hikers, and mountaineers. With only 360 grams of weight and a full protection of elements, while still very breathable, it is without a match on the market.

Main benefits
Ultra-lightweight.
Complete rain protection.
Ultra-breathable.
Great price.
Compatibility with other Outdoor Research sleeping gear.
Description
From the technical specifications below, you will realize it is hard to find any similar tool of this type on the market which would come close to this Sierra Designs bivy. It provides a full protection with an incredible weight.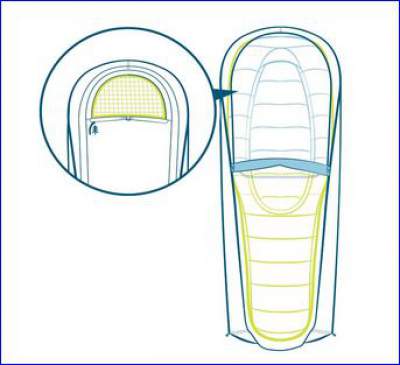 This is a super-packable tool, which reduces to roughly 24 cm length and the diameter below 8 cm. It is built in 2 sizes, Regular and Long, see more below.
This is a slightly tapered-cut design, so the shoulder and the foot width are, respectively 81 and 51 cm.
It should be stressed that this bivy is designed to fit the Backcountry Bed sleeping bag from the same brand, described in this site. You can definitely use many other types of sleeping bags from other brands.
The bivy allows for a  sleeping pad up to 2.5 inches (6.35 cm).  So with the recommended pad's thickness, you will be able to use practically any self-inflating pad, and many of the inflatable pads. You have many of them described in this site, so just follow these links, or visit my page about equipment.

The design of the bivy includes a mesh U-shaped window, so you can roll down the fly and fix it (there is a tab for this purpose), and you can then sleep with the bivy open when there is no rain.
The access to the bivy is through a very long U-shaped zippered opening, so it is very easy and comfortable. The zipper can be open both from the inside and from the outside. You can see these both zippers in the pictures.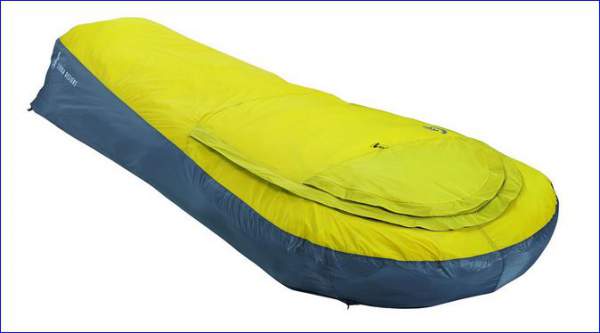 Breathability and waterproofness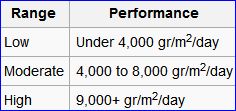 Here you have truly great materials. This is a highly breathable fabric as you can realize from this table from Wikipedia. With 18300 g/sqm/day, it is very high in the class of the highest possible breathable materials. In view of this, it is then clear why you do not have extra vents added in the design.
Regarding the waterproofness, with 10400 mm, it is in the lower end of the category 3, out of 5, where the highest is over 20000 mm. So you can definitely rely on this tool in every sense.
It is hard to find any true objection to the quality of this Sierra Designs bivy. But I do have some remarks about the design. As you realize, it is ultra-lightweight, but as usual, this comes on the account of some features that you may need.
In this particular case, think about the design around your head. As you see, there is no pole here, so the net will be on your face all the time, and the same is when the fly is closed. So even if you are not claustrophobic, it may not be so great to have these materials in your face all the time. For me, this is less important as I am not a back-sleeper.
One pole, which you may see in some other models shown below in the comparison table, would solve this problem completely. Pity they did not add it here. To understand my objection about the window, please see the Aqua Quest bivy. I would love to see it in this bivy as well.
Specifications
Size: regular (R) and long (L).
Weight:
– R: 12.65 oz (0.36 kg).
– L: 14.45 oz (0.41 kg).
Length:
– R: 82 in (208 cm).
– L: 88 in (224 cm).
Shoulder width:
– R: 32 in (81 cm).
– L: 36 in (91 cm).
Foot width:
– R: 20 in (51 cm).
– L: 24 in (61 cm).
Packed size:
– R: length 9.5 in (24.1 cm), diameter 3 in (7.6 cm).
– L: length 10 in (25.4 cm), diameter 3 in (7.6 cm).
Materials:
– Shell: 20 d nylon ripstop, waterproofness 10400 mm PU WEP; breathability 18300 g/day
– Floor: 30 d nylon ripstop, waterproofness 3000 mm.
Limited lifetime guarantee.
Conclusion
To conclude this Sierra Designs Backcountry Bivy review, it is indeed a pleasure for me to write about such a great product. It is extraordinary in every respect and my opinion and feeling about it are expressed through my rate in the table below. But I do have a few objections regarding its design. If they are not of importance to you, then you have a great outdoor item.
Please see how I rate it:
Sierra Designs Backcountry BIVY REG
$139.95
Thank you for reading. I shall be happy to hear from you, there is a comment box below. I wish you a pleasant day.