---
Salomon XA PRO 3D Trail Running Shoe for men has been on the market for over a decade now. This is an iconic item that has been modified and improved in all these years, enormously popular and admired by users. There are several versions on the market, including the low-cut and mid-type, both waterproof and non-waterproof.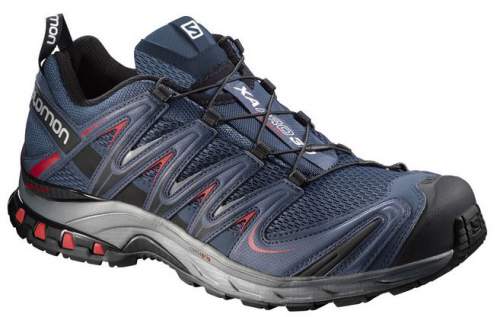 ---
Key benefits
Sensifit system – for the best wrapping and cradling of the foot.
Contragrip sole technology – for optimal traction on any terrain.
Endofit – for protection from debris.
Quicklace friction-free lacing system.
Quick drying upper mesh.
You can read about all these features below.
---
Description
Salomon XA PRO 3D is a truly multi-purpose tool, very suitable for trail running as the title suggests, where it will provide a very good stability and cushion. But these shoes can be used as approach shoes in mountain climbing, for hiking, for travel, and for around-town use.
The upper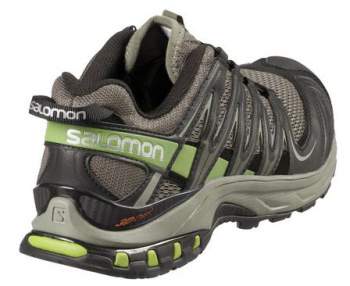 The upper is mostly a quick-drying mesh, very breathable, but note, the model presented here is not a waterproof shoe. In the toe section, you have a nicely designed protective rubber cap as you see from the pictures, and it continues with a mudguard which adds a bit of protection on wet terrains and in mud.
There are numerous overlays converging towards the laces, which add to stability and durability. This is what they call Sensifit system, available in several other shoes and boots of Salomon presented here in the site. You can see it in their X Ultra 2 shoes, in X Ultra Mid 2 boots, as well as in Quest 4D 2 GTX hiking boots.
The purpose of it is to wrap and cradle the foot with a precise and secure fit, all around from the midsole to the lace eyelets, you can see it schematically presented in the picture below. This may reduce the chances for developing blisters.
A cool feature here is what they call endo-fit. This implies an extra piece of fabric that fits over the top of your foot and it provides the tongue connection with the shoe body, thus preventing the mud and debris from getting inside the shoe.
The lacing system is also very elegant, this is what they call Quicklace, quite minimalistic and based on a strong polyester cord lace running through a series of friction-free lace eyelets, see the picture. When you pull, the laces tighten evenly, and then you lock it in place with a stopper. After that, you stow everything in the lace pocket. If you haven't discovered it yet, it is under the letter S on the top of the tongue.
The outsole
The outsole is Salomon's Contagrip, with a high traction and a very aggressive design. It is based on a lug geometry specific and different for every type of sport. They have developed and tested more than 200 of them so far, all this in close collaboration with top athletes in every field of sport.

The system includes different compounds of rubber types and densities that are strategically placed on the outsole, see the picture. So, you have a harder rubber on the exterior section of the sole, and a softer rubber in the central zone, all combined with the appropriate shapes of the lugs. Their particular shape and orientation, which you see in the picture above, is the result of a lot of testing.
You will notice that the sole of the Salomon XA PRO 3D shoes is rather flat. The reason behind this is that, as they claim, the grip also depends on the total surface which makes contact with the ground. By making it so flat, this surface is increased.
Insole
Inside, you have an OrthoLite sock liner which is a combination of an Ortholite foam and an EVA heel cup. The Ortholite foam is more durable and it keeps its features over time. EVA heel cups add to the heel support and cushioning.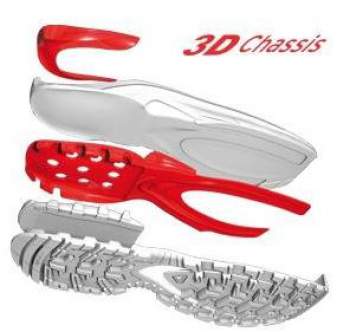 Salomon's advanced technology is used here, so you have their 3D chassis (and this explains the 3D in the name) placed between the outsole and the insole, see the picture above. This adds to the rigidity of the shoes in general and more importantly it provides a good torsional stability without reducing mobility and comfort.
See a bit more about these shoes in this short video:
---
Pros & Cons
As you realize from the title, these are trail running shoes, so they need some break-in time and there are reasons for that. I have seen a customer complaining that 'after 4 hours of wearing in the house' they still did not fit well. This sounds like a joke to me.
   Cons
   Pros

There are complaints that they run a bit narrow.
Complaints about arch support.

Lightweight.
Very comfortable.
Very durable.
Great grip.
Very breathable.
Great color combinations.
Not everybody loves the most recent changes. For example, there are complaints about the new tongue design with the endofit system and also about the narrow lace pocket. Some have mentioned inappropriate arch support, but I would say that this particular case depends on the foot shape, so this is individual.
I guess that many will love to know that there are no less than 10 different color combinations currently available on Amazon:

---
Specifications & summary of features
Average weight: 410 g (14.5 oz) for the US size 9M.
Midsole height: 21 mm at the heel and 11 mm at the toe, so you have a 10 mm forward drop in total.
Purpose: trail running, hiking, around town use, travel.
Warranty: 2 years.
Upper: breathable mesh.
Outsole: Contagrip.
Quicklace system with lace pocket.
Midsole: dual-density foam.
Rubber toe cap.
Mudguard.
Sensifit system.
Endofit tongue.
---
Comparison with competitors
Salomon XA PRO 3D shoes are very similar to
Both of these are presented in the site, so please follow the links to see more. I own the Moab waterproof version and have been using it for many years now. I also own the Peakfreak shoes and can say that they are the lightest of all three, around 320 grams only, just to know if this is important for you. The Salomon shoes are in between with respect to the weight.
I do not think that Columbia Peakfreak model is a match for the other two (although I love my Columbia shoes). Now, if you would ask me for my number one here, frankly it is difficult to say.  At the moment of writing this text, the Moab Ventilator is the number one on Amazon in hiking shoes, you can check it here. In fact, it has been in this position for quite some time already.
Though I would say that the Salomon XA PRO 3D shoe is more technologically advanced, and I love its design more than my Moab model, in particular, the lacing system and the fact that it has the 3D chassis.
---
Summary
So what more to say about the Salomon XA PRO 3D Trail Running Shoe for men? I was inspired to write this review because a friend of mine, Angel de Vincente (you can see him here in one of our Tenerife tours), has ordered them to make a humanitarian tour for Oxfam, 100 km in Madrid this summer 2017. You can see more here. I think he chose wisely. No doubt, these are great shoes and I can fully recommend them.
Pricewise, with $90 at the moment of writing this text, these shoes are in between the Moab Ventilator and the Columbia Peakfreak. So I would say this is reasonable.
As I mentioned above, there exists a waterproof version as well with a GTX membrane, you can see it here. The focus of this text is the version for men, but there exists a women's version as well with exactly the same features.
If the text has been useful to you, please share it with others. I love to hear from you, so use the comment box below. Thank you and have a nice day.