---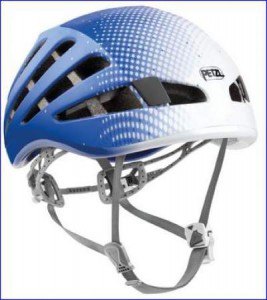 This Petzl Meteor helmet review is about one of the most comfortable climbing helmets on the market. This is a lightweight and versatile tool, made of polycarbonate external shell and polystyrene foam, and with 220 grams only for the size 1 model, and 225 grams for the size 2.
Meteor is one of the lightest helmets on the market. This is achieved by the material used in its construction and by the large and numerous openings on its outer shell.
Design and materials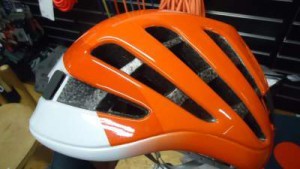 Those who use to complain about possibly insufficient ventilation with Petzl Elios helmet (yes there are some who are not happy with it), will surely be happy with Petzl Meteor.
The picture on the right is my own, and you can realize how nicely ventilated it must be. Through the large openings, you see the internal polystyrene liner.
The material used for the outer shell is polycarbonate. This is a strong and lightweight material very suitable for this purpose.
Size
The helmet comes in two sizes, and this is what makes it different from previous versions from the Meteor series (III and III+). This model is sometimes called Meteor IV. The two sizes (which describe the head circumference) are in fact identical to those of the Elios climbing helmet.
Comfort
I have tried it myself and the first what you realize is how incredibly lightweight this helmet is. But I must say that, because of the material used here, it is in fact rather bulky when I compare it with Elios or Elia. Both those features come from the fact that this is a tool made of polystyrene foam and protected from the outside by a thin polycarbonate shell.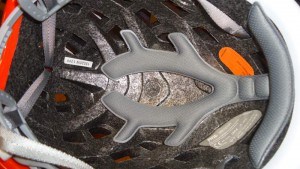 Another fact which I want to stress: I have tried it parallel with Black Diamond Vector, and do not feel any difference with respect to comfort or weight. The feeling is practically the same.
Inside the Meteor helmet you have a really nice padding, you can see it in my photo here on the right (click to enlarge). This is an open cell foam with a very pleasant touch. It is attached to the polystyrene foam by a velcro, so it can be removed and washed.
From the photo, you can see that this padding comes on the top of the head, and on the forehead. I have tried it and can say it is truly pleasant.
Rear adjustment

Both sizes of this helmet allow for around 6-8 centimeters of adjustment with respect to the head circumference. This is quite enough if you have already chosen a proper size for you, and you may need it if you have something on your head beneath the helmet.
The adjustment is through a rear plastic band which you may see in the photo. You have two buttons on both sides for this purpose. I must admit am used to my wheel-type adjustment on Elios, and perhaps this is why I do not find this system particularly handy, but do not have an objection to it.
Chin adjustment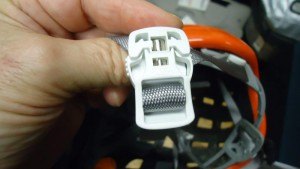 Here you have polyester webbing straps that close by a buckle which contains magnets. The purpose of the magnets is to bring the two elements close to each other, so you can fix it by one hand only. The complete structure you can see in my photo here, please click to enlarge.
You notice that the magnets and the buckle are completely open, and in fact, this is the reason for complaints by some users. Namely, sand and dirt can easily get in and prevent the buckle from closing smoothly, see below.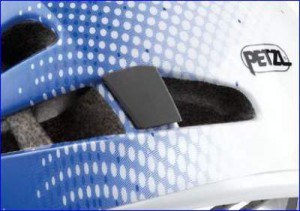 Headlamp attachments
Similar to other Petzl models, there are 4 clips for a headlamp, you can see one in the picture. It works by sliding the headline strap beneath the clip (from below).
I tried it, and my impression is that sliding the strap under these clips is less smooth than with the Elios helmet.
Summary of features & technical specifications
Weight: 220 grams (size 1), 225 grams (size 2).
Colors:
– size 1: turquoise, raspberry
– size 2: blue, coral.
Head circumference:
– size 1: 48-56 cm
– size 2: 53-61 cm.
Guarantee: 3 years.
Materials:
– expanded polystyrene liner
– polycarbonate external shell
– polyester webbing straps.
Certifications: CE EN 12492, UIAA (those are for climbing and mountaineering).
Compatible with the VIZION eye shield for ice climbing.
Comfortable and lightweight helmet.
Comfortable and breathable foam lining positioned to stabilize the helmet on the head.
Soft headband. It folds into the shell for storage and transport.
Excellent ventilation.
4 integrated clips for a headlamp.
Magnetic buckle for the chinstrap; one-hand attachment.
Possible objections
Generally, polycarbonate helmets are far less durable than ABS helmets. They are sensitive to strong impacts, and should not be used after being subject to something like this even if they look undamaged.
I have seen some users complaining about magnetic buckle. Sand and any kind of dirt may prevent it to lock.
See also what this Amazon customer writes: "The magnetic locking mechanism … at least in California it just attracts magnetic rock particles like crazy. The small filaments are always caked onto the clasp preventing it from locking, and because of the attraction it takes some effort to wipe it clean so that the latch will shut safely — not something you want to deal with on a multi-pitch climb, where losing the helmet would be a big problem."
 Cons
 Pros

Versatile.
Ultra-lightweight
Very comfortable.
To conclude this Petzl Meteor helmet review, this is a great tool with many nice features, and this is an award-winning helmet. But it is expensive and far less durable than Petzl Elios. You can see how I rank this helmet with respect to some other models if you visit this post. For price updates please check the links.
Thank you for reading. Please do leave some comment in the comment box below. I wish you a pleasant day.