---
This Osprey Radial 26 review is about a new version of a great and popular pack, which will be released very soon. This is a great technical pack for cyclists and a daypack for hikers, or a pack for around-town use.
---
Key benefits & exceptional features
Integrated rain cover.
A lot of organization features and pockets.
Great ventilation due to AirSpeed suspended mesh back system.
Versatility.
Unique zippered side pocket with a retractable string for keys.
Integrated kickstand which keeps the pack upright.
---
Description
The Radial series includes the packs of 26 and 34 liters, so this text is about the smaller pack in the series.
Being a pack primarily for cyclists, you have a LidLock helmet attachment on the front of the pack, you can see it in the pictures. On the bottom of the front, you have an attachment point for light.
Very similar features you have on some other Osprey's packs, like those from the Escapist series, 32-liter and 25-liter packs. Of course, climbing helmets can also be attached here as well.
Completely on the bottom is a zippered pocket with the removable integrated rain cover. This is an extra bonus you have with this small pack.
---
Internal structure
This is a pack with a great organization, and this is also what makes it so versatile. So you have a padded zippered compartment behind the back panel, for a 15-inch laptop or anything else of this size.
Next to it is the top pocket and then you have an another zippered entrance to the main compartment. Inside of it, you have yet another big sleeve, large enough for a tablet. You will see in the video below that it also contains organizer mesh pockets.
Next to it is one additional zippered compartment, rather large and with organization mesh pockets inside. Within this compartment, you have yet another zippered mesh pocket.
---
Suspension system
The first and the most important detail you will notice on this pack is its trampoline style suspended mesh system. I myself own a pack with such a system and I am sure there is no a better system for ventilation. I have been using it for more than 13 years already. This system has been originally developed by Deuter many decades ago. Osprey and Gregory have started adding it to their packs much later.
So if you expect a lot of sweating, as you should, then this is the system to bear in mind. The mesh completely separates the pack from your pack. You can pass your hand between the mesh and the pack all the way from the lumbar zone to the shoulder area.
This suspended mesh is tensioned by a metal peripheral frame which gives rigidity and structure to this pack. You should also bear in mind that the harness is not adjustable.
The shoulder straps are with ventilating mesh and padded just enough for a pack of this size. You will notice the very unique load lifters that are in fact elastic and adjustable, you can see them in the picture below. This is very unusual and frankly speaking, I do not see the purpose of making them elastic.
The sternum strap is with sliders on both shoulder straps, so it is highly adjustable to any desired position. It is equipped with an emergency whistle.
The hip belt is not so great really, rather narrow, one inch or so, and no fins on the sides, no padding of any sort. This may be fine enough for cyclists but this is far from optimal for hiking.
---
Pockets
Many elements mentioned above can be understood as pockets, but indeed you have a few more.
One quite stretchy and large pouch is on the front of the pack, secured with a buckle on the top. On the top of the pack, you have the mentioned zippered scratch-free pocket for sunglasses and electronics.
On the left side of the pack, you have a vertical zipper with the pocket which contains a retractable string for keys.  On the other side of the pack is a single mesh pocket for a water bottle, with a bungee cord to fix the bottle in place.
One zippered pocket is also in the padded compartment mentioned above.
Here is a very useful video where you can see all these features:
---
Pros & Cons
My summary looks as follows:
 Pros
 Cons

Great ventilation.
Versatile.
Rain cover.
Great organization features.
The pack really looks great.

No hip belt pockets.
Rather minimal hip belt design.
Not hydration compatible.
No attachment loops of any kind.
This pack is indeed versatile and suitable for many activities, but if used as a hiking pack then some elements of its design are rather inappropriate, like the tiny hip belt, the absence of attachment points, etc. As a pack for cyclists and for everyday use in commuting and around town it is simply great. Therefore I give two ratings for this pack in the comparison table below.
---
Specifications
Presently available in M/L size with 46 -53 cm torso length.
Weight: 1.37 kg.
Maximum dimensions (L x W x D): 54  x 33 x 30 cm.
AirSpeed trampoline type suspended mesh back system.
Ventilated stretch yoke and load lifters.
Elastic hip belt wing.
Padded laptop and tablet sleeve.
Sternum strap with emergency whistle.
Zippered scratch-free side pocket.
Front panel organizer pocket.
Internal organization pocket.
Zippered panel access.
Zippered scratch-free sunglasses and electronics pocket.
Stretch front pocket.
Integrated rain cover.
LidLock helmet attachment.
Reflective graphics.
Integrated kickstand keeps the pack upright.
Internal document sleeve.
Internal key attachment clip.
Internal organizer for bike specific tools.
LED light attachment point.
Stretch mesh side pocket.
Colors: 2, see the pictures.
Guarantee: Osprey's unique All Mighty: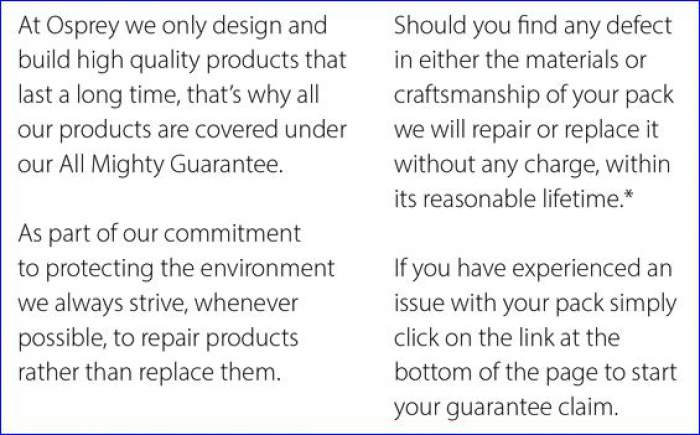 ---
What is new in the new model
Different choice of colors:
– black and red in the new version & black and green in the old model.
Integrated kickstand in the new model, which keeps the pack upright.
One side stretch pocket in the new model; two in the old model.
Side zippered pocket in the new model; no such pocket in the old model.
A larger front stretch pocket in the new model.
Modified reflective elements on the front.
Redesigned front face.
Top scratch-free pocket in the new model; it is more on the front in the old version.
Load lifter straps are elastic in the new model; they were classic in the old model.
The LidLock is higher on the front in the new model.
---
Summary
To conclude this Osprey Radial 26 review, what you have here is a pack with the best possible ventilation system. It looks great, it is very suitable for cyclists and for around-town use. However, it is far less suitable for hiking purposes, mainly because of such a tiny hip belt system. The pack is with an excellent metal frame, and the frame will very effectively transfer the weight to the waist zone, but such a hip belt is simply not good enough to distribute it properly.
If you need a bigger pack from the same series, please see this Osprey Radial 34 pack.
Thank you for reading, it will be great to hear from you, there is a comment box below.