---
This Osprey Mira AG 34 pack for women review is about a hydration daypack with bonuses like the rain cover and hydration bladder, which comes loaded with great features.
---
Key benefits & bonuses
There are many things to add here:
Rain cover included.
Hydration bladder included.
Separate external hydration compartment.
The Osprey's advanced anti-gravity system.
Great organization.
Stow-on-the-Go attachment system.
---
Osprey Mira AG 34 Review 
The Osprey Mira AG backpack for women is of the size which makes it ideal for day hikes, but its organization is such that, with a top-notch and not-bulky equipment, it may be used even for overnight tours. When you see it, you realize it has everything you may need for such excursions.
This is a panel-loading pack, with a very long zippered entrance to the main compartment. There are two zippers here, with two pull loops, and you can open it at any position. The compartment looks really big, and you have a sleeve inside, see the picture below.
There is a removable rain cover shown below, stored in its own separate pocket. This is a bonus that adds value to this already great pack.
This is a series for women, you should know that there exists the equivalent Manta series for men. Several of them are described in this site, you can see them in my page with backpacks below 35 liters and above 35 liters.
The Mira series for women includes backpacks of 18 liters, 26 liters, and 34 liters. There are differences between them, more features are available in bigger packs.
Hydration system
The pack comes with a 2.5-liter hydration pack which is stored in its special external compartment behind the harness, so no mess with the things in the main compartment. The water hose is with a magnetic clip for attachment to the sternum strap. You can see it below.
The bladder is with a wide mouth, i.e., with a leak-proof PourShield sliding closure that allows an easy access for cleaning and makes refilling easy and efficient. It comes with an anti-microbial treatment that prevents mold and bacteria from building up. Note that you do not have to use it, you can rely on water bottles instead.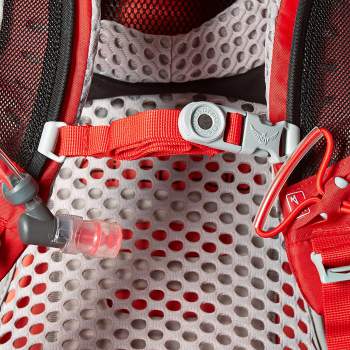 The suspension and fit
Here you have Osprey's celebrated anti-gravity (AG) system in its best. Why in its best? This because I am convinced it works perfectly with packs in this size range. I have some doubts about very large packs with the same system but not here.
The AG design includes a suspended mesh which becomes tensioned when you open the belt and fix it around the waist. So the mesh is like a piece of clothing, it hugs your body and transfers the weight throughout its surface wherever it is in contact with your body. It is never boxy and it moves naturally together with your body.

So as you realize, this is very different from the traditional designs where the weight is transferred mainly to the waist zone, and to less extent to the shoulders. This reduces hot spots and you essentially feel that you carry less weight than what you really have on the back. The mesh is a single continuous piece which covers all the surface on the back and around the waist. It is hard to find something more comfortable than this.
Note that you do not have any traditional padding in the lumbar zone, here the mesh plays the role, see the picture above. It becomes very tensioned when you put the pack on, so it all nicely fits around your waist.
The system allows for an excellent ventilation because the mesh is separated from the back of the pack and there is a lot of space in between for a free air flow. The same is in a part of the hip belt. The same mesh structure is on the shoulder straps, which are nicely padded and ventilated.
Note that there is no harness size adjustment here. Instead, you have two sizes to choose in the moment of purchase, XS/S and S/M, see more in the specifications below.
The system is based on a lightweight peripheral LightWire aluminum frame which gives the shape and some rigidity to the pack. The design includes load lifter straps as well.
Pockets
On the top of the pack, you have a zippered media-friendly pocket, medium size, very useful. One large zippered pocket with organization features inside is on the front of the pack. On its face, you have yet another stretch mesh pocket with a buckle.
Now, behind all this, you have yet another shove-it pocket with two straps on the sides and some stretchy fabric on the sides, so you can store a lot of stuff here and then compress it with the straps, all very effective and useful.
On both sides you have one stretch mesh pocket with both canted side entrance and top entrance, so you can use it for water bottles which you can put in two different ways, or you can store any longer object and then fix it in place with side straps. You also have beautifully designed dual zippered hip belt pockets with very handy pull loops.
So, as you see, you have no less than 8 external pockets with and without zippers, plus a bottom zippered pocket with the mentioned rain cover.
Attachment elements
The famous Osprey's Stow-on-the-Go trekking pole attachment is in place, shown in the picture below, and on the front, you have an attachment clip for a helmet. A blinker light attachment loop is close to the bottom.
You have dual upper side compression straps that stabilize the load and serve to fix the items in the shove-it front pocket. There are also lower compression straps on the side pockets, for external gear or to cinch the pack. They are shown in the picture above.
On the front, you have two lash points, loops that keep the side straps in place and where you can attach a few things as well.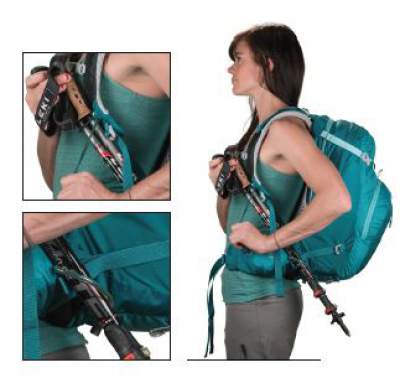 Women-specific design
This is a women-specific pack and this design includes the following:
The pack shape is narrower and deeper, designed for an increased stabilization by lowering the position of the load to a woman's center of gravity.
The shoulder harness is designed with curves such that fit anatomically a typical woman's neck, shoulders, and chest.
The hip belt is shaped and angled to accommodate women's hips that are conically shaped and with a larger difference between the waist and hip measurements.
The suspended mesh on the shoulders, back panel, lumbar zone, and hip belt is designed to create a custom fit to women's body.
Here is a video by Osprey with Mira and Manta AG series described, please have a look:
---
Specifications
Best use: hiking, mountaineering.
Two sizes XS/S and S/M.
Panel loading type.
Weight:
– XS/S: 2.67 lb (1.21 kg).
– S/M: 2.78 lb (1.26 kg).
Maximum carry weight: 30 lb (13.6 kg).
Volume:
– XS/S: 1953 cu in (32 l).
– S/M: 2075 cu in (34 l).
Dimensions:
– XS/S: 19 x 15 x 13 inches (48 x 38 x 33 cm).
– S/M: 21 x 15 x 13 inches (53 x 38 x 33 cm).
Torso fit:
-XS/S: 15 – 18 in (38 – 46 cm).
– S/M: 17 – 20 in (43 – 51 cm).
Waist fit:
– XS/S: 24 – 45 in (61 – 114 cm).
– S/M: 27 – 48 in (68 – 122 cm).
No torso adjustment.
Guarantee: Osprey's All Mighty applies here.
Bite Valve Shut-Off Switch.
Quick Disconnect Tubing.
Magnetic sternum strap bite valve attachment.
Wide-Mouth Opening.
Sternum strap adjustable.
Raincover included.
Stow-on-the-Go trekking pole attachment.
Hydration compartment.
Materials:
– 210D High Tenacity Nylon.
– 100D Nylon Mini Hex Diamond Ripstop.
– Aluminum frame.
Hydraulics LT 2.5L Reservoir included.
Dual upper and lower compression straps.
Dual access side stretch mesh pockets.
Dual zippered hip belt pockets.
Scratch free top zippered pocket.
Large zippered front pocket with internal mesh pockets.
Front panel stretch mesh pocket
Front panel fabric shove-it pocket.
Helmet attachment loop.
Blinker light attachment.
Colors: 3.
---
Summary, rating, pros & cons
In conclusion of this Osprey Mira AG 34 pack for women review, I can only stress again that this is the top in the industry. This is Osprey at its best. If you are in search of a quality daypack, here it is, no need to search further. I fully recommend this pack.
There are no bottom loops for an ice axe, and no compression straps, they would add a lot to the functionality of this great pack. The harness is not adjustable, but for a pack of this size, I do not think this is crucial. Rating by Amazon customers is exceptionally high, but see here my rating:
Osprey Packs Women's Mira AG 34 Hydration Pack
$174.95
As mentioned above, you have smaller versions, Mira AG 18 and Mira AG 26 available as well. But if you still need to see more, please visit my page with packs below 35 liters, there are tens of top-class packs presented there. Note that they have recently launched a version with an adjustable harness, but this is not the AG suspension, see the Mira 32 pack.
Thank you for reading. I love to hear from you, so please use the comment box below in the case of comments and questions. I wish you a pleasant day.