---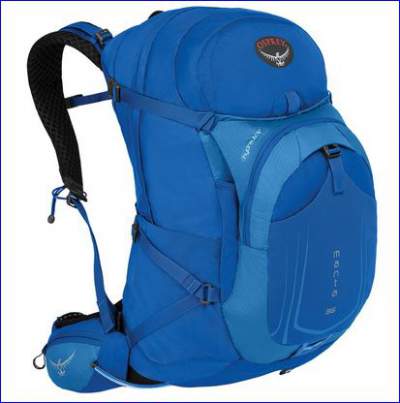 In this Osprey Manta 36 review, I present a hydration pack with a lot of nice features. This pack is suitable for day tours as well as for light backpacking.
Manta 36 pack is one from the series, which also includes Osprey Manta 28 and Osprey manta 20 packs.
This pack has everything that you possibly can need. You will realize this from the list of specifications and features below.
---
Where to buy & price
The best place regarding the price and shipping conditions is usually Amazon.com.

---
Suspension system
Harness and back panel
The suspension system on Osprey Manta 36 pack is one of its best features. This is an AirSpeed design. It includes a tensioned mesh, trampoline-type. This is something similar to what you may find also in the Deuter Futura series, like Deuter Futura Vario, Deuter Futura PRO SL, and Deuter Futura 32 daypack.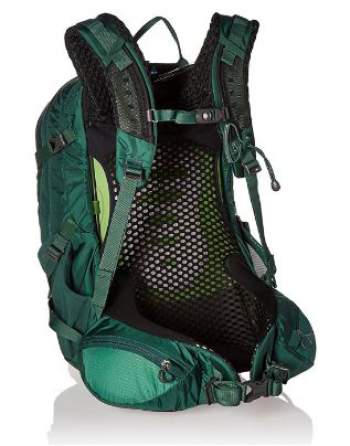 The mesh is completely separated from the back of the pack, so that you can easily move your hand between the mesh and the rest of the pack, all the way along the length of the back.
I have already claimed earlier in my review of Futura backpacks that this system is unsurpassed by any other. I have it in my own backpack, using it for many years now, and I am sure this is the best of the best.
The construction includes a 3 mm light wire peripheral frame which in fact gives the tension to the mesh. It transfers the load from the harness to the hip belt. A panel on the back adds extra to the stability.
The shoulder straps are very comfortable, nicely contoured and with just enough padding. Load lifter straps are also available. Most importantly, here again, you have a great feature, so-called: stow-on-the-go pole attachment system, so unique for Osprey.
Hipbelt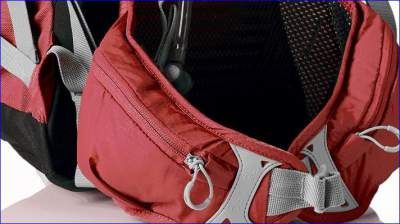 You have 2 zippered pockets on the belt, useful but quite far on the back, not so easy to get the stuff inside. You can see it in the picture.
The front part of the belt is very thin and I dislike it. Another thing related to the belt: for tall people, the belt sits very high, far from the waist area. This is something I particularly dislike with this pack.
This is because Osprey Manta 36 pack is incredibly short, and it looks far smaller than what you may see from its specifications. You would never guess that this is a 36 liters pack.
---
Front of the Manta 36 pack

On the main face of the pack, you have a stretchy mesh pocket secured by a clamp. It is stretchy enough to put even a helmet there. But regarding the helmet, in fact above the entrance to the pocket you have a loop to attach a helmet (see the picture below), and a similar loop you have also below the pocket.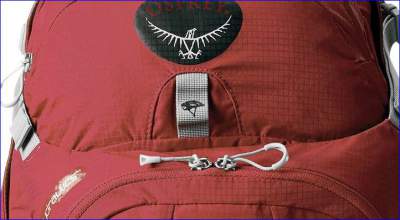 On the bottom of the pack, you have a zippered pocket for the integrated rain cover.  This pocket is exceptionally large, and you can use it to add some extra stuff inside, there is plenty of space therein.
On the upper part of the front face, you have a zippered entrance to a very large pocket, which is thus beneath the mesh pocket. You can see its zipper in the picture above. Inside this pocket, you have 2 additional mesh pockets, plus a key-holder tool.
Behind all this structure you have a stuff stash pocket. This all is secured by two straps, which go to the side of the pack and you secure them by buckles. You can see this structure in the first picture above, and also in the picture below. It looks like an extra small pack attached to the front of the Manta pack. The mentioned stash pocket is big enough to put a helmet inside. You can put anything and cinch all through those straps.
---
Top of the pack
On the top of the pack you have yet another small zippered and padded pocket, perhaps for sunglasses, but you can put anything inside.
Farther above you have a large zippered entrance to the main compartment. You will notice that the straps of the stuff stash pocket mentioned above, are on your way. So to open the zipper you must first detach the buckles. This is annoying in my view, you can see the part of it here: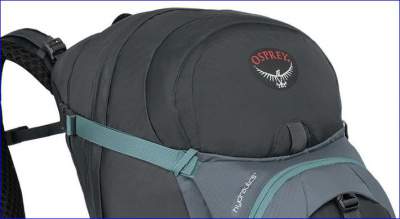 So what you have here is a panel-type entrance, which allows you to get to every corner of the main compartment quite easily (but after passing the above-mentioned strap obstacle).
Inside the main compartment, you have yet another stretch-mesh pocket on the back of the pack. You can put a tablet there if you are using the pack as a travel tool or in everyday life.
Completely on the top, you have a nicely shaped carry handle.
---
Sides of the pack

Here you have mesh stretchy pockets, one on each side, and a strap which zigzags across them, it is visible in the first picture above.
There is a large zippered entrance to the main compartment. In my view, this was completely unnecessary for such a small pack, which in the same time has such a large panel entrance as described above. The zipper introduced here only increases the weight.
---
Back sleeve for a water bladder

The water bladder pocket is on the back side of the pack. The access is from above. Here too you will have the mentioned annoying side strap on your way. You will have to open it first in order to get to the water bladder.
This pocket is big enough for a 3-liter water bladder. The water bladder (included) is nicely designed, very flat and thin, and with a handle.
The water hose you can run on either of the shoulder straps. It has a magnetic tab to attach itself to the chest strap. Truly great features again.
But there is no cap on the bite valve. So it can become dirty when you put your pack on the ground. This is one of the things I dislike here.

---
Many great features of the Osprey Manta pack series you may see in this video by Osprey, so please have a look:
---
Technical specifications & summary of features
Use: day hiking, mountaineering, light backpacking.
2 sizes:
– Small/Medium: volume 2075 cu in (34 L), weight  2 lb 4 oz (1.25 kg).
–Medium/Large: volume 2197 cu in (36 L), weight 2 lb 6 oz (1.3 kg).
Torso fit:
– S/M <19 in (48.3 cm)
– M/L >19 in.
Maximum weight: 30 lbs (14 kg)
Frame: aluminum.
AirSpeed suspension.
BioStretch ventilated harness.
Lifetime warranty.
Front panel loading.
Stow-on-the-go pole attachment system.
Adjustable sternum strap.
Hydration pack with an integrated water bladder.
Integrated rain cover.
Helmet attachment loop.
Material:
– 210 D high tenacity nylon
– 100 D nylon mini hex diamond ripstop.
Direct zip access hydration sleeve with HydraLock frame.
Front pocket with mesh organizer.
Stretch mesh side pockets.
Full-length side access zipper.
Zip access sunglasses pocket.
Stretch mesh front pocket.
Zippered hip belt pockets.
Magnetic sternum buckle for bite valve.
Helmet attachment loop.
Dual side compression straps.
---
Comparison of Osprey Manta 36 with other brands
Here I give a table with several packs from some other brands, and from the similar size range. Please have a look:
Osprey
Manta 36

Gregory
Savant 38 M
Deuter
Futura 32
Weight (kg)

1.3

1.42

1.58
Volume (l)

36

38

32+3
Lower compartment

no

no

yes
Hydration compatible, bladder
yes,
yes

yes,
no

yes,
no
Rain cover

yes

yes

yes
My rate

8.9

8.9/10

9.1/10
I give the same rate to Osprey Manta 36 as to Gregory Savant 38 because of the water bladder. If you would want to buy water bladder separately, you would have to pay around $30-36.
But I rate them both below Deuter models. If you follow the links you might realize why. Those Deuter packs are truly bigger, and they have a separate bottom compartment.
---
User experience with Manta 36 pack
Manta 36 is a popular pack, and there are users' reviews at multiple sites. Rating by customers on Amazon is exceptionally high, with the average rate 4.8/5, really impressive.
---
Some possible cons and pros
 Cons
 Pros

Tiny hip belt.
Short pack, not enough volume in spite of specifications.

Many great features, like a rain cover, pole attachment, a magnetic tab for the water hose.
Water bladder included.
Lightweight.
---
Conclusion
In summary of this Osprey Manta 36 review to stress again that this pack has so many great features typical for Osprey packs. Among others, these include rain cover, stow-on-the-go pole attachment system, water bladder, many useful pockets.
Some of the cons pointed above can be understood as an advantage. For example, the pack is quite short and this makes it a great pack for everyday life. So the water bladder sleeve is a nice space for a laptop, the internal sleeve in the main compartment is a nice space for a tablet or a small laptop. You certainly would not use for the same purpose the models presented in the comparison table above, they are too long.

Did you know that Osprey reshaped their Manta series for the season 2019? You can see the new Manta 34 which is now without the letters AG in the name.
Thank you for reading. Please leave me some comment in the box below, I shall be happy to read it.
---