---
Osprey Kyte 36 pack for women is one from the series of 36, 46 and 66 liters. This is a great women's specific pack suitable for day and overnight tours, or even for light weekend tours, and for travel.
With the weight of only 1.45 kg and plenty of features so typical for Osprey, this is a great tool for any of the mentioned activities. The pack has been redesigned and version presented here is the latest one, from 2016.
---
Key features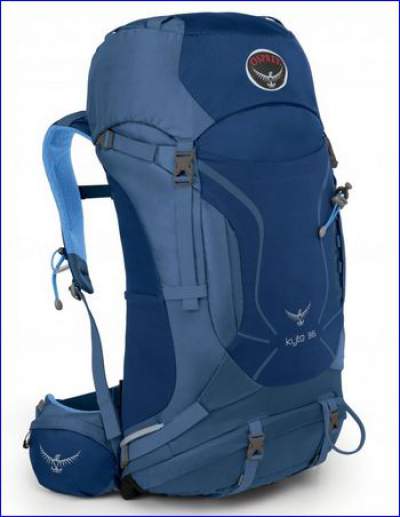 This is a top-loading pack with the classic design: this implies a top lid that covers the entrance to the main compartment. So you have a collar with a cinch cord under the lid, the usual feature for such a construction. Here are the most important features:
1. Fully adjustable suspension system
The suspension is based on a light wire aluminum frame and AirScape back panel. The panel is nicely padded, with rigged foam behind a mesh. Both ridges and mesh are for a better ventilation.
The harness is fully adjustable and movable up and down. All you have to do is to break velcro connection behind the panel and to move it to any position you want.  

The shoulder straps are well padded for the pack of such a size. The same padding is on the hip belt. The sternum strap is adjustable both horizontally and vertically, and it is with an emergency whistle. This all is visible in the pictures below.
2. Stow-on-the-go attachment loops
This is one of several typically Osprey's features. So you have a loop on the left shoulder strap and this is accompanied with a loop on the side of the pack. You will use it if you want to temporarily attach poles when you are walking, for example, to take a photo or to eat and drink something.
You can see the loop on the harness in the picture below, in the lower-right corner.
3. Rain cover
This is a feature perhaps not essential for everybody, for example, if you are using the pack in dry regions. But this is essential if you go to the Alps or similar regions with a lot of rain. The cover has a separate pocket on the bottom.
4. External hydration sleeve behind the shoulder harness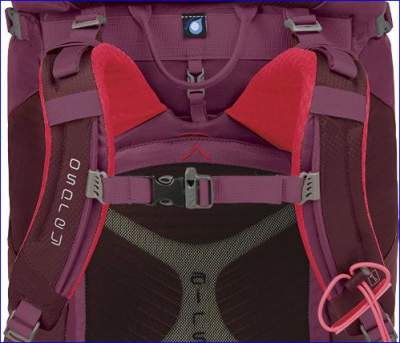 The pack is hydration compatible with both Hydraulics and Hydraulics LT reservoirs, and for this purpose, you have a separate external sleeve behind the harness structure. Its position is visible in the picture on the right.
This is very convenient because you do not have to enter the main compartment to access your water bladder. One of great Osprey's features.
The water hose can run on either side along the shoulder straps. You have webbing for that purpose there.
5. Bottom compartment for a sleeping bag
This is a separate compartment on the lower front of the pack, with a zippered entrance and with a zippered divider between the two compartments. A great feature that I love to have. It offers extra organization. You can see it in the first picture above.
I love the fact that the divider is zippered so you have two truly separate compartments when you need them, and you can open it if you want one single big compartment.
---
Other features
Pockets
There are two nice zippered pockets on the hip belt. This is something which you will always find useful to have.
On the front, you have a large stretch pocket for wet stuff or for anything else. There are two stretch side pockets for water bottles and you also have zippered pockets in the lid.
Attachment elements
On the bottom section, you have removable straps for a sleeping pad or even for a sleeping bag. There are 4 webbing loops for attachment of stuff on the top lid.
There is a single loop on the bottom for an ice axe or for poles. It is accompanied with a bungee loop higher up on the front. There are daisy chains along the sides of the front face.
You have dual compression straps on both sides. The straps are reversible, which means you can pass them from the two sides toward the front, and then clip them there on the front of the pack. In such a way you can attach some stuff on the front of the pack. Things that come to mind are skis, a pad, or anything really.
Here is a promotional video about Kyte series for women and the corresponding Kestrel series for men, have a look:
---
Pros & cons
 Cons
 Pros

No side zippered pockets.

Very effective adjustable suspension system.
Rain cover.
Bottom compartment.
Lightweight.
Plenty attachment points.
The pack is rather short for its volume, so there is no much space for side pockets, but I would love to have them here. For comparison, I have an old Deuter Futura 38 with quite big zippered pockets above the mesh stretch pockets.
---
Technical specifications & summary of features
Weight: 1.45 kg.
Size (L x W x D): 68 x 30 x 31 cm.
Women-specific design.
Fully adjustable AirScape back panel with foam ridges for ventilation.
Lightweight peripheral frame.
Die-cut spacer mesh hip belt and harness.
Sternum strap with emergency whistle.
Stretch front pocket.
Twin zippered hip belt pockets.
Bottom compartment with zippered divider.
Fixed top pocket with dual zippered compartments.
External hydration sleeve.
Front tie off points.
Internal key attachment clip.
Removable sleeping pad straps.
Side compression straps.
Single ice axe loop.
2 stretch mesh side pockets.
Under lid zipped mesh pocket.
3 colors.
---
Changes with respect to the old version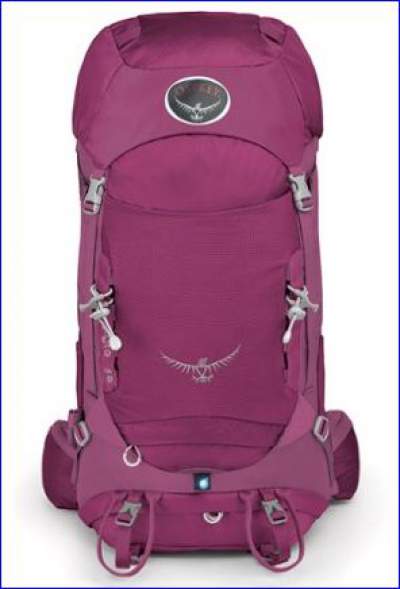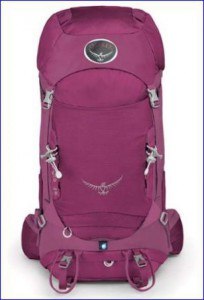 There are a few changes in the design but not in the functionality of this pack. Here are a few most obvious changes:
The pocket for the rain cover is moved below the bottom compartment. It was above the bottom zipper in the old version.
The back panel padding is redesigned and air flow channels added.
The hip belt fins in the old version were with holes, they are absent in the new version.
Single attachment loop on the bottom in the new version; there are 2 of them in the old version. Do not understand why they removed one, this is not an improvement.
---
Conclusion
To conclude this text about Osprey Kyte 36 pack for women, it is hard to find any true objection to this pack. So it is better to focus on its great features and quality, because wherever you look here you see them. Some of them, like the stow-on-the-go is Osprey's unique invention.
This is a relatively small pack but it has so much to offer. The attachment points are carefully designed and positioned so you can add a lot of stuff outside this pack. So you will be able to carry much more than what its volume says. I fully recommend this great pack. If you find it too small for you, please check the 46 liters version with the same features.
Thank you for reading. It will be great to have some comment from you in the comment box below. If you find this text useful, perhaps others might use it as well, so please share it. Thank you and have a nice day.