---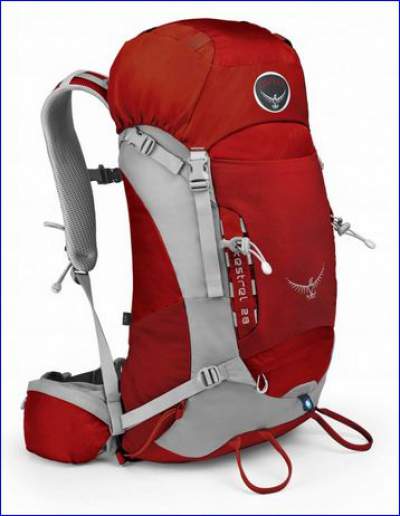 In this Osprey Kestrel 28 review, I present an award winning pack which is perfect for any sort of day outdoor activity, as well as for lightweight overnight tours.
It has many great features and innovative attachment points from outside, and you will be able to carry up to 30 pounds (13.6 kg) without any problem.
---
Where to buy
The best place regarding the price and shipping conditions is usually Amazon.com.
Description
This is a backpack from a great Osprey series which includes packs of 48, 38, 32, and 28 liters. They also come in sub-sizes, small and medium (S, M), and medium and large (M, L). This implies a lot adjustability for any torso length.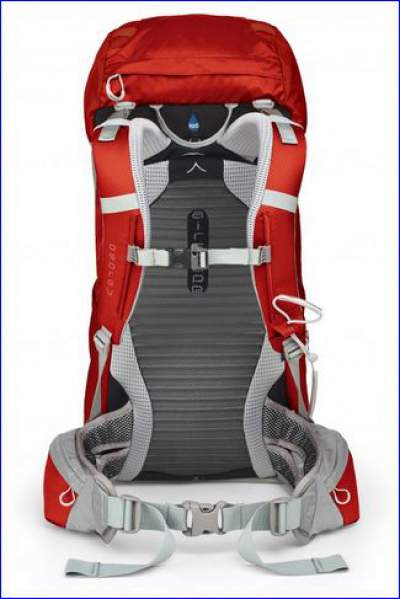 The S and M models go up to 19 inches, while M and L from 19 inches plus. Note that this also implies differences in volume, up to 2 liters, so S will be effectively a 26 liters (1587 cubic inches) pack.
These are top-loaders except for the 32 liters pack (loaded from the front). They come in blue, red, gray, and green colors.
Osprey Kestrel 28 has a large stretchy mesh pocket on the front, a very useful feature. Under this mesh pocket, you will find a zippered pocket that contains the rain cover, yet another great feature of this pack. I myself would never consider having a pack without it. I use a pack with an integrated rain cover and I know well how useful this is.
There are two quite large ice-gear loops on the bottom, matched with additional loops higher up on the front to fix the ice axes. Daisy chains are also on both sides of the front, definitely useful to have.


On both sides, you have mesh pockets, plus 2 compression straps on each side, one over the mesh pocket and the other much higher up. So you can attach quite big parts of equipment on both sides of this relatively small backpack.
Notice the following: these side straps are cleverly designed and they can be reversed and attached to the straps from the other side of the pack. This will allow you to attach and fix really big stuff on the front of the pack, like a tent, sleeping bag and/or sleeping pad. Simply great.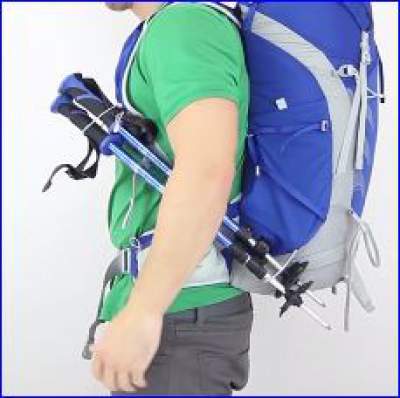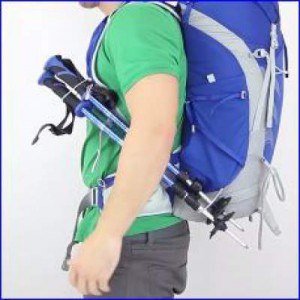 An additional nice feature, seen on many Osprey models are stow on the go trekking pole loops, one on the side of the pack and another paired with it on the shoulder strap.
They are used to temporarily unload your walking poles when you are on the go, without the need to stop and take the pack off. I love this feature particularly. You can see it in the picture here on the right.
The suspension system is nicely done, the harness is adjustable very easily and can be moved up and down to adjust the body size. The shoulder straps are well padded and there are load lifters just like with other larger Osprey packs. The back is AirScape Osprey system, and reports of users show that it works great, keeping your back dry.
Osprey Kestrel 28 pack is hydration compatible. Behind the harness system, you will see an external sleeve for the water bladder, so it is not inside the main compartment of the pack. The water bladder can be attached to a loop provided there, and the tubes can be set along the shoulder harness in the usual way.
The height-adjustable sternum strap is with a whistle.  On both sides of the harness belt, you have a zippered pocket.
The top lid contains a big zippered pocket with access from outside, and yet another mesh pocket under it, with access to it when you open the lid. The top of the pack has a collar which you can lift and add a few liters of extra volume, which comes good always. The straps are long enough to accommodate such an extension.
Here is a nice short video about the pack, from Osprey:
List of features and specifications
Weight : 1.22 kg (M, L sizes).
Dimensions (L x W x D): 67  x 30  x 28 cm.
Adjustable torso length.
AirScape™ back panel with foam ridges for ventilation.
Sternum strap with emergency whistle.
Twin zippered hip belt pockets.
Twin ice axe loops.
Integrated and detachable rain cover.
Top lid access.
Top pocket with dual zippered compartments.
Under lid zipped mesh pocket.
Stretch pocket on the front.
External hydration access.
2 compression straps on each side.
Stretch mesh side pockets.
Conclusion
I hope that this Osprey Kestrel 28 review has been useful to you. This is simply a wonderful pack. You have noticed I did not add any cons here, it is hard to find any really. The price is truly excellent for such a great backpack.
For updates about price please check the links. If you find this text useful, please share it with others. If you need a bigger pack from the same series, please check this Osprey Kestrel 32.

Thank you for reading, and do leave me some comment in the box below.