---
This Osprey Exos 38 review is about an award-winning ultra-lightweight pack with 0.97 kg only, suitable for day tours or for overnight hiking and mountaineering tours, with a great ventilation and suspension system.
---
Key benefits
Extraordinary good ventilation.
Ultra-lightweight.
Note, there is a new version of this pack, for the summary of changes please check here. 
---
Description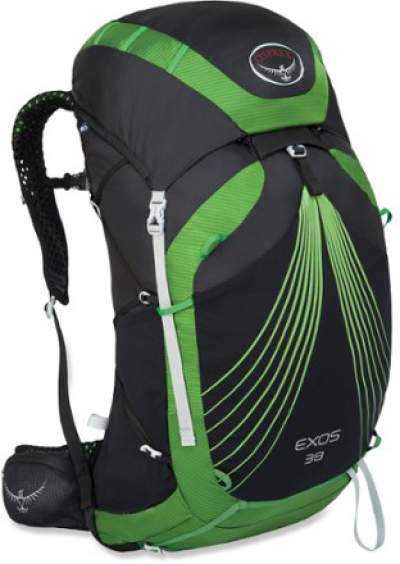 Everything in the design of the Osprey Exos 38 seems to be oriented towards its two main important features: ventilation, and (the absence of) weight.
So the design of the pack is rather minimalist in order to reduce the weight, and you have:
very narrow 7 mm straps,
just a few pockets and zippers,
very lightweight 100 D high tenacity nylon and 100 D ripstop nylon,
the buckles are all very lightweight, etc.
So perhaps the durability is not the strongest feature of this pack, but I still do not think this is an issue with this pack.
The lid: This is a top-loading pack, with the classic lid and the collar beneath it, and an extra compression strap to cinch the pack when it is full. The lid is movable and removable, so you can reduce the weight even more. For such a lid-less use, you have an extra integrated flap with buckles, sewn into the top of the pack, which you will use to close the pack.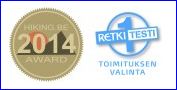 The Exos 38 comes with Osprey's great feature, the Stow-on-the-Go trekking pole attachment system, very useful in every sense. This includes a loop on the side of the pack and a bungee cord on the left shoulder strap, to attach poles when you are on the move and need free hands for some time, to eat something or to take a photo, etc.
There is an internal hydration sleeve in the main compartment, see the picture below, and the hose ports are on both sides of the pack.
There are multiple loops on the top of the lid for attachment of equipment. You have unique zigzag straps on both sides of the pack, narrow but functional. They are removable of course, remember everything here is designed to reduce the weight. Note that these straps can run over or through the side pockets. This is what they call inside-out feature.
On the bottom, you again have several lash points, and one narrow and removable compression strap which you will use to attach a sleeping pad or tent poles.
A single tool loop is on the bottom section, and you have several lash points (loops) on the front of the pack.
---
The suspension system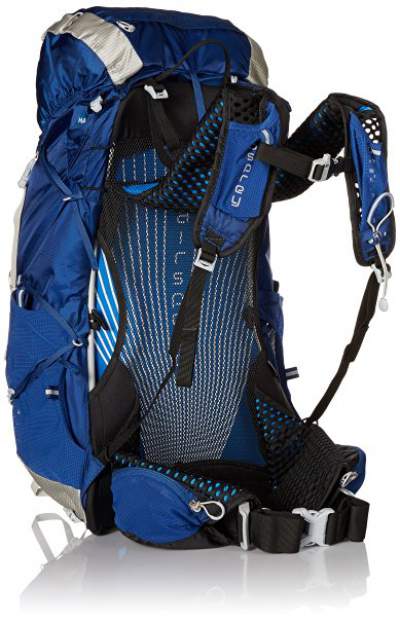 The Osprey uses its AirSpeed suspension in this pack. It is based on a peripheral light wire aluminum frame, and an ultra-lightweight tensioned trampoline-style mesh on the back of the pack. You can see it in the picture.
This system is used in the complete Exos series and in some other Osprey's series as well, like the Stratos series.
The system has been originally introduced by Deuter several decades ago and you have it in Futura series by Deuter. I have been using such a pack for more than 13 years now and all I can say is that there is no better ventilation on the market. You should know that a version of this system is also in Gregory's Zulu packs.
The shoulder harness and hip belt are with very pleasant and breathable Osprey's ExoForm spacer mesh, and they are reasonably well padded. The sternum strap is with an emergency whistle.
The pack is designed to carry up to 30 pounds (13.6 kg), but I would not suggest going close to this limit. The padding on the harness is simply not good enough for such a load.
The harness length is fixed, so make sure you choose the proper size for you, there are 3 possible sizes of this pack.
---
Pockets
You have nice dual zippered pockets on the hip belt, the standard feature in Osprey's packs. Two stretchy pockets are also on the shoulder straps, visible in the picture above, very useful indeed. Here you can store an insect spray, knife, torch, or any other small item.
One mesh zippered pocket is underneath the lid and another bigger is on the top of the lid.
Dual side mesh pockets are on the sides of the pack, for water bottles or some other stuff like tent poles or trekking poles. They have both side and top access, one more convenient feature which you will surely use to store and to grab your bottle when you are moving.
One huge stretchy mesh pocket is on the front of the pack, secured with a buckle on the top. Many love this pocket, but some also complain about the durability of its material. All these features you can see in this video:
---
Pros and Cons
Here is my list:
  Pros
  Cons

Ultra-lightweight.
Great harness.
Great ventilation.
Removable lid to reduce the weight.
Stow-on-the-Go attachment.
3 possible sizes.

Not adjustable harness.
No bottom compartment.
No side zippered pockets.
No rain cover.
As I mentioned above, the stress here is on the weight. Therefore the lack of some of the features which I find important are the part of the pack's design. I give the list of cons above only to make it clear which of these features are missing so that you avoid possible mistakes.
The pack has received an exceptionally high rating in various sites, and it got several awards already. It is highly rated by Amazon customers.
---
Specifications
Three sizes:
– S: 36 liters ( 2197 cubic inches).
– M: 38 liters ( 2319 cubic inches).
– L: 40 liters (2,441 cubic inches).
Maximum dimensions (l x w x d): 71 x 33 x 28 cm.
Weight:
– S: 2 lb 1 oz (0.93 kg).
– M: 2 lb 2 oz ( 0.97 kg).
– L: 2 lb 3 oz (1.01 kg).
Torso fit:
– S: 16 – 19 inches (41 – 48 cm).
– M: 18 – 21 inches (46 – 53 cm).
– L: 20 – 23 inches (51 – 58 cm).
Waist fit:
– S: 24 – 45 inches (61 – 114 cm).
– M: 27 – 48 inches (68 – 122 cm).
– L: 29 – 55 inches (74 – 140 cm).
Load: up to 30 lb (13.6 kg).
Top access.
AirSpeed trampoline suspended mesh back system.
ExoForm mesh hip belt and harness.
FlapJacket top cover to use when the lid is removed.
Stow-on-the-Go trekking pole attachment system.
Sternum strap with emergency whistle.
Material: ripstop nylon.
Frame: aluminum.
Suspended mesh back panel.
Twin zippered hip belt pockets.
Single ice axe loop.
Internal hydration sleeve.
Removable sleeping pad straps.
Stretch mesh side pockets.
7 mm removable side compression straps.
Cord tie off points.
Gender: unisex.
Colors: 2, see the pictures.
Guarantee: Osprey's All Mighty: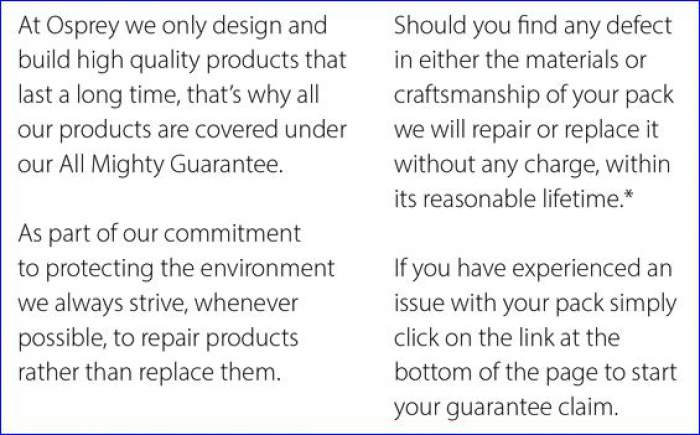 ---
Summary
To summarize this Osprey Exos 38 review, this is a pack with a somewhat minimalist design but still with many great features and an excellent suspension system. If you want to go ultra-lightweight, no need to look further, the weight of this pack together with its all functionality is hard to match.
The ventilation which you have here is also among the best you can find, so this pack is indeed a great choice if you are going to use it in a particularly warm environment.
This pack comes in three possible sizes, 36, 38, and 40 liters, but if you would like to have something bigger, note that there are 2 bigger models from the same series, both described in this site, Exos 48 and Exos 58 with very similar features. You might want to compare this pack with the new same size model from Gregory, the Paragon 38 launched recently.
Buy from REI
If this text has been useful to you, please share it with others. It will be great to hear from you, there is a comment box below. Thank you and have a wonderful day.
---
Here is one more video, where you can see how much stuff you can put in this relatively small pack, pretty impressive:
---