---
This Osprey Escapist 18 review is about a very lightweight versatile multi-purpose daypack with plenty of useful features. Its weight is below 0.8 kg and you can carry up to 11 kilograms of stuff.
---
Key benefits
Integrated rain cover.
External hydration sleeve.
Two sizes to chose, plus adjustable harness.
Versatile pack suitable for various activities.
---
Best price & place to buy
The best place regarding the price and shipping conditions is usually Amazon.
In EU, a good alternative is Bol.com.
---
Osprey Escapist 18 pack – description
Escapist is a great series of day packs by Osprey and it includes packs of 18, 25 and 32 liters. They all share some common features, but there are a few differences in the smallest 18-liter pack presented in this text.
This Escapist 18 pack does not have a bottom compartment like the other two packs in the series, but indeed this is not something you would expect in such a small pack. It also does not have hip belt pockets which you have in the two larger packs.
All these packs come in two sizes, so the same is with the Escapist 18 which in fact includes packs of 16 and 18 liters.
This is a very versatile pack, suitable for practically any day activity where you can use a backpack. Since it is with a zippered top access, it looks like an ordinary pack which you would use for commuting or for general around-town use. But this pack is also described as ideal for cyclists, hikers, and for any other light outdoor activity.
On the sides, you have Osprey's InsideOut compression straps. They are designed so that you can pass them through the side pockets if you only want to cinch down the pack and you can still use the pockets. Alternatively, you can use them in the usual way, over the pockets to fix the stuff you store there.
Yet another useful feature of this pack is its external hydration sleeve behind the harness. It is visible in the pictures below. So you do not have to mess with the content of the main compartment when you want to refill the water bladder (which is not included). You can easily store Hydraulics 2.5 liter reservoir there, perhaps even 3 liters one can fit. There is a magnetic clip to fix the water hose on the sternum strap.
Osprey Escapist 18 rucksack comes with an extra bonus, an integrated rain cover stored in the pocket on the bottom. This is a common feature for all packs in this series.
The pack is designed with cyclists in mind, so you have a blinker light attachment on the lower front section.  On the top front section, you have an integrated LidLock designed to clip a helmet. These features are visible in the pictures.
---
---
Suspension system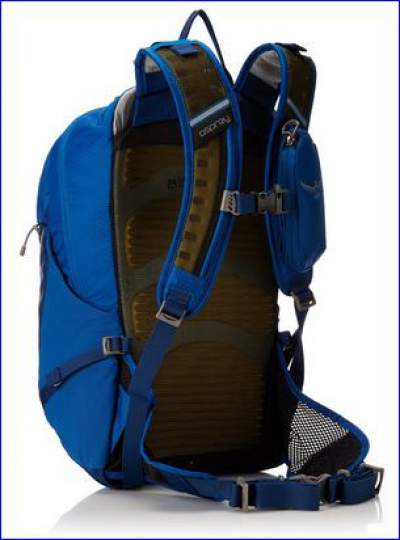 The harness in this pack is adjustable. This is very effective and lightweight system. All you have to do is to break the velcro connection and move the harness up or down to your desired position.
The torso adjustability range is rather wide, 16 – 20 in (41 – 51 cm) for the S/M size, and 19 – 22 in (48 – 56 cm) for the M/L size.
There is no metal frame here, but this is not an issue for the pack of this size. On the back, you have what they call AirScape system,  see the picture, which implies a flexible back panel with foam ridges and a mesh which are there to provide ventilation and breathability.
This system is used in many other Osprey packs including some among the best like Aether and Ariel.
The harness and hip belt are with BioStretch ventilated system, so you have padding only where it is required and with die-cut slotted foam, and all covered in mesh. But on the hip belt you only have a very breathable mesh, see the picture above.
---
---
Pockets
On the sides, you have stretch woven pockets for water bottles, and the same structure is in the large front pocket.
One small zippered pocket is on the left shoulder strap,  shown in the pictures, where you can store some snacks or electronics. On the top of the pack, you have a zippered scratch-free pocket for glasses and electronics.
Behind the front stretch pocket, you have an organization pocket with several sections inside, useful for spare parts for a bicycle or for any other purpose if you use it as a pack in daily life.
---
The Osprey Escapist 18 pack is available in your choice of size and color options.
---
Pros & Cons
There is not much to object to this pack. But if you plan to use it as a hiking tool, bear in mind that the hip belt is just a mesh, and also you do not have a true frame here. My summary looks as follows.
 Pros
 Cons

Very lightweight.
Versatile.
Adjustable harness.
Rain cover.
2 possible sizes.

Panel instead of a frame.
Thin hip belt.
Osprey Escapist 18 pack has as received great reviews on Amazon, with an incredibly high average rate 4.8/5. See my own rating below:
My rating breakdown of the Escapist 18 pack
Volume to weight ratio -

8.2/10

Features & bonuses -

9.2/10

Comfort -

8.9/10

Price -

8.9/10
---
Specifications
Purpose: hiking, cycling, around town use.
Two sizes:
– S/M:  976 cub in (16 liters).
– M/L: 1098 cub in (18 liters).
Maximum dimensions (L x W x D): 19 x 9 x 11 in (48  x 23 x 28 cm).
Weight:
– S/M: 1 lb 10 oz (0.74 kg).
– M/L: 1 lb 12 oz (0.79 kg).
Torso fit:
– S/M: 16 – 20 in (41 – 51 cm).
– M/L: 19 – 22 in (48 – 56 cm).
Maximum carry weight: 25 lb (11.3 kg).
Materials:
– Main: 210 D nylon hex coupling.
– Accent: 420 HD nylon packcloth.
– Bottom: 420 HD nylon packcloth.
Zippered panel access.
Adjustable torso.
Warranty: Osprey's All Mighty.
BioStretch hip belt and harness.
AirScape back panel with foam ridges for ventilation.
Adjustable sternum strap with emergency whistle.
Dual stretch mesh side pockets with InsideOut compression straps.
Zippered scratch-free sunglasses and electronics pocket.
Zipped pocket on the left shoulder strap.
Large front stretch mesh pocket.
Organizer pocket for bike specific tools and spares.
Integrated rain cover.
Compatible with Hydraulics reservoir.
External reservoir sleeve.
Reflective graphics.
LED light attachment point.
LidLock bike helmet carry.
Colors: 3, see the pictures.
---
Comparison with other packs
Here are a few other packs from the same size range, with some basic features, to see more please follow the links:
Deuter
Futura 22

Deuter
Speed Lite 20
Osprey
Escapist 18

Weight (kg)

1.14

0.53

0.79

Volume (L)

22

20

18

Adjustable harness

no

no

yes

Lower compartment

yes

no

no

Hydration compatible
yes

yes

yes

Rain cover

yes

no

yes

Internal frame

yes

yes

no

My rate

9.0/10

8.8/10

9.0/10
I give a rather high rate to this pack because of its versatility and features, but bear in mind the lack of padding on the hip belt if you plan to use it for day hiking. For such a purpose it would not be my first choice.
---
Summary
To conclude this Osprey Escapist 18 review, there is no doubt this is a great day pack, with plenty of very useful features. The integrated rain cover is an extra bonus regardless of where you plan to use this pack and for what activity.
Although it is described as a very multipurpose and versatile pack, I still must stress that it is not a typical hiking pack. Its hip belt is not best suited for the maximum 11-kilogram load. But for very short tours and with a small load inside the pack it will serve you well. This is a reliable tool from a renown company and I can fully recommend it.
To stress again that you have larger versions in this series, the packs of 25 and 32 liters, they both have a bottom compartment and hip belt pockets. You might want to compare this Escapist pack with yet another great pack for bikers from Osprey, the Raven 14 hydration pack.
Thank you for reading. It will be great to hear from you, there is a comment box below in case you have any comment or question. I wish you a pleasant day.


---