---
By choosing Osprey Ariel 55 pack for women you get a lightweight women-specific designed tool with a heat-moldable hip belt and a super adjustable harness which will allow you to carry up to 60 lb (27 kg) of weight. The pack is loaded with features, read more below.
---
Key benefits & exceptional features
Custom fit for the harness system; everything is adjustable here.
IsoForm hip belt: body heat moldable system.
External hydration sleeve behind the back panel.
The lid transforms into a small lumbar day-pack.
Top and front access.
Attachment points for Osprey's Daylite pack.
Rain cover.
Note, this pack has been redesigned in 2017, the new version is described in detail in my separate post Osprey Ariel AG 55.
---
Best price & place to buy
The best place regarding the price and shipping conditions is usually Amazon.
In EU please check at Bol.com, they have a great shipping service.
---
Osprey backpack Ariel 55 – general description
This Osprey's pack for women is perfect for multi-day and weekend backpacking and hiking tours. The pack has been around for many years already. It has been modified in the past, and the version presented here is the latest one.
Ariel 55 is a top loading pack with a floating-type lid, so you can raise it in the case of extra stuff when you expand the collar beneath the lid. The lid is also removable and it transforms into a small lumbar pack with its own straps.
However, you also have an extra front access through a long J-shaped zippered entrance which runs around the front pocket. To get to it you will have to undo a few straps around.
The pack also has a sleeping bag compartment with a classical zippered entrance. The divider between the two compartments is removable.
The pack is hydration compatible and you have an external sleeve positioned behind the harness, it is visible in one picture below. This allows for an easy access to the water bladder without messing with the straps and buckles, and the system does not take space from the main compartment as you can see in many other packs on the market.
Dual webbing loops are on the bottom, and higher up on the sides you have dual accompanying bungee cords. You will use this system to attach poles and an ice axe.
As typical for Osprey, you also have the Stow-on-the-Go attachment system for poles, which you can use when you need free hands to take a picture, to eat while on the move, or to scramble. You can see it in the picture below right.
---
---
Straps
You have dual straps on both sides of the pack. The lower, which are on the side pockets are with InsideOut feature, so you can put them across the pockets to secure the stuff in the pockets, or through the pockets if you just want to cinch the pack down and secure the load inside the main compartment.
On the front, you have what they call StraightJacket compression, two horizontal straps that cinch the pack down to stabilize the load or you can use them to attach some pieces of equipment from outside. You can also attach Oprey's Daylite pack under these straps; for this purpose you have attachment loops under the front flaps. You will also notice some side buckles; in the case of a really small load you use them to pass these straps completely to the side to cinch the pack to a very small volume.
Dual removable compression straps are on the bottom section, for sleeping pads or for some other pieces of equipment.
The pack comes with an integrated rain cover stored in a pocket completely on the bottom.
---
The suspension system
This Osprey's series comes with custom components which means the following:
choosing the appropriate harness to fit your torso length,
choosing the appropriate length for the shoulder straps,
choosing the appropriate size of the hip belt.
In addition to this, the harness is, in fact, adjustable, so you can do additional fine tuning to find your optimal harness position.
On the back, you have an HDPE frame with what they call AirScape system which implies foam ridges for ventilation, covered with a spacer mesh, see it in the picture. The system is supported with a light peripheral wire and a central aluminum stay.
The harness is women specific anatomic design in the shape and in the construction, which implies it is nicely curved, with less distance between the shoulder straps, with really pleasant padding, and with a dual density foam used there.
The hip belt is with Osprey's pre-curved IsoForm moldable foam. This means that the foam used in the construction of the hip belt and in the harness will break in after a few days due to the body temperature, and it will fit the shape of your body in the most comfortable way. This belt is designed for a really heavy load; this is seen also from the stiffeners built in the belt on both sides.
You will see in the pictures that the main buckle on the front has 2 straps from each side, so you have 4 attachment points on the belt, you can see them in the picture above. This will allow you to make a perfect fit with the rather wide belt fins which you have there.
The sternum strap is adjustable and with an emergency whistle. The load lifters are there as well, see this all below:
---
Pockets
As usual for Osprey, you have hip belt pockets on both sides. One zippered pocket is on the top of the lid.
On both sides, you have enormously deep stretchy mesh pockets where you can store water bottles and tent poles. You have both side and top access to these pockets.
One large stretchy show-it pocket is on the front of the pack, it is visible in the first picture above.
Here is a short promotion video by Osprey about the Ariel series, so please have a look:
---
Pros & cons
It is hard to find objections to such a great pack, but I still have some, here is my summary:
 Pros
 Cons

Great suspension.
Very comfortable
Rain cover.
Great organization features.
Durable construction.
Moldable hip belt.

No side zippered pockets.
The price.
For a pack of this size, it is really strange that it does not have side zippered pockets. I understand that this was not the part of its design, I just love to have them and find them very useful.
The pack has received a very high rating on Amazon, with the average 4.7/5 rate.
---
Specifications
Women's specific design.
Purpose: backpacking & hiking.
Internal frame pack.
Three sizes:
– XS: 49 liters (2990 cubic inches).
– S: 52 liters (3173 cubic inches ).
– M: 55 liters (3356 cubic inches).
Weight:
– XS: 4 lb 10 oz (2.1 kg).
– S: 4 lb 12 oz (2.15 kg).
– M: 4 lb 15 oz (2.24 kg).
Adjustable torso.
Torso fit:
– XS: below 16 inches (41 cm).
– S: 16 – 18.5 inches (41 – 47 cm).
– M: 18 – 20.5 inches (46 – 52 cm).
Waist fit:
– XS: below 28 inches (71 cm).
– S: 27 – 31 inches (69 – 79 cm).
– M: 30 – 34 inches (76 – 86 cm).
Maximum dimensions (L x W x D):
– XS: 31 x 12 x 14 in (79 x 30 x 35 cm).
– S: 32 x 12 x 14 in (81 x 30 x 36 cm).
– M: 34 x 12 x 14 in (86 x 30 x 35 cm).
Materials:
– Main fabric: 210 D nylon dobby.
– Accent: 210 D nylon shadow box.
– Bottom: 500 D plain weave nylon oxford.
– Frame: HDPE frame sheet, metal alloy peripheral frame, 1 aluminum center stay.
Access: top, front.
Sleeping bag compartment.
AirScape back panel with ventilating foam ridges.
Pre-curved IsoForm CM moldable hip belt.
Sternum strap with emergency whistle.
Pockets: 6.
Stretch mesh side pockets with InsideOut compression.
Twin zippered hip belt pockets.
Twin ice axe loops.
Removable top lid which converts into a lumbar pack.
Rain cover.
StraightJacket compression.
Compatible with Daylite pack.
External hydration access.
Removable sleeping pad straps.
Side compression straps.
Stow-on-the-Go trekking pole attachment.
Warranty: Osprey's unique All Mighty: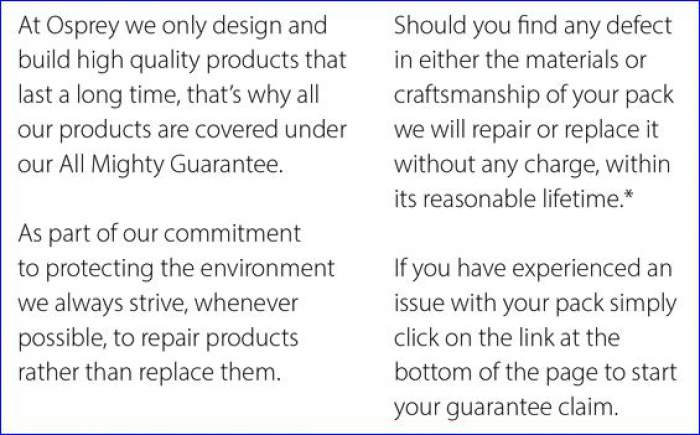 ---
Comparison with competitors
Here is a comparison table with several top models in the same size range:
Osprey
Ariel 55
Deuter Futura
Vario 50+10
Kelty
Redwing 50
Weight (kg)

2.15*

2.24

1.67
Volume (l)

55

50+10

51
Loading

top, front



top, front

panel type
Rain cover

yes

yes

no
Lower compartment

yes

yes

no
Zippered side pockets

no

yes
yes
Harness adjustable

yes

yes
yes
My rate

9.1/10

9.3/10
8.9/10
*This is for the middle size (S).
Regarding the prices of the models given in the table, at the moment of writing the text they are respectively: $260, 220, 140. So Ariel 55 is indeed more expensive than the other packs.
I rank it below the Deuter's pack because of the better ventilation with the suspended mesh system used in the Deuter Futura Vario pack, and it also has side zippered pockets.
---
Summary
You have realized from the text that Osprey Ariel 55 pack for women has some truly unique features, like the custom fit and moldable hip belt which you will not see in other brands. Several other features typical for Osprey are also there, like the Stow-on-the-Go attachment system, an external sleeve, etc. The rain cover and the detachable day pack are extra bonuses. So indeed it is a pleasure to recommend this pack, this is Osprey at its best.
If you need a bigger pack from the same series, please see this Ariel 65 and Ariel 75 pack.
Note that the corresponding models for men are known under the name Aether series. I have several of these packs for men described in the site, see these Aether 60, Aether 70, and Aether 85 packs.
Thank you for reading. If the text has been useful do share it with others. It will be a pleasure to hear some comment from you, there is a comment box below.
---