---
Oboz Bridger 7 Insulated BDry hiking boots for women will keep your feet dry and warm in any winter conditions. They are completely waterproof and breathable and with 200 grams of insulation. 
Key benefits
Completely waterproof & breathable.
200 grams insulating layer.
Durable all-leather construction.
All temperature traction rubber sole.
7 inches high collar for support and protection.
Description
The seven in the name describes the fact that these boots are with a 7 inches (18 cm) high collar, so you can be safe if the snow is not too high. Otherwise, you will use gaiters, and for this purpose, you have a D-ring in the beginning of the lacing system, where the gaiter can be fixed.
These boots are designed for hiking in winter conditions, and for snow activities. They are waterproof, breathable, and insulated. See more below about their structure.
The upper   
Te main body of these boots is the water-resistant nubuck leather, durable and great for support and stability. There are durable molded rubber elements on the toe section and on the heel, which provide a lot of extra protection where it is needed.
The rubber kick on the heel (see below) will be used for snowshoes straps, or some other equipment for traction (but this is not meant for standard step-in or hybrid crampons), or just to take the boots off.
The 7 eyelets are metal (4) and webbing (3), and the latter are in the area where the boot is subject to more bending. The top of the collar is with a very pleasant padding as you can see in the picture below.
Waterproofing & breathability
Here you have Oboz BDry waterproof and breathable membrane, which is a tape-sealed polyurethane bootie that covers the whole internal surface. The leather itself is made water-repellent.
Insulation
This is yet another important feature you have in these boots, which implies several things. First, you have 200 grams 3M Thinsulate synthetic fibers. Second, the insole is wool topped and with a reflective surface on the underside. This is what they call BFit Thermal insoles that insulate the bottom of your feet. Third, the whole sole construction is made rather thick, which insulates you better from the ground.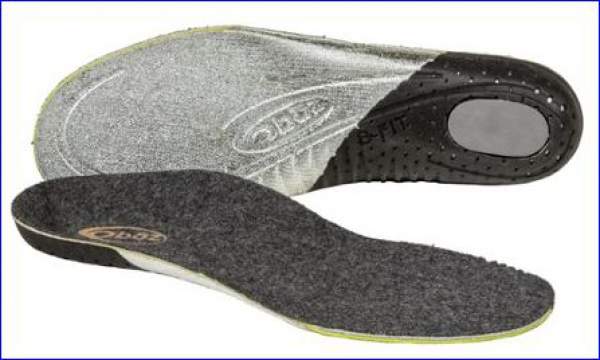 The sole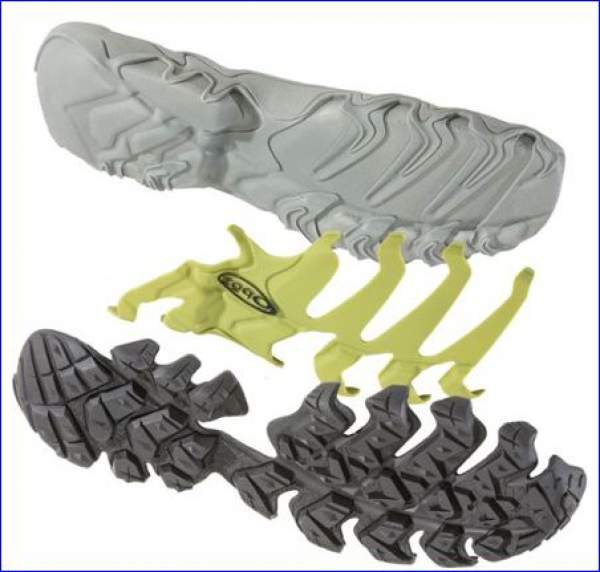 Oboz Bridger 7 Insulated boots provide great traction regardless of the temperature. This is achieved by its Granite Peak outsoles with deep, directional lugs, and by using the special winterized ICE TECH rubber infused with silica which improves grip on icy surfaces.
The structure which you have here is from regular hiking boots but incorporated into a winter tool. This is a great combination and you will realize it the first time you use them outdoor. Its structure, shown in the picture below, includes:
Dual EVA foam layer which is there to provide cushioning, support, and insulation.
Thermoplastic urethane (TPU) chassis/nylon shank for support, torsional stability, and protection from sharp objects. This is the yellow section in the middle, see the picture above (blue in the picture below).
ICE TECH rubber outsole for an excellent grip.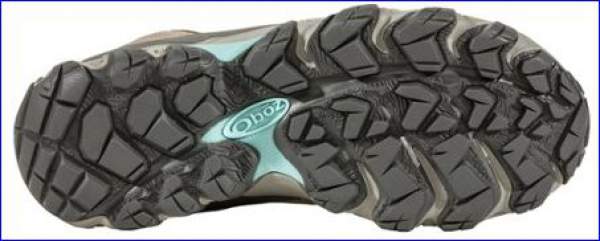 Pros & Cons
My summary is as follows:
 Pros
 Cons

Very durable all-leather construction.
Completely waterproof and very breathable.
Insulated.
Higher collar than in many competitors.
Specifications
Gender: women's specific.
Purpose: winter sports, hiking, backpacking, daily life use in winter.
Waterproof & breathable.
Insulation: 200 g 3M Thinsulate synthetic fibers.
7 inches (18 cm) collar height.
7 eyelets.
Average weight (pair): 2 lb 9 oz (1.16 kg).
Upper: nubuck leather.
BDry waterproof breathable membrane.
BFit Thermal wool-topped insoles for support and insulation.
Height: over the ankle.
Midsole: dual-density EVA.
Support: thermoplastic urethane chassis/nylon shank.
Outsole: winterized ICE TECH rubber.
Warranty: one year limited.
Colors: 2, see the pictures.
Molded rubber toe caps for protection.
Molded rubber heel kicks for a snowshoe strap.
Gaiter D-ring.
Granite Peak outsoles with deep directional lugs for excellent traction.
Summary
To conclude this text about Oboz Bridger 7 Insulated BDry hiking boots for women, what you have here is a great combination of top-class hiking boots and winter boots. This is a reliable tool for winter conditions regardless of where you are going to use them. Being waterproof, breathable, and insulated, they will keep you safe and warm in rain and snow situations. Note that there exist very similar Oboz Bridger 8 Insulated BDry Hiking Boots for men.
If these boots are not for you, please have a look in my other text with top 5 insulated hiking boots for women. Check also these Oboz Women's Juniper 6″ Insulated BDry Boots.
If you need something similar but for summer, please check these Oboz Bridger Mid boots. For more hiking boots for women without insulation, please see my another text with 6 top models.
Thank you for reading. In the case of questions and comments please use the comment box below. I wish you a pleasant day.