---
The new Ultimate Direction Fastpack Packs Series is the most bizarre I have even seen. They have managed to build a unique series, but I am afraid it is unique for many wrong reasons. See some details below.
The 2017 Fastpack series includes the following 4 packs:
*These prices are at the moment of writing the text. Please follow the links to check for updates.
So why I say it is a bizarre series? There are so many silly things in the descriptions and in the design of these packs. The first thing you have already seen, these packs are very expensive. They are also ultra lightweight, but a lot of stuff is missing. See some more below.
To mention that these numbers 15, 25, 35, 45 are supposed to give volume. Yet real volumes of the packs, given in the table, are 21, 29, 38, and 47 liters, respectively. But OK, this is a minor issue.
---
In the Fastpack 15 pack description and in the video, they write and speak about notebook sleeve. They even give pictures with a notebook in the pack, see it here: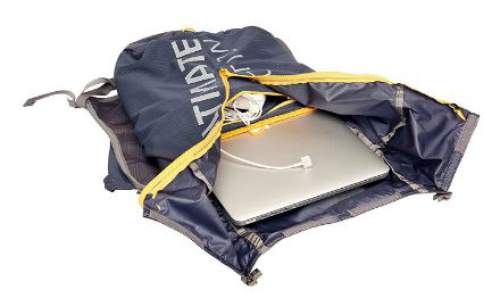 You will see a statement "Designated no-bounce laptop pocket with cord storage securely inside". Wow, it is is so great to have this indeed when you are trail running.
The guy in the video also proudly shows the notebook and its sleeve. The problem is, this is a trail running vest-style pack, so one wonders what a notebook has to do with all this. Should I add that nowhere in its description they speak about this sleeve as a water bladder sleeve? Why bother, who cares about a water bladder in a trail running hydration pack?
This same pack is with a back design which is built of the water-resistant fabric, no mesh or ventilation channels. This all in a pack for fast moving adventurers.
But see the video with the guy running with a laptop, it is at 0:53 if you have no time:
To add to the puzzle of this series: This smallest pack in the series has an additional front zippered entrance (visible in the picture above). Note, the pack is only 47 cm high.
But this extra entrance is missing in all bigger packs in this series. Take for example the largest two packs, they are 70 and 72 cm high, respectively. How extraordinary; they added extra front entrance where it was the least necessary, and yet they omitted it where it might have some purpose.
---
Here you do not have any hip belt. No padding of any kind anywhere, no frame. So all the weight is on your shoulders. As you know, standard hiking packs of this volume can carry up to 10 – 12 kg.
But the situation is becoming even worse with the bigger models.
---
Here, they added a thin hip belt, just a strap. Note, it is removable. Yeah, why would you need any hip belt on a pack of 38 liters of volume? Carry all the weight on your shoulders. To realize what you have, see this Gregory Paragon 38 pack, so the same volume; here you can carry up to 15 kilograms of weight.
But in the Fastpack 35, there is no frame, no padding, nothing; all the same as in the smaller packs in this series, in the style of a trail running vest.
---
This is a quite huge pack, 47 liters of volume. You know, such packs are overnight and weekend type tools, and they are supposed to carry up to 18 kg of so of weight, see one great example here. However, the Fastpack 45 is completely in the running vest style.
Do you think you could run with such a pack? Even if a bear is behind you, better give up, you will not manage.
To add that here again, you do not have any padding, any frame; but this sounds very familiar already. Ah, yes, they have added a tiny hip belt; but guess what, it is without any padding, just a mesh, designed to prevent the pack from bouncing (when you are trail running, with such a huge pack and load?).
Please follow the links to see more. The three bigger packs are presented in this video, so have a look. The person in the video is carrying the Fastpack 35, just to know:
---
So, I am puzzled, to say the least. The packs have nice features on the shoulder harness. In fact, I am delighted with them, just like everybody else. But all the rest that comes with it simply makes no sense to me. What on Earth did they think? Any idea?


---