---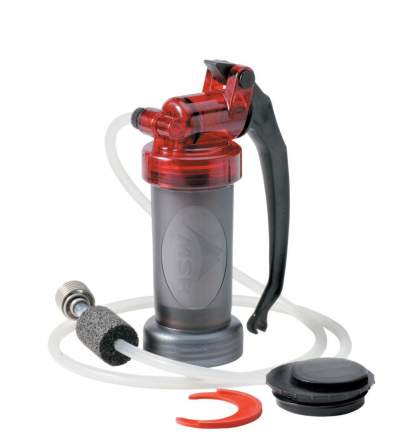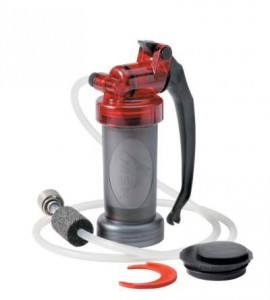 In this MSR water filter review I present 3 different water filtering systems:
MSR Miniworks EX filter
MSR Hyperflow water filter
MSR Sweetwater water filter.
All three of them have very different external designs and the types of filters, and the filters used here are synthetic and ceramic.
So here we have mechanical ways of reducing impurities from water. See more below.
MSR Miniworks EX microfilter review

Description
This is the bestselling of MSR filters. Here you have a ceramic type filter. To put this into a more broad context, you may have a look into my another text where I have described best ways to purify water for drinking, and briefly presented all types of filters used for that purpose.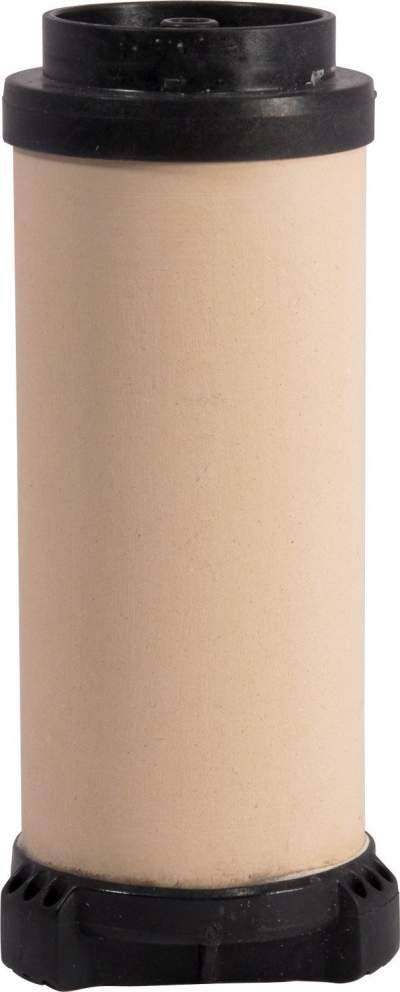 The ceramic filters are typically long-lasting, easy to clean (field maintainable), and they remove everything from water that is of the diameter 0.2 microns (μm) or larger. The same holds for the Miniworks microfilter.
Below I give the diameters of typical bacteria which you may expect to find in waters throughout the world:
E. coli: 0.25 – 1 μm.
Salmonella: 0.7 – 1.5 μm.
Cryptosporidium: above 1 micron size.
Cholera bacteria: above 1 micron.
Typhoid bacteria: above 1 micron.
Protozoa: above 5 μm.
Giardia and cysts: above 5-7 microns.
It appears that you might be safe by using this filter. But viruses are an another issue.
The water is forced through the filter by a mechanical handle. You may attach the tool directly to an MSR or Nalgene bottle.  The intake hose is attached on the top and its other end (with a pre-filter) you put into the water source.
The life expectancy for this ceramic filter is around 2000 litters. So if you drink 2 liters per day, and use the filter 30 days per year, it will last around 33 years. I would say not bad at all.
When the filter is not clean you will notice its change of color, and it will become less easy to pump the water through it. So you will clean it with a scrub pad (included) in a clean water, so simple. Its wears away in the process, and this is what yields the life expectancy.
The current status of the filter you check by a gauge (included); when the filter cylinder becomes thin it will fit into the gauge/caliber. This is the signal you have to buy another one (after some 30 years or so).
Here is a video by MSR about Miniworks EX filter, have a look:
Technical specifications & summary of features
Weight: 16.3 oz (462 g).
Size: 7.5 x 2.75 in (19 x 7 cm).
Output: 1 L/minute.
Best use: hiking, backpacking.
Field maintainable.
Filter, pores: ceramic, 0.2 microns.
2000 liters life expectancy for the filter.
Carbon core in the filter. It improves the water taste and removes any unpleasant smell. It can partly remove some chemicals.
Polyurethane housing material.
Made in the USA.
Users' experience
I have searched several sites with customer reviews and what I have found are very positive opinions of actual users. There are some complaints, though. From what I have seen is that people were complaining about the output flow even for brand new filters.
But the obvious fact is that a vast majority of those reviews are indeed very positive. I suggest you follow the Amazon link above and see yourself.
My note: I would not let this filter freeze. The ceramic could crack.  In any case, I would suggest you compare this tool with some other models with ceramic filters described within this site, like Katadyn Pocket, and Katadyn Vario filter.
---
MSR Hyperflow filter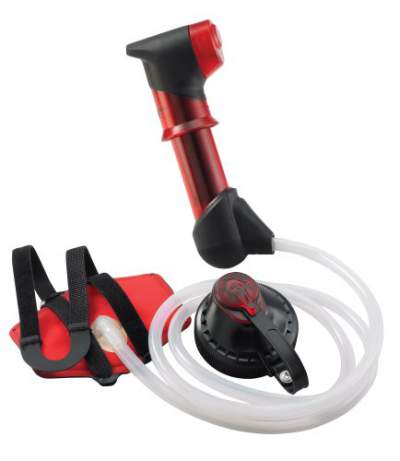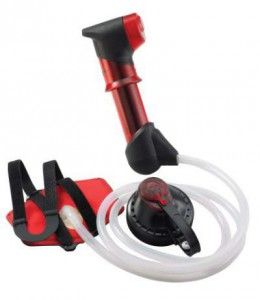 This is an ultra-lightweight (7.8 ounces, 221 grams only) water filtering system with so-called hollow fiber technology, so a synthetic-type filter. The fibers with porous walls are U-shaped (similar to what you can see in the case of Sawyer MINI filter) and fixed at one end.
The output is enormous, up to 3 liters per minute, far more than most of the similar tools on the market, hence the word Hyperflow used for the name of the model.
Yet, the filter is with ultra fine pores, 0.2 microns only, the same as in the ceramic Miniworks model above. So everything related to the types and sizes of microorganisms that are filtered out by this tool remains the same as for the previous model.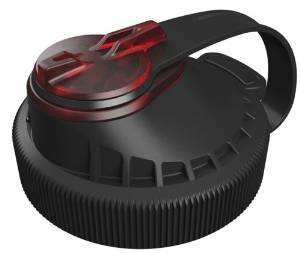 The design is cleverly done. The intake hose is with a large pre-filter which in the same time serves to store the hose. The kit comes with a lid (see it in the picture here) which you use to attach it to an MSR bottle. When you detach the filter, the lid can be closed and kept on the bottle.
When attached to the bottle, the filter looks like a bottle handle.
The system is designed to back flush the water, and this is used to clean the filter when necessary. Hence the feature 'field maintainable' in the list of specifications.
Technical specifications & summary of features
Weight: 7.8 oz (221 g).
Size: 7 x 3 in (17.8 x 7.6 cm).
Output: up to 3 L/minute.
Best use: hiking, backpacking.
Field maintainable.
Filter, pores: hollow fiber, 0.2 microns.
1000 liters life expectancy for the filter.
Housing material: ABS plastic.
Made in the USA.
As for customers' reviews, as always, I first read those with the lowest rate. What I see is some people reporting that it becomes hard to pump very quickly, so they had to back flush very often.
There was a note from the MSR: "We have identified a flow performance issue with some of the hollow fiber filter cartridges…The issue has been rectified and all filter cartridges currently in production for the MSR HyperFlow microfilter perform to flow specifications."
My feeling is that there must be an issue with this tool at subzero temperatures. The structure of fibers suggests this. You cannot dry it out so easily and freezing could destroy their walls. Though I am just guessing here as being a physicist by profession.
Note that a very similar filter is used in Sawyer MINI, so have a look.
---
About MSR Sweetwater water filter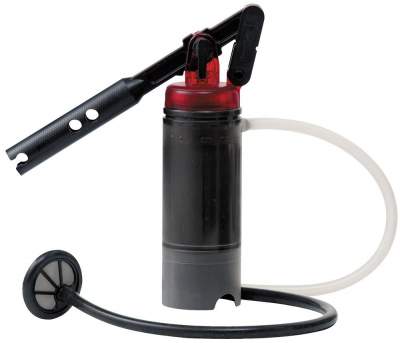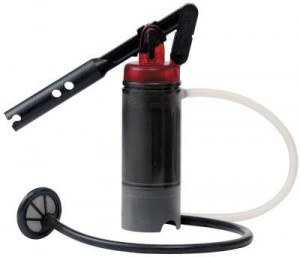 In this tool you have a fiberglass paper filter layered cylindrically inside a cartridge, which is able to remove everything above 0.2 microns. So here again you have a very fine filter which is able to deal with all microorganisms listed previously in the text.
Check at Amazon.com. This link will redirect you to your local store. In EU please see at Bol.com.
Two hoses, for intake and output, are included in the kit and clearly marked and color coded. The pump is with a lever, and easy to use. There is no empty move here, it pumps in down stroke and well as in up stroke.
This is again a cleanable system, field maintainable, you have a brush to clean the inside surface of the filter.
Technical specifications & summary of features
Weight: 11 oz (312 g).
Size: 7.2 x 2 in (18.3 x 5.1 cm).
Output:  1 L/minute.
Best use: hiking, backpacking.
Field maintainable.
Filter, pores: fiberglass, 0.2 microns.
760 liters life expectancy for the filter.
Housing material: copolyester.
Made in the USA.
Users reviews: Here again I have searched several sites which provide users reports. Largely very positive again.
I did have a look into complaints again, the lowest rates in the list. Some users were complaining about water spraying out. Some others claimed it was too fragile for a backpacking purpose.
---
Summary
So to conclude this MSR water filter review, my preference goes to MSR Miniworks EX filter, hence my given rate. The reason is the price and overall features. It is heavier than other models, natural in view of the filter type, but it looks more reliable to me as compared with the Sweetwater tool.  The Hyperflow filter would not be my first choice because of the construction and the possible issue at low temperatures.
Thank you for reading. I shall be happy to have some comments from you. Have a nice day.
---