---
Mountainsmith Youth Pursuit backpack is a very durable tool made of Cordura fabric, and designed for users with a smaller frame and for youth. This is a great and reliable tool for backpacking and hiking. In this text, I present the new and improved version of the pack which has been around for a number of years already.
---
Best price & place to buy
The best place regarding the price and shipping conditions is usually Amazon.com.
---
Going through all the features of the pack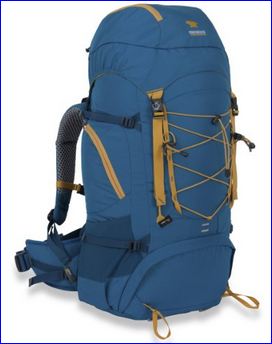 In view of the Cordura material used here, it is hard to find any other pack on the market which would match the durability of the Youth Pursuit pack.
The Cordura material, introduced in 1929, has become a synonym for durability and quality, and it is regularly used for military equipment.
This is a top loading pack, with a floating lid which can move up and down considerably. This adds extra 5 L of volume, as indicated in the technical specifications below.
On both sides of the pack you have two compression straps, they are visible in the picture.
In the main compartment, you have a hanging loop for the water bladder, and a hydration sleeve farther below.
The pack has a bottom compartment with the zippered U-shaped entrance. There is a floating divider between the two compartments, it is secured by toggles and it can be removed.
Attachment points
There are many of them in this design. Completely on the bottom, you have 4 attachment loops. They can be used for various things, like a sleeping pad or a sleeping bag.
Below the bottom compartment zipper you have dual attachment loops, for trekking poles or/and for an ice-axe. Above the bottom zipper, you have yet another pair of attachment loops.
On the front of the pack, you have a bungee cord mesh, plus daisy chains on its both sides. Together with the daisy chains you also have dual bungee cords which should be used together with the mentioned attachment loops below, to fix the poles or the axe.
The suspension system
The pack's suspension is based on
two X-shaped aluminum stays,
a horizontal stabilizer bar, and
a PE (polyethylene) back panel.
This all is behind a generous padding covered by a mesh. From the pictures, you will realize that there is not much profile there, all rather a flat surface without prominent air flow channels which you may see in some other models like Deuter Fox 40 pack for kids. This is not so great for ventilation.
The shoulder straps and the hip belt are well padded and covered by a pleasant mesh with rather wide openings. No objections here at all. There is an adjustable sternum strap with an emergency whistle.

Adjustability
As appropriate for a pack designed for youth, you have full harness adjustability. It is in the range 13 – 17 inches (33 – 43 cm).
You have adjustability in the hip belt as well, it is in the range 26 – 48 inches (66 – 122 cm). Load lifter straps add to adjustability, when loose this adds to ventilation, when tight this ads to stability on a rough terrain.
Pockets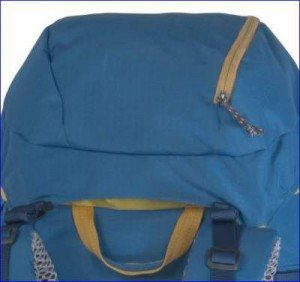 There is one zippered and very useful pocket on the hip belt, hard to understand why they did not add another one as well.
One zippered pocket is on the top of the lid, with a bit unusual position of the zipper, see the picture.
On each side of the pack, you have one zippered side pocket. They are of a really good size and very useful.
Below, on each side, you have yet another stretchy mesh pocket for a water bottle.
---
Here is a short (1:33) promotion video about Mountainsmith Youth Pursuit backpack, please have a look:
---
Pros & cons
You will see from the list of differences between the old and new versions, that not everything done here was an improvement. Compression straps on the bottom are one example. Here is my list of cons and pros:
  Cons
  Pros

No rain cover.
No compression straps for sleeping pad or bag.
Only one hip belt pocket.
Not great back panel ventilation.

Top quality materials.
Extremely durable.
Reliable.
Very good suspension system.
Very strong internal frame.
Adjustability for growing youth.
Useful features and attachment points.
(Almost) reasonable price.
There are no users' reports on Amazon for the new version of the pack, but the old version has received an exceptionally high average rate of 4.9/5. I do not remember any other item with such a rate.
---
---
Summary of technical specifications & features
Weight: 3 lbs 9 oz (1.6 kg).
Size (H x W x D): 20.5 x 11.25  x 8.5 in (52 x 28.5 x 21.6 cm).
Volume:
– 2745 cubic inches (45 L).
– 3050 cubic inches (50 L Ext.)
Waist belt width: 1.5 in (3.8 cm).
Waist belt circumference: 26 – 42 in (66 – 122 cm).
Torso fit: 13 – 17 in (33 – 43 cm).
Capacity: up to 50 lbs (22.7 kg).
Materials:
– 305 D Multi-Rip Cordura HP.
– 610 D Cordura HP.
– 210 D nylon embossed liner.
– Twin T6 0.50 in (1.3 cm) aluminum stays.
Design: for small adult & adolescents.
PE frame sheet with X configuration AL Stays and horizontal stabilizer bar.
Pull forward waist belt adjustment webbing.
Dual side panel zippered pockets.
Front panel bungee attachment.
Reflective front panel attachment point.
Dual side panel mesh pockets for 32 oz bottles.
Bar tack reinforcements.
YKK zippers.
3M reflective cord.
---
Most important differences between the old and the new models
Front bungee mesh in the new model, absent in the old version.
Redesigned side mesh pockets.
Slight difference in weight, the new version is 3 oz heavier. This is mainly due to a more durable fabric in the new version, there are differences in the fabric denier.
The zippered lid pocket entrance changed. It was from the back in the old version; in the new version it runs from the front to the back, a bit awkward in my view, see the picture above.
Small difference in the width and depth.
There are no compression straps on the bottom compartment in the new version. Compare the picture on the right with the new version above.
The new version is more expensive, as usual. Click the picture on the right for the old version price.
---
Comparison with packs for youth from other brands
In this table I give some basic details about several top brands' packs for youth, all of different sizes, to compare with Mountainsmith Youth Pursuit pack, in case you need a different size pack:
Gregory
Wander 50
Deuter
Fox 40
Mountainsmith
Youth Pursuit
Weight (kg)
1.47

1.3

1.6

Volume (l)
50

40

50

Loading
top, panel

top

top

Rain cover
yes

no

no

Lower compartment
no

yes

yes

Zippered side pockets
no
2

2

Harness adjustable
yes
yes

yes

Belt pockets
2

no

1
---
Conclusion
To conclude this review of the new version of Mountainsmith Youth Pursuit backpack, I have some objections listed above, but this is a truly reliable pack which I can strongly recommend to anybody. This is a tool of an exceptional quality, and I am convinced your kid will love it, who would not?

Thank you for reading, I shall be happy to have some comment from you, there is a comment box below. Have a nice day.
---