---
In this Merrell Moab Ventilator review, I present the most popular hiking shoes for men and women. This is an evergreen model that has been around since 2002. Presently it is keeping the position 1 in hiking shoes for men in Amazon, and it is very highly ranked in the shoes for women as well. There are many reasons for its popularity.
Merrell Moab Ventilator For Men
General description
These shoes are a non-waterproof version of my own Merrell shoes, which I have been using in the past 7-8 years, for daily life only. So it is indeed a pleasure to write about them because I have seen how these shoes behave in all these years from 2007 when I purchased them.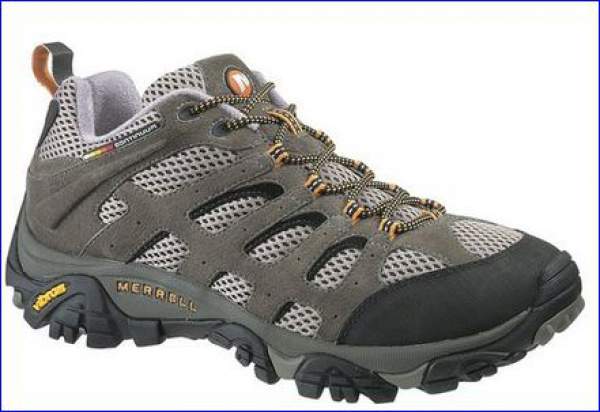 This is a low-cut shoe, very lightweight, in fact, the lightest of all top-ranked hiking shoes. It is ideal for hiking and backpacking on dry terrains, comfortable out-of-the-box.
The upper body is a great combination of leather and a durable mesh. As you can imagine from the name, they are very breathable. The strips of leather are sewn to the lower body, a solid construction that keeps the foot secure when you tighten the laces. There is extra rubber protection on the toe section. All these features are visible in the picture above.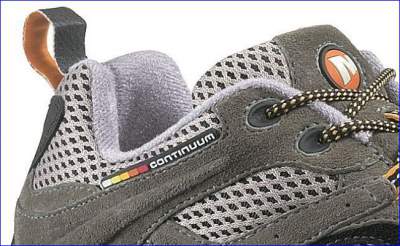 The padding along the tops and on the tongue is very good and pleasant, see the picture.
You have 6 pairs of eyelets in total, 4 are webbing and 2 upper are plastic. I have never had any issue with this system.
Frankly, I am aware of it only now when I am writing these lines. My original laces are still on my shoes after all these years. The picture shows that you have a small loop on the tongue, to put the laces through and to keep the tongue in place.
The nylon loop on the back is something you will never need, but just to mention that you have it there.
The sole is a high-performance rubber, Vibram peace of engineering, see below.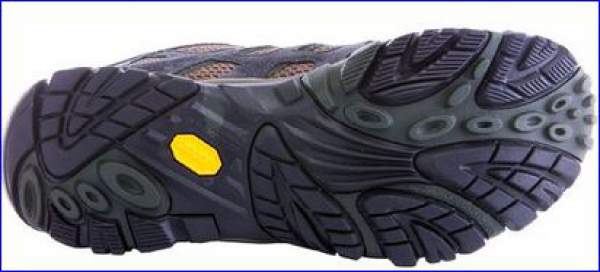 Here is a short video (40 s) about Merrell Moab Ventilator shoes for men, have a look:
Technical specifications & list of features
Listed weight at Merrell's site: 1 lb 8 oz (680 g).
Breathable mesh lining wicks to keep feet dry.
Bellows tongue keeps debris out.
Molded nylon arch shank.
Compression-molded EVA foot frame for great cushioning.
Merrell air cushion in the heel, aimed at absorbing shock and to add to stability.
Merrell M-Select FIT.ECO blended EVA contoured footbed with organic odor control.
Vibram outsole.
5 mm lugs depth.
12 different colors on Amazon.

12 possible colors.
---
Pros & Cons, users' experience

As you see in the list of cons below, Merrell Moab Ventilator is not waterproof. But it is not designed to be. If you wish a waterproof version, you have it in the other Merrell's model which they made waterproof.
 Cons
 Pros

Not designed to be waterproof.

Lightweight.
Very comfortable.
Very durable.
Great grip.
As I said, I have been using the waterproof version of these shoes, but this was only in my everyday life in the rainy Belgium.
However, I would warmly recommend you to read this field testing report of Merrell Moab Ventilator shoes. This is performed by a person who has been using several of these shoes in the past. I am sure this will be very convincing and you will have a clear picture about their quality. He concludes his report with this:
"I feel great about them and would recommend them to almost anyone. For a light weight hiking shoe, as opposed to a boot, I have been very pleased with how they have performed."
With respect to fit, these shoes are also doing great; 84% of customers were happy with the size they ordered.
---
Merrell Moab Ventilator Hiking Shoe For Women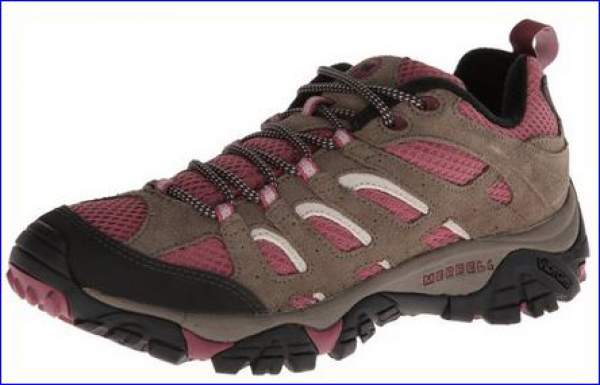 For the women's model all features are the same. There are 8 different colors available:

---
Conclusion
In conclusion of this Merrell Moab Ventilator review just a few statements about why these shoes have been so popular for all these years. They are versatile, perfect for hiking, biking, but also to be used around the town and for daily life. For hiking in very dry areas, these shoes are without a match. I point out again the field test mentioned above. You might want to compare these shoes with this model from Salomon, they are quite similar in many ways.
Please check the links given above for the latest updates. You will not find a better price elsewhere. If you find this text useful do share it with others.
Thank you for reading. It will be great to hear from you, there is a comment box below. Have a nice day.